Most Important Questions to Monitor Safety Performance in SMS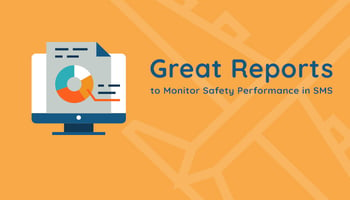 Monitoring safety performance in SMS is undoubtedly one of the most important tasks you will undertake in your SMS program. It is integral for maintaining Safety Assurance and the integrity of your SMS program.
The decisions you make regarding how you monitor safety performance can have drastic effects on safety performance, for better or worse. The most important questions regarding your safety performance monitoring process are:
What tools do you use to monitor safety performance?
What types of performance are the most important?
How do you monitor safety performance?
To answer these questions, you first need to define:
What are you trying to measure?
When it comes to core performance, performance monitoring is most concerned with:
Hazards;
Risk controls;
Safety objectives; and
SMS bureaucratic oversight.
You should have reports ready at hand so that you can quickly assess these different types of performance. You will do this as you manage safety issues on a daily basis, and as you do audits/inspections on a recurring basis.
1 – Top Hazards in Company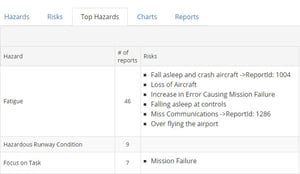 As safety issues are reported and managed, you will classify each one with a primary hazard. In a safety concern, a hazard:
Is the point at which safety control is lost – i.e., when operations are no longer within an Acceptable Level of Safety; and
Requires immediate action to bring operations back into ALoS, or the hazard occurrence very well may lead to a risk occurrence.
Over time, you will have a well-developed hazard risk register, which is simply a term that describes a report for:
All hazards that have been classified;
The number of times each hazard was classified in issues; and
All risks and times each risk has been classified.
You need to keep tabs on your top hazards in order to assess what your organizations most pressing safety concerns and needs are.
2 – Hazards Without Assigned Control Measures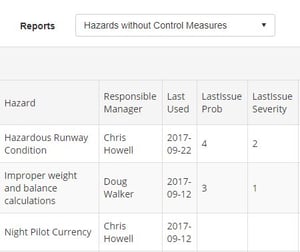 This is a special report that many organization are not using, but most definitely should be. This report lists:
All hazards in your company that have been classified in a safety issue; but
Have no documented risk controls.
In other words, this report shows you hazards that have been identified in your operational environment, but that have no documented risk controls assigned to. This might be because you simply have documented it, or it may because you have no risk controls.
Either way, having un-controlled hazards is just asking for an audit finding or repeat safety issue occurrence.
3 – Any KPI Reports
Key Performance Indicators (KPIs) are the metrics that correspond directly to your safety objectives. As such, KPI reports demonstrate safety performance that your organization has flagged as "most important."
KPI reports can be any simple or complex reports that are dedicated exclusively to your KPIs.
4 – On Time Issue Management for High Risk Issues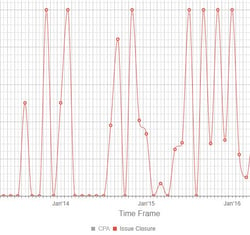 High risk issues are the most time-sensitive safety concerns. High risk issues are identified after an initial risk assessment is performed on a reported safety concern. Each organization should have default time periods that are set to close high-risk issues, such as within 3 days after the issue is reported.
An on-time issue management reports will show you the percentage of reported safety concerns that were closed on time. The best version of this report will allow you to compare the current time period for on-time closures vs. the previous time period.
5 – Most Common Root Cause Classifications
Much like your top hazards report, an equally valuable report is to see a report for your top root causes. This report would simply show you a list of your top root cause classifications, and the number of times each root cause was classified.
This report will allow you to assess the most pressing hazard-mechanisms in your company, and where to spend energy developing risk controls.
6 – Number of High Risk Issues Over Time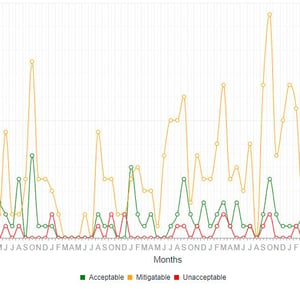 As your program improves its documentation, control measures, and safety oversight, you will a decline in the number of high risk issues that are reported.
Why? Several reasons:
Better risk controls means hazard mechanisms are cut off before they can develop into hazard occurrence;
Improved safety culture and safety awareness allow hazards to be identified early in the hazard/risk occurrence lifecycle; and
Strong controls will effectively mitigate severity of hazard occurrence.
Having a report for number of high-risk issues over time provides you with a fantastic high-level picture of continuous improvement in your organization.
7 – On-Time Corrective Action Percentage
Much like the on-time issue closure for high risk issues report, an on-time corrective action report shows you a percentage of all CPAs that were closed on time.
This measurement assures several things:
Safety concerns are being corrected quickly;
Employees who are assigned CPAs are complying with the safety program; and
Department heads or other subject matter experts who are assigning CPAs are taking continuous improvement sincerely.
You should compare the current time frame of this report with the previous time frame.
8 – Reported Issues by Department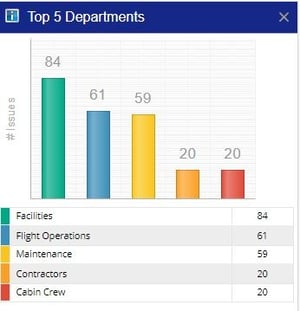 Reported issues by department is a simple report shows the number of reported issues per department. Though simple, it allows you to ensure that each department is participating in the safety program as expected.
For example, if you have a department with significantly less reported safety issues than other department, then you may have a problem with non-participation or management silos.
9 – Positive/Negative Associations with Corrective Actions
Being able to generate reports for corrective actions with positive and negative associations is the best way to monitor the effectiveness of safety control measures. What this report shows, is:
A list of all safety control measures;
The number of times each control measure was marked as actively mitigating a safety issues; and
The number of times each control measure was marked as not mitigating a safety issue as it should.
When you have controls that have many negative associations, you know it's time to update it.
10 – Safety Policy Items Review Date
One final report that is extremely valuable is simply a report that lists all safety policy items, and the last time each report was reviewed.
Having such a report ensures that all SMS documentation is up to date – this will significantly reduce your chance of having an audit finding for non-compliance related to SMS documentation.
---
Want to see a real SMS program that includes all these reports, among many others? See these demo videos.
These reports will also prove useful for monitoring safety performance: