Why Monitor Aviation Safety Key Performance Indicators?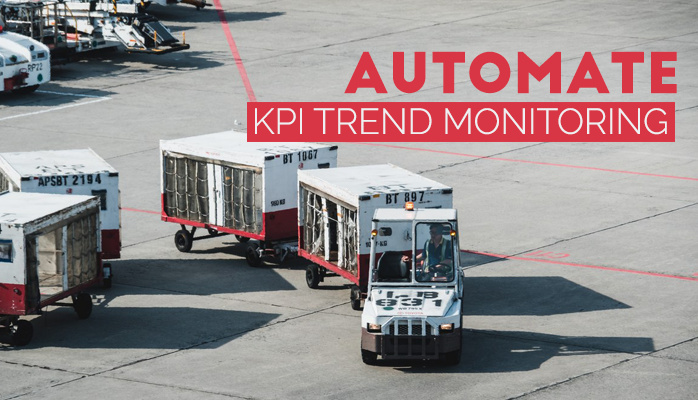 Safety assurance is the third ICAO pillar or component. While practicing safety assurance, your airline or airport focuses on the performance and effectiveness of established safety risk controls.
Safety risk controls are established under the safety risk management process and typically performed during your airline or airport's proactive hazard analysis. The output of the proactive hazard analysis is the Hazard Register, also commonly called Hazard Risk Register. From these identified aviation-related hazards, your safety team will select several which are key performance indicators (KPIs).
Safety assurance monitoring ensures your airline or airport meets or exceeds safety objectives through the collection, analysis, and assessment of data relating to organizational performance. By automating KPI performance monitoring, your airline or airport can respond more quickly to

How to Monitor Key Performance Indicators
Monitoring safety performance of KPIs at airlines and airports is nearly impossible without modern safety management systems software.
Monitoring Safety Assurance using automated tools allows aviation safety professionals to evaluate the overall effectiveness of risk controls within the implemented aviation safety management system. Every airline and airport should be monitoring their aviation SMS systems to ensure:
New hazards are identified;
Associated risks are mitigated;
Potential safety hazard trends are identified early;
Regulatory compliance applicable to SMS programs;
Safety Assurance activities follow your SMS manual; and
Validate the system description described in the Proactive Hazard Analysis Process.
Following are the suggested steps to automate performance monitoring of your KPIs:
1. Identify KPIs from your classification parameters

Classification parameters from modern, full-featured aviation SMS software are derived from:
Types of Issues;
Root Cause;
Human Factors;
Event Location; and
Affected aircraft or vehicle parts.
2. Set a KPI performance monitoring threshold
Performance monitoring thresholds may be:
Number of occurrences; or
Financial (cost of damage or potential damage).
3. Determine notification strategy when KPIs thresholds are reached
Who should be automatically notified when a possible trend is developing:
Safety managers;
Department heads;
Executives
4. Choose how KPI trend alerts are sent
Email; or
SMS Text messages
Final Thoughts on Monitoring Aviation Safety KPI Performance
Modern aviation SMS software should offer aviation safety professionals an easy way to monitor potential KPI trends. Otherwise, your safety team is missing out on essential functionality.
How your aviation safety team responds to automated KPI trend alerts depends on your airline or airport's policies. At a minimum, the safety team should review and continue monitoring.
Below are some resources if you wish to compare your KPIs with others in the aviation industry. Aviation maintenance providers may benefit from reviewing the airline and airport KPIs.
Good luck monitoring your aviation SMS KPIs. Automated tools offer tremendous value in this area.