Monitor KPIs in Existing SMS Programs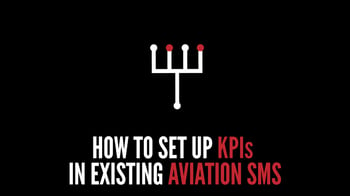 Setting up and monitoring key performance indicators (KPIs) in existing aviation SMS programs can be a daunting task for new safety managers or safety managers who are taking over an existing organization. Such safety managers have many questions like:
Where do I get started?
What is a key performance indicator?
How much work will KPIs require?
These are important and natural questions to ask. Now, "existing SMS programs" can vary greatly in structure. For this reason, we will show you how to do this from the standpoint of an SMS program using SMS-Pro. Though we very rarely discuss this software in these articles, it makes sense to do so in this article to:
Avoid generalizations; and
Show you step by step what this process actually looks like in real operations.
Here is how to set up and monitor key performance indicators in SMS-Pro. This same process can be adapted to any ICAO compliant SMS program.
1 – Understand What KPIs Are by Reviewing KPI Resources
Having a very solid understanding of key performance indicators is essential for monitoring the safety performance of your aviation SMS program. Fortunately, we have many such resources:
These resources should prove very useful in not only grounding you in KPIs, but giving you a detailed understand of:
What KPI's are;
Where they come from;
Whey they're important; and
What to do with them.
Once you feel comfortable, you can begin establishing your KPIs.
2 – Review Goals and Objectives
Goals and objectives will directly inform which KPIs you choose. You could say that KPIs are in chosen in response to objectives. In other words, KPIs are how you monitor the performance of your safety objectives.
So once you are grounded with an understanding of KPIs, you should:
Review your organization's goals and objectives;
Review aviation authority's goals and objectives; and
Review goals and objectives of clients and stakeholders.
After considering all of this data, ensure that your list of objectives:
Account for your most important safety needs;
Are associated with your goals (i.e., each goal may have several objectives, but no objectives should be without a parent goal); and
Are specific and measurable.
For more information, see our article on How to Create Safety Goals and Objectives in Aviation SMS. If your objectives need updating, you MUST do that before you choose KPIs.
3 – Review System (Risk Profile) and Create New List of Potential KPIs
Once you have reviewed your objectives, you can now begin to create a list of potential key performance indicators. Here how this works – do the following for each objective
Review your system, such as your list of identified hazards and other classifications – this happens in SMS Pro's Proactive Hazard Analysis Tool module; and
If you see a hazard or other classification that is closely associated with your objectives, add it to your list of potential KPIs.
Once your list is complete, compare it your list of objectives to make sure all objectives are accounted for with classifications. You will monitor performance of KPIs as KPI classifications are classified during issue management.
The higher the number of KPI classifications for a given hazard, the worse is the performance of that KPI. This is because if risk controls are working, such safety issues will happen less often.
4 – Compare Potential KPI List with Existing KPIs
Now it's time to delve back into your existing SMS program and evaluate which KPIs have already been chosen. You will compare your new list with the existing risk and combine them by:
Adding new KPIs from your list of Potential KPIs; and
Removing KPIs from your existing list of KPIs that are no longer relevant.
In SMS Pro, this is easily done in the Proactive Hazard Analysis Tool module or Issue Manager module by:
Going into edit mode;
Selecting your KPI classification; and
Checking it as "Is KPI" (for current division) or "Is Global KPI" (for all divisions).
Now it is selected as a KPI and will appear in your list of KPIs to set target goals and thresholds during KPI monitoring.
5 – Monitor KPIs with Target Goals and Thresholds
The last step for setting up and monitoring key performance indicators (KPIs) in existing SMS program is to:
Set each KPI's target goal for number of classifications per year for that KPI; and
Set each KPI's threshold for alerting you that the KPI is approaching its target goal.
An important to note that:
A "target goal" is the MAXIMUM limit of any given KPI classification;
As long as a KPI stays under its target, then it is considered as "performing";
If a KPI reaches or goes over target, it is considered "non-performing";
Thresholds should be set before the target is reached so that safety managers can take appropriate action before a KPI becomes "un-performing."
In SMS Pro, targets are set in the Goals and Objectives module. You can see a list of all KPIs and note your target for maximum classification for a given KPI. You can also see the number of times each KPI has been classified for the current year and previous years.
Thresholds are set back in the Proactive Hazard Analysis Tool module or Issue Manager module, in Edit Mode. You can enter in your threshold number in the edit section. See this video for how to set KPIs and thresholds.
Thresholds should be set as number lower than your target. For example, if a KPI has a target of less than 10, your threshold alert should be set at, say, 7. This will alert you that you are approaching non-performance for a classification.
---
We hope you have found this helpful for beginning your KPI journey. Please see the following resources which will provide further help: