What is Safety Performance Monitoring in Aviation SMS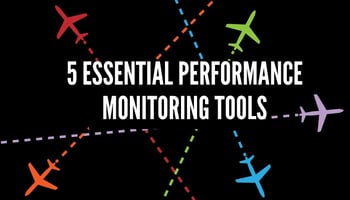 Safety performance monitoring in aviation SMS is the primary way you will assess your safety program. This assessment happens in two different ways:
Passively, such as in the case of high, system level performance monitoring; and
Actively, such as in the case of daily performance monitoring of safety issues and issue management.
So, when we talk about "safety performance monitoring," we need to always specify whether we are talking about passive or active performance monitoring if the context is not clear.
Whether active or passive, performance monitoring is always based on data. Data can be analyzed and compared in different ways to produce different views of safety performance. To do this, you will need different types of data analysis tools.
Having one tool for safety performance monitoring will always produce biased and unreliable results. Conclusions of safety performance should only be drawn after assessing your SMS from multiple angles, and multiple types of data.
1 – Risk Analysis Charts
Risk analysis charts are probably the most common, passive performance monitoring tool. They are not meant to communicate complex data. Rather, they are best used to provide:
Quick glance at many different types of data (such as hazard classifications, type of issue classifications, etc.);
Easy way to compare active safety issues' data against passive, general, organizational performance;
Different ways to view same data, such as with pie charts, line graphs, etc.; and
A very useful visual tool for SMS reports.
Risk analysis charts are the kind of chart that should probably be consulted on daily basis. You might have around 10 charts for:
Safety-financial data;
Hazard classifications;
Issues by location;
Issues by department;
Root cause classifications;
Type of issue classifications;
And so on.
Risk analysis are best created in an integrated aviation SMS program, whereby they are created automatically as data is received.
2 – KPI Performance Monitor
Whereas risk analysis charts are used to communicate general, organizational wide data, a KPI performance monitor tool provide a specific look at the performance of your safety goals and objectives. Remember that key performance indicators (KPIs):
Each represent one of your safety objectives;
Communicate the performance of your safety goals; and
Allow you to visual the more important, core performance of your SMS program.
A KPI performance monitor will show you only data related to your key performance indicators. It will allow you to be apprised of:
Negative trends in KPIs;
Satisfaction and non-satisfaction of controls related to KPIs; and
Safety objectives that are/aren't being met.
A KPI performance monitor should be reviewed on a weekly basis.
3 – Data Analysis Tool for Data Mining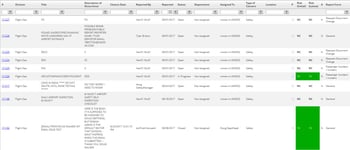 Data analysis tools are indispensable for seeking out the finer elements, mechanisms, and relationships that drive performance in your SMS program. A data analysis tool provides you with a large chunk of diverse data, whereby you can pull out certain pieces of the data to draw conclusions.
A data analysis tool is best used to:
Compare two different pieces of data to find a correlation between them;
Find a correlation between data and time of day, season, departments, etc.; and
Find underlying causes of more general data (i.e., risk analysis charts).
Data analysis tools will often be used in response to a specific question, such as:
What is the relationship between X and Y?
Is there a root cause reason why X happens?
Data analysis a specific activity that is not performed regularly, but are better used as a part of a quarterly review process. Data analysis is an extended activity that can take up to a week of constant data mining.
4 – Performance Trend Monitor
Performance trend monitors are a risk management tool that hybridize risk analysis charts and key performance indicators. Performance monitors are designed to give more complex, specific data metrics than risk analysis. But they are also designed to provide data metrics beyond KPIs.
A primary example of a performance trend monitor is the development of aviation leading indicators. They provide very complex and useful data that are perfect for trending negative and positive elements of the SMS program that don't relate directly to safety objectives.
5 – SMS Dashboard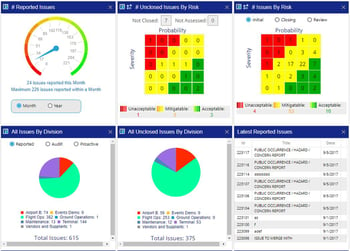 An SMS dashboard is an extremely valuable, everyday tool that will show you any number of useful data for monitoring daily performance of the SMS. A dashboard should be something you visit several times per day, showing you valuable information that you need at a glance, such as:
Newly reported safety issues;
Upcoming deadlines for issues and corrective actions;
Number of reported issues for month;
Some of the most important risk analysis charts;
Upcoming training deadlines;
Safety issues/CPAs assigned to you; and
Safety promotional information.
An SMS dashboard can communicate this data efficiently in tile like manner, as shown in the example image.
---
The following videos demonstrate all of these tools in action - used in real aviation SMS programs.