What is the Hazard Reporting Process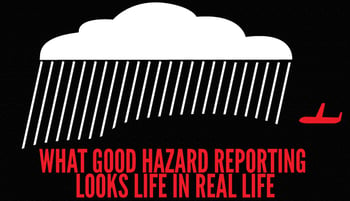 Simply put, the hazard reporting process is the primary mode of data acquisition in aviation SMS programs. Being such, a poor hazard reporting can literally break your SMS program. If that sounds unrealistic, it's not.
Without data:
Poor reporting processes cripple data acquisition in SMS programs. Consider further that hazard reporting is your primary means of hazard identification. Hazard reporting processes are:
First barrier against repeat dangerous situations;
Primary way to identify hazard;
Basis upon which all management and safety decisions are made; and
Main catalyst for driving creation of new risk controls.
The benefits of developing a good hazard reporting process are:
Saves company money by avoiding dangerous situations;
Helps build safety culture; and
Provides significant amount of data for good safety decisions.

Markers of Best in Class Hazard Reporting Process for Real SMS Programs
Top quality hazard reporting process have many if not all of the following features:
Hazard reporting is quick and easy (a stranger could do it without training);
Hazard reporting is convenient (such as from cell phone);
Hazard reporting is digital – no manual paper forms;
Multiple (digital) forms for different types of incidents;
Forms that capture only most relevant information;
Employees can report anonymously;
There are multiple ways to report hazards, such as via email, computer, website, phone, etc.;
Offline reporting is a major bonus, as many aviation personnel periodically find themselves without internet service; and
Clear expectations about what happens with hazard reports (i.e., ability to track report progress).
Quality hazard reporting forms will capture enough information so that the safety manager doesn't need to request more information, but not so much information that filling out the form is very tedious.
You can see in the above bullet points that the major themes in quality hazard reporting process are that the process is quick, convenient, and thorough. The primary goal when developing your hazard reporting process is to stimulate hazard reporting culture.

What Quality Hazard Reporting Culture Looks Like in Real Life
A good example of what a high-quality hazard reporting process looks like in real life is this:
Employee immediately and conveniently accesses hazard reporting from their phone or computer;
They can choose to submit the report anonymously;
They enter in some basic organization features, like:

Type of issue (safety, security, etc.)
Relevant department
And so on

They can choose to fill out a basic form or a custom form, such as:

Fatigue form
Maintenance form
And so on

They fill out the report
(If applicable) Choose a location(s), people and/or vehicle involved
(If applicable) Add any attachments like a picture
Submit the form
Have ability to track progress on issue
As you can see, it's very straightforward and easy. Doing all of this on a guided, digital format makes this process much faster, easier, and helps avoid errors. The reason number nine is included above is because it encourages future hazard reporting.
Importance of Hazard Reporting Forms
Hazard reporting forms are extremely important for the hazard reporting process. The important points are that you should have:
Multiple hazard reporting forms for relevant types of issues;
Hazard reporting forms that capture all important information;
Forms that guide employees with as little work as possible, such as by using multiple choice, check boxes, etc.;
An area to briefly describe "what happened"; and
Nice looking, clean, uncluttered design.
Long story short, if you hazard reporting forms are cluttered, unclear, tedious, or poor-looking, then employees have every incentive NOT to report safety concerns.
Good hazard reporting forms give employees incentive to report issues.
Final Thought: How to Build Hazard Reporting Culture
Building a hazard reporting culture is the first, and easiest, step in developing an effective safety culture in aviation SMS programs. Some things you can do to develop a quality reporting culture are:
Audit your hazard reporting process and see how you can improve it;
Acquire better hazard reporting tools;
Conduct a safety survey and acquire feedback about current hazard reporting process;
Talk to employees and get their opinion on hazard reporting process;
Do daily briefing and/or weekly meeting to apprise employees of current safety concerns;
Have chart for mandatory and voluntary types of safety concerns to report; and
Train employees on hazard identification.
---
To see what a top-quality, industry designed, tested, and validated hazard reporting process, check out this free demonstration video: