What REALLY is Continuous Improvement in SMS Programs?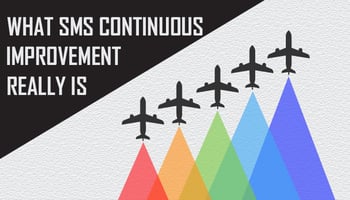 SMS continuous improvement is one of the three primary elements of the Safety Assurance component of the 4 Pillars of SMS, according to ICAO Doc 9859.
Continuous improvement's goal is the constant progression of safety performance in a positive direction.
Safety performance is a combination of:
SMS compliance (which happens through SMS implementation); and
Effective control measures.
Now, "progression" of safety performance is an extremely important word. Continuous improvement is a daunting – and sometimes demoralizing – thought because of the nagging question:
How can the SMS improve forever?
To which, the obvious reply is that it's impossible.
The key component of continuous improvement is not that performance metrics get better forever, but that:
SMS programs continue to adapt to changes in the operational environment, bet it environmental, compliance, technological, etc.
At a certain point, performance in areas of your program (i.e., hazard reporting culture), will max out. This is good. However, there will be no end to the changing safety landscape – and this is the safety need that continuous improvement addresses.
Aims and Improvement Areas
The primary aim of continuous improvement in aviation risk management is to establish:
Where are is safety program performing substandardly;
What are the causes of such performance; and
What are implications on in the operational SMS environment.
The aims of continuous improvement in aviation SMS programs should be applied to three general areas of operations:
Bureaucracy, such as facilities, equipment, documentation, and procedures;
Individual performance (i.e., employee performance monitoring);
Systems of control, such as control measures.
How KPIs Demonstrate Continuous Improvement
Key performance indicators (KPIs) are your primary weapons for demonstrating continuous improvement. Selecting KPIs is a process driven in response to your company goals and objectives. Goals and objectives will evolve and adapt in response to changing needs in your operations.
So as long as the following two things are being done, KPIs should always reflect the most important areas of continuous improvement to your company:
Goals and objectives a being updated and fine-tuned on a constant basis; and
KPIs are modified as goals and objectives change – which is a central tenant of KPI best practices.
Of course, KPIs will be a small list of only core company safety performance monitoring. There will be other areas of your SMS program that need to be monitored as well, which are covered under other continuous improvement activities.
Continuous Improvement Activities
Beyond selecting good KPIs, there are several other activities that help you track progress on continuous improvement. Some of these activities are:
SMS implementation progress;
Aviation lagging indicators;
Average end of course scores for aviation risk management training;
Other internal evaluations, such as internal audits; and
External audits.
All tools can be utilized to give a complete operational profile of continuous improvement that is:
Quantifiable;
Trackable (over period of time); and
Accurate.
Best Practices for Demonstrating Continuous Improvement
Here are a few best practices when it comes to continuous improvement in aviation safety management systems:
Evidence of lessons learned incorporated into safety policy;
Company benchmarks SMS program performance against aviation industry, such as by normalizing rates;
Surveys of safety culture are carried out regularly and acted upon; and
Contractors can participate in the safety program.
All of the above points should be integrated as a standard of continuous improvement.
---
Individual monitoring is probably the most overlooked element of continuous improvement because it's hard to implement. Learn how to to it now: