Why Use Aviation Key Performance Indicators As Goals or Objectives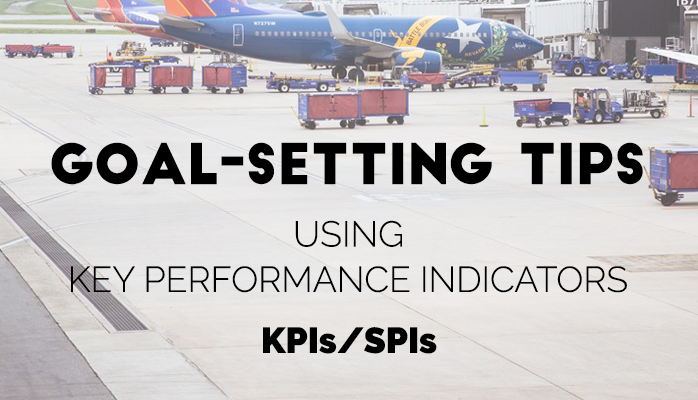 Setting goals and objectives for your airline or airport's safety management system is a requirement, i.e., not optional. Become accustomed to this requirement and don't believe you can pencil whip this requirement like so many safety managers today.
Key performance indicators (KPIs) are the natural "low hanging fruit" for starting your aviation SMS goals and objectives initiatives.
Below are some tips to consider when either reviewing your aviation safety goals and objectives or when creating new targets for your airline or airport.
KPIs Are Natural Goals & Objectives
An aviation key performance indicator (KPI) is metric used to evaluate elements that are critical to your airline or airport's success.
KPIs change over time and are different for each airline and airport. Airline safety KPIs may be employee injuries or lost time due to fatigue, while an airport KPI may revolve around flights diverted or passengers passing through the airport.
Aviation safety managers set goals and objectives should first review organizational KPIs as these elements are what upper management deems critical for measuring organizational success.
When setting these goals and objectives, consider KPIs that are:

1. Pain points for your airline or airport
Some KPIs are simple measurements that most employees have little control over. These may include:
Number of seats sold;
Number of bird strikes; or
Number of departures.
Good organizational goals consider elements that can be worked on as an organization. Please don't infer that there should not be "department" or "business unit" goals and objectives; however, these smaller organizational subsets should identify their own goals and objectives that sync harmoniously with your airline or airport's goals.
2. Meaningful for upper management or regulatory agency KPIs
Upper management is naturally concerned about the bottom line. Carefully consider what affects the bottom line, such as damage to property or equipment, number of audit findings (risk of losing operating certificate), or employee turnover. When KPIs have little effect on organizational success, they become distractions and offer little value.
3. Easy to measure and communicate with employees
Goals and objectives have a higher likelihood of being achieved when all employees take ownership of these goals and objectives and there is a conscious desire to participate in the success of the airline or airport.
Effective goals and objectives are those that can be easily communicated and measured. If you cannot measure the KPI or if the KPI in question happens rarely, then this KPI should not be included in your goals and objectives.
An example may be "runway overrun" KPI. If your airline or airport has experienced two runway overruns within the past six months, then runway overrun should be a KPI to consider. Conversely, if this happens once every five years, focus on another KPI to use for setting your goals and objectives.

Final Thoughts on Setting Goals Using KPIs
KPIs are the best place to start looking when setting goals and objectives. Many airlines and airports include goal setting when creating or reviewing key performance indicators. While this may save time, one can easily argue that these two exercises should be conducted independently.
Determining KPIs requires careful consideration. We recommend that the first step is to generate your list of KPIs, and then hold a meeting to discuss goals and objectives.
In conclusion, use KPIs as goals and objectives when:
They really matter to organizational success;
They really matter to management; and
When they are easy to measure and communicate to employees.
Good luck. Below are some links to common airline and airport key performance indicators. These are used to compare to your airline or airport's KPIs.
---


Published July 2015. Last updated January 2018.