Difficulty of Selecting KPIs in Aviation Safety Programs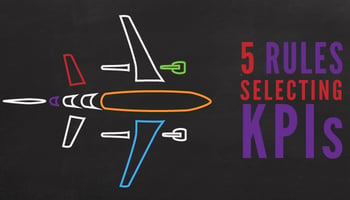 Selecting KPIs in aviation safety programs is neither simple nor easy. In addition to being time consuming and costly, selecting KPIs can also be a stressful experience.
Lives depend on choosing good KPIs. Your job may depend on selecting good KPIs.
Fortunately, selecting KPIs is helped by the fact that:
There are proven steps for choosing KPIs in aviation SMS programs;
There are documented "rules" for choosing performance indicators; and
Having specific safety goals and objectives will inform which KPIs should be chosen.

Here are 5 rules for selecting KPIs in aviation safety programs:
1 – Relate Directly to Safety Goals and Objectives
Aviation key performance indicators are built in reference to organizational safety goals and objectives. When KPIs do not directly reference a safety goal or objective, that KPI needs to be removed or replaced.
Because they relate directly to goals and objectives, KPIs should:
Encompass every level of company structure;
Be short, medium, and long term in scope;
Be SMART (see next section);
Outline what types of performance are most important to the safety program (this includes QMS and financial performance); and
Be strongly justified.
There should be no question about why a particular KPI metric is included in the list of KPIs. If there is the slightest doubt as to why it's there, safety management should consider revising it to better fit the goals and objectives.
2 – KPIs Should Be SMART
SMART key performance indicators are worth an article of their own. A SMART KPI list in aviation risk management programs is:
Specific: a specific qualitative/quantitative metric should be identified;
Measurable: Qualitative data can be expressed in quantitative safety data;
Achievable: The safety management system has the ability to monitor these metrics, such as with an aviation safety database or aviation safety management system software;
Relevant: Metrics are bound to and tailored for goals and objectives; and
Time-bound: Each metric is expressed in terms of some time period (short term, medium term, and long term).
If any KPI in your list does not meet these standards, it needs to be replaced. If your list of KPIs is not SMART, then the entire thing needs to be reworked. Non-SMART KPIs are bad for business quality and safety.

3 – KPIs Need to Be Updated
Company goals will change over time. The best indicators of safety performance will also change over time as the aviation SMS program is implemented. As goals and objectives change, KPIs need to change too. But updating KPIs is like cleaning out your garage – suddenly your old junk looks much more valuable than it actually is.
You rely on KPIs. They are your bread and butter safety data for long periods of time. Throwing them away is not easy. Some of the hard things about updating KPIs are:
Looking at the metrics everyday can make you "blind" to their real worth;
Becoming "attached" to KPIs, even when their value is spent;
Selecting new KPIs can be a time consuming, expensive, and complex process; and
It's not always clear how valuable a KPI is.
A couple good questions to ask yourself in regards to updating each KPIs are:
With the current abilities of the aviation safety program, it is feasible to improve this metric?
If a stranger looked at this KPI, would he/she immediately know which goals and objectives this metric satisfies?
Can I say in once sentence why this metric is necessary for describing the current performance of the system?
If I showed this metric to a safety manager at a different organization would they be impressed?
A yearly or semi-annual "cut-throat" review of KPIs should be sufficient.
4 – KPIs Should Be Manageable
The word "manageable" is usually misunderstood as "achievable" when discussing KPIs. A KPI that is manageable is not just a KPI that can be monitored. Manageable KPIs are KPIs that can be:
Controlled; and
Assigned to other managers to be in charge of driving and monitoring performance.
Key performance indicators that arise beyond the influence of your organization are not suitable KPIs. Management should have methods of directly influencing KPIs.
For example, consider the following KPI: Average turnover rate per employees per 5 years. Turnover rate is a metric that management has direct influence over, such as by cultivating a quality, safe, and desirable place to work. This is also a KPI that can be assigned to a manager, such as an HR director.
5 – Aviation Performance Indicators Need Custom Tailoring
Key performance indicators in aviation SMS programs are and need to be mission critical. Mission critical equates to custom tailoring. When we talk about KPIs begin custom tailored, this means:
KPIs are unique (or mostly unique) to the company;
Metrics may be based on widely distributed KPI metric resources, but were then altered slightly to fit company needs; and
Other companies could not "plagiarize" your KPI metrics because the KPIs are specific to your
When a program is first being implemented, KPIs may not be custom tailored. This is perfectly natural. But as KPIs are updated and as the program is implemented, KPIs should become more specific to the clarified goals and safety needs of your company.
Cookie cutter KPIs – which are KPIs that could easily exist in another company – should be avoided at all costs.
---
If you are creating or updating KPIs, these lists should prove to be a good starting point for generating ideas or metrics to use for custom tailoring: