What you Need to Know about Aviation SMS Implementation Plans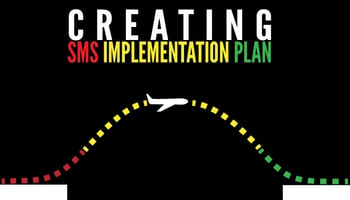 If you are reading this, chances are you have just begun implementing your aviation SMS program. Or, you would like to see how your implementation plan stacks up against the suggested process for creating an implementation plan.
Either way, the important things you need to know about aviation implementation plans are that they:
Organize all elements of SMS;
Provide you with a road map of implementation-order;
Help you establish timelines; and
Allow you to review progress.
Aviation SMS implementation takes time – usually 3-5 years. There will always be setbacks and struggles, but an implementation plans will inevitably help expedite this process by always keeping the "bigger picture" at the forefront of your decision making.
Here is the suggested process for creating an aviation SMS implementation plan.
Get Aviation SMS Implementation Plan Checklist
The very first thing you need to do before anything is acquire an aviation implementation plan checklist. These checklists are simple, but will provide you a "bigger picture" scope throughout the entire process of implementation.
Additionally, implementation plan checklists:
Show all implementation elements for each of the 4 pillars;
Allow you to further customize the checklist with dates, notes, etc.; and
Help you organize your implementation progress.
The ICAO checklist (see link above) is always a good plan to follow, though there are other implementation checklist resources available.
Make sure your checklist is in Excel, where you can add further columns and configurations so that your implementation checklist is yours.
Do Tasks for Getting SMS Program Started
Having an SMS program dropped into your lap is a disorienting and overwhelming experience. If this situation sounds familiar, before you worry about creating your implementation plan you need to perform initial tasks for getting your SMS program started.
The previous link walks through these initial tasks in detail, but they are as follows:
Acquire primary SMS tool, such as aviation SMS software;
Identify and organize key personnel (including safety org chart);
Establish safety duties and responsibilities of safety roles;
Create key hazard reporting policies;
Evaluate existing safety culture;
Review historical safety data (if applicable);
Perform gap analysis;
Why perform these tasks before creating your implementation plan? Creating an implementation plan without detailed knowledge of "what you're dealing with" with your safety program, is like trying to fly an aircraft with a blindfold on.
These initial tasks:
Establish foundation for expectations;
Allow you to understand your SMS program's needs; and
Allow you to establish realistic deadlines, goals, etc.
In short, your implementation plan will be all the more informed, accurate, realistic, and specific by performing these initial tasks. You will also feel much better about the decisions and expectations that you set.
Gap Analysis and Evaluation of 4 Pillars
While a gap analysis was pointed out in the last section as being an essential piece of initial SMS tasks for getting started, it deserves some more special attention. A gap analysis should evaluate your existing SMS in the following areas:
By "evaluate", we are talking about two things:
Where the SMS program currently is; and
Where it needs to be (hence the "gap).
A gap analysis is an integral part of understanding your programs safety needs.
Establish Greatest Needs of Company's Safety Program
Understanding your company's safety needs is much simpler than it might initially seems. Safety needs constitute the following 4 elements:
Level of compliance with oversight company;
Existing safety culture and Norms;
Amount of support from upper management; and
Resources available to influence compliance, safety culture, and upper management.
A "safety need" is simply something in your company that either detracts from or is apathetic to exposure mitigation. For example, all of the following can be safety needs:
Having non-compliance for a particular element of safety;
Lack of reporting culture;
Indifference to safety decisions;
CEO who does not take ultimate responsibility for safety program;
Poor means of collecting/analyzing data.
The list goes on, but you should be able to see that each of these elements is something undesirable for improving/maintaining safety operations.
List Notes and Strategy on Each Element of Checklist
Remember your implementation plan checklist? Now that you have done much working understanding your SMS and organization, you can start to make some notes on each element of the checklist. Create another column for "Notes" in your checklist.
For each item in your checklist, these notes will:
Help you evaluate the current status of that element;
Make applicable notes that will help/impede your ability to implement it;
Help you establish a strategy for implementing that item; and
Lists how much needs to be done for that element to be implemented.
Next, create one more column on your checklist for "Strategy". Review your Notes column, and for each element, list how (i.e., bullet point steps) you are going to implement the safety element.
For example, for the checklist item "Deliver training to reactive risk management," you might list a strategy as the following steps in your "Strategy" column:
Research reactive risk management training company;
Provide reactive risk management training course to all employees;
Store all signed off training on an online document;
Research web based reactive risk management assessments that will store test data; and
Have all employees take test and review data.
Completing all of these bullet point tasks will allow you to effectively cross out this implementation checklist item.
Establish Implementation Deadlines Based on Needs
Finally, based on your notes and your strategy, you should have a rough idea how long it is going to take you to accomplish each element. Create one more column in your checklist for deadline. For each element, write the deadline in this column and then review your entire checklist.
Deadlines for each element are often within the following:
Phase 1: one to six months from start;
Phase 2: about one year after completion of Phase 1;
Phase 3: about two years after completion of Phase 2; and
Phase 4: about two years after completion of Phase 3.
Note that especially in the case of phases 3 and 4, timelines will be heavily affected by the size and complexity of the organization. Typically, aviation SMS implementation takes 3-6 years. Larger companies may take even more time.
---
See the following resource for aviation SMS implementation plan checklists: