---
I Don't Need an Aviation SMS Database!...Or Do I?
It seems as if today that many more airlines and airports are scrambling to research or acquire aviation safety management system databases. Why are aviation SMS databases important? What should an airline or airport know before runing out and buying the cheapest SMS database on the market?Aviation safety management systems (SMS) are structured processes that in most cases enforce, and in other situations, encourages, aviation service providers to manage their safety programs according to best practices established by the International Civil Aviation Organization (ICAO), the FAA, Transport Canada, EASA and other civil aviation authorities.
To help safety teams in their search for an aviation SMS database program, here are a few things to consider before you throw time and energy into implementing aviation SMS software at your organzation.
---
What is an Aviation Safety Management System Database?
As of 2015, the Australians and Canadians have most fully embraced the ICAO 2006 aviation SMS mandate. These requirements are explained in Document 9859. Futhermore, the rest of the world can learn from the growing pains suffered by the Canadians and Australians. We have worked with airlines and airports in both countries since early 2008. It's not just airlines and airports that are required to have formal SMS programs. The list includes: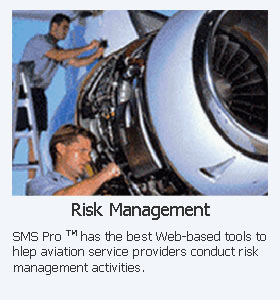 Airlines;
Airports;
Aviation maintenance;
Air traffic control;
Flight Schools;
Aviation equipment manufacturers;
Ground handling companies.
In the early days after ICAO mandated formal SMS adoption, the Canadians and Australians resorted to tools they knew best: MS Word, MS Excel and MS Access. After several years of suffering, many of these companies realized that the data management requirements of fully integrated safety management systems required professionally designed safety management system databases.
From my experience, aviation service providers in the Middle East and Europe didn't suffer as long as the Canadians. This may be due to better training or a better understanding of the data management requirements of these fully developed aviation SMS programs.
So what does an aviation SMS database offer?
Centralized data storage;
Secure access by all members of the aviation organization;
Improved data security;
Improved organizational communication; and
Enhanced accountability.
Professionally designed aviation SMS databases can also ensure that airlines and airports are following data management best practices. When multiple managers have access to the same data, there is less chance that reported hazards go ignored.
What Should I Expect From Our Aviation SMS Software?
When we talk about an aviation SMS database, it is important to understand that the database is simply half of the solution. The user interface is the other half. An aviation SMS software program offers little value unless the user interface is: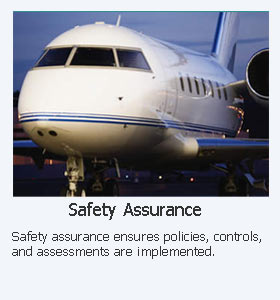 Intuitive;
User friendly;
Flexible (or configurable); and
Easily adaptable when technologies change (such as from desktop to mobile).
When you shop for your aviation safety database, consider your goals and needs. For example, if you are already using SharePoint, you may not need a robust version-controlled document management system integrated within your safety portal.
At the bare minimum, your aviation safety database should consist of the following:
Web-based hazard reporting forms;
Automated email notification of events;
Risk management workflow to assess, classify and perform investigations;
Corrective/Preventive Action tracking;
Data analysis and export features to MS Excel; and
User friendly charting and graphing tools.
Again, these are the bare minimum features the cheapest aviation SMS database software should offer. The more sophisticated systems will have:
Message boards with "read files";
Auditing suites for scheduling and managing audits; and
Training and qualification management.
What Options Do I Have With Aviation SMS Programs
When it comes to aviation SMS software solutions, the options are virtually endless and are growing daily. Technology constantly changes, so even the existing aviation SMS databases are changing rapidly.
Most of the popular aviation SMS solutions are subcription based and some have the option of hosting on your server. With a subscription to aviation SMS database software, the subscription payments are typically monthly or annually. Costs vary by the number of employees or number of aircraft. Operators that focus pricing on the number of aircraft are commonly flight operations specific and their solutions are not as flexible as those that don't focus on aircraft.
There are also some free aviation SMS solutions on the market. Free aviation SMS software may be great for starting your SMS program, but don't expect to have all the features of a paid subscription. Smaller operators and many governmental agencies without an aviation SMS budget typically sign up for the free aviation SMS subscriptions.
Are Aviation SMS Databases Right For Our Company?
If you airline or airport has more than 20 employees, you should invest in an aviation SMS software program to save yourself pain and misery managing the aviation SMS requirements.
Experience has shown that aviation service providers will suffer about eight to ten years of pain before realizing that they need help managing all the data associated with required aviation SMS programs.
If you don't have top management support, then an avaition SMS database may not be your answer. Lack of top management support is the number one reason why aviation SMS programs fail.
A good rule of thumb is; if your company has 40 or more employees, you will definitely need software tools to manage your data. Otherwise, expect to have audit findings and know that you will suffer repeatedly whenever auditors come to your airline or airport.
What Benefits Can We Expect With Aviation SMS Programs
We will review the benefits described above: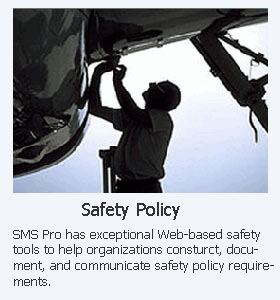 Centralized data storage;
Secure access by all members of the aviation organization;
Improved data security;
Improved organizational communication; and
Enhanced accountability.
---
Which Aviation SMS Programs Are Worth Considering?
There are probably three or four avaition SMS software providers that have comparable products. If you Google "aviation SMS software," you will find the top companies on the first page. Aviation SMS database programs are not that expensive, with some of them as low as $100 per month for smaller operators.
Before you purchase an aviation SMS software solutions, make sure the database will be able to grow with your needs. Also research how the SMS database will help solve your problems when you are implementing your aviation SMS program.
---