What is a System in Aviation SMS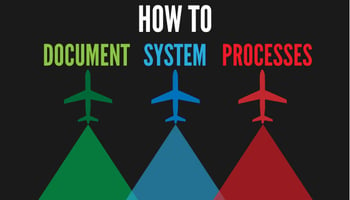 First of all, a system is simply a logical, separate part or "entity" within the overall scope of your company that includes things like:
Its own set of procedures, tasks, etc.
Its own set of requirements, roles, personnel; and
Its own set of safety risk controls, identified hazards, and identified risks.
Your company will have many systems. For example, an airline might have systems for:
Flight Ops;
Ground Ops;
Maintenance;
And so on.
Each of these are separate, distinct entities within the airline. This being said, not all systems are created equal. Furthermore, some parts of a system will be more important than other parts.
We call the important systems "crucial systems." Crucial systems are systems or parts of systems that have the greatest influence over risk. For example, many parts of a Flight Ops system will inherently have much more bearing on risk than most parts of a Ground Ops system.
What Does it Mean To Document Your System
Documenting your systems means:
Thoroughly analyzing all safety aspects of a system;
Documenting all resources, such as controls, procedures, policies, technology, etc. in that system;
Documenting all identified hazards and risks associated with operations within that system; and
Documenting high-level expectations for how the system will operate.
Documenting your systems in your aviation SMS, simply put, is putting your SMS on paper.
Purpose of Documenting your System Processes
The reason for documenting your system processes, is, as said, to encapsulate your SMS on paper, thus making it easier to control. In the FAA, the purpose of the Safety Risk Management process is to document your systems.

There are two important questions you need to ask about this:
Why is this important?
What is the goal and purpose of doing this?
Two problems commonly arise in relation to these questions. Organizations don't know why they are documenting their systems, and so they provide poor or inaccurate documentation of their systems. The other danger is that documenting systems is a huge task and it's easy to "get lost in the weeds."
In either case, the result is poorly or inaccurately documented systems. The reason documenting systems is important, and the goals behind doing it, are:
Demonstrate you have thorough knowledge about your operating environments (systems);
Envision a plan for how your organization will safely navigate these operating environments (systems);
Account for all of the ways in which you will mitigate safety concerns, including what you will use to mitigate and how you will mitigate; and
Document all of the concerns you are actively mitigating, such as hazards and risks.
When you document your system processes, everything you document should fulfill one of the above criteria.
What Should You Document About Your System Processes
When documenting the systems of your aviation SMS, you should especially take care to document things like:
All identified hazards for the system;
All identified risks for the system;
Each risk control, including how it works to control risk;
Regular or periodic practices you will use to mitigate safety concerns, such as inspections, audits, etc.
Policies and procedures that affect safety for the system;
Other practices you will use to mitigate risk, such as job checklists, issue management processes, etc.
Goals and objectives related to the system; and
Relevant tools, software, hardware, machinery, and other technology you will use to mitigate risk.
Tips for Documenting Your System Processes
A couple of tips for documenting your system processes are:
Use a template, such as 5M model or SHELL model, to document;
Be very thorough, but ensure that your documentation only contains documentation related to elements of the system that affect safety;
Update your system processes every time new change or new observations are made related to the system; and
Make sure your system process documentation reflects how safety is actually mitigated in practice.
The last point is especially important because if your system process does not describe how the system actually functions, your documentation is worthless. Furthermore, it could land you in serious trouble if you are audited or if your company goes to court regarding a safety issue.
How to Review Quality of System Process Documentation
Reviewing the quality of system process documentation is a matter of assessing how closely your system process documentation reflects actual operations.
Are the controls you documented functioning as described?
Are all controls described in your system process active?
Are all resources being used included in your documentation?
Are all resources documented actually being used?
Are the processes you document performing in the same order and with the same results as documented?
Do you have a log of review history for each process?
---