What is Safety Training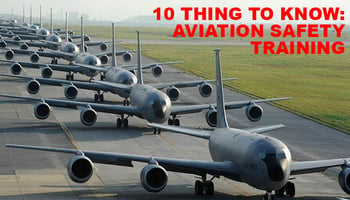 Aviation safety training is an essential building block for safety culture.
Safety training can make or break the successful performance of an SMS program for:
Meeting safety goals and objectives;
Sustaining continuous improvement;
Ensuring large return on investments for the aviation SMS program;
Ensuring consumer confidence in the company (i.e., lack of accidents);
Developing a mature safety culture; and
Ensuring compliance is met.
Safety training is not a simple topic though. The aviation industry is littered with so called "training courses" that offer very little substance. Here are 10 things to know about safety training for aviation service providers.
1 – Aviation Safety Training is Safety Promotion
Safety training in airlines and airports is part of the Safety Promotion Element of the 4 Pillars of Aviation SMS. Safety training can contribute to the promotion of the SMS program and safety "mindset" in general.
Some avenues of training are:
Education;
Communication; and
Information sharing.
The above points promote the safety program and provide training in the process.
2 – Sources of Aviation SMS Training
Aviation SMS training is a formal process. Most of you are probably thinking that this means attending a class, sitting down at a desk, and so on. This is an erroneous belief about formal safety training. What formal training actually means is that:
The training is documented.
This is a much more flexible consideration of Aviation SMS training, and allows many more avenues for training such as:
Safety training articles (like this article, for example);
Newsletters;
Daily emails/messages about safety;
And so on.
3 – Who Needs Safety Training
Safety training is relevant to every level of an organization:
Front line employees;
Middle management;
Executive management; and
Contractors and part time employees.
Every level of an organization will have different safety concepts that are most relevant. All employees should receive regular SMS training.
4 – Signs of Good Aviation Safety Training
Not all aviation risk management training is created equal. Training price tags vary quite a bit, and quality of safety training varies even more. Expensive safety training does not mean good safety training.
When evaluating the quality of risk management training, here are things to look for:
Pre training assessments;
Practical application of ideas rather than definitions or concepts;
Topics that are relevant to your aviation SMS program;
Hands on training, stresses "doing" rather than "listening";
End of course assessments; and
Take home materials.
Overall, good aviation safety training will gear training points towards operational risk management. Unfortunately, most training courses are not designed with this in mind, so choose carefully.
5 – Top Safety Training Mistakes
Training mistakes in aviation are all too common. The totally undermine the purpose of safety training, and can even have a negative effect on the SMS program. Some top mistakes are:
Training is boring;
Training is far too conceptual; and
No competency testing.
The above mistakes give strong incentives to not pay attention or care about safety training. Ensuring that training is based on application of concepts, is fun/interesting/entertaining, and includes competency testing are great ways to amplify positive effects of training.
6 – Aviation Risk Management Training May Not Improve Performance
Just because employees attend safety training does not mean that it will have any positive effect on safety performance. Unless the training program is above and beyond the standard, it will have little impact on safety performance. It will however, allow you to 'check the box' for safety training compliance.
So what are your priorities? If your aim is to actually improve aviation SMS performance, then choose your training course wisely, such as training with the following elements:
Hands on;
Interesting;
Scenario/activity based; and
Relevant.
Most training does not fulfill these requirements, which is why most safety training will do little for improving safety performance. So don't make the mistake of automatically assuming that safety training will improve performance in your program when – oftentimes – it unfortunately isn't true.
7 – What Defines Good Safety Training
Good risk management training does the following:
Cultivates

knowledge about safety events;
Empowers employees about operating safety in the SMS program;
Safety managers can actively depend on the results of good safety training.
Good safety training courses are defined by being:
Hands-on as opposed to conceptual;
Practical application as opposed to definition based;
Relevant to your SMS program;
Features end of course assessments;
More active and less listening; and
Includes take home materials for reference.
8 – How to Monitor Effectiveness of SMS Training
The single best way to monitor the effectiveness of SMS training is pre-course and end-of-course assessments. This will allow you to assess the quality of a particular training course.
Next would be to monitor:
Results of end-of-course assessments;
Timeline of other safety training activities (such as newsletters, etc.); and
Comparing this against timeline of leading indicator performance or KPI performance.
9 – Why Employees Can't Stand Aviation SMS Training
The unfortunate fact is that many employees don't like aviation SMS training. This is usually because:
There nothing in it for the employees;
They become blind to recurrent training that is the same; and
It's not personally relevant.
Training should answer three basic questions for employees:
Why should I care?
How does this training help me perform my job?
Is this interesting?
When employees have positive answers for these questions, it will tend to give them reason at least tolerate the training.
10 – Satisfying Compliance for Aviation Safety Training
Airline and airport SMS programs should develop and maintain a safety training program to ensure that employees are competent to perform duties.
Compliance of this requirement is indicated when:
There is a documented process to identify Safety Management training requirements so that personnel are competent to perform their duties;
There is a process in place to measure the effectiveness of training and to take appropriate action to improve subsequent training;
There is a process that evaluates the individual's competence and takes appropriate remedial action when necessary;
Training includes initial and recurrent training; and
A training record is maintained for all personnel trained.
---
For high quality risk management, see our syllabus. It is designed for aviation safety by aviation safety professionals: