Why This Aviation Safety Chart Is Important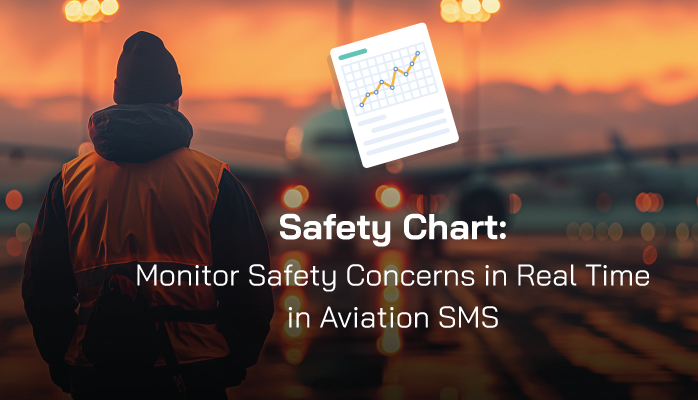 Having "real time" safety charts saves aviation safety managers, executives, and employees a lot of work and keeps them informed of the latest hazard and risks affecting aviation-centric operations.
Having access to real-time safety charts allows management to monitor your SMS program at a glance, rather than having to navigate through your software or aviation safety database to find desired information. Over longer periods of time, this saved time and energy adds up to substantial sums, especially when you consider:
Potential losses avoided;
Time generating reports;
Time validating report information; and
Time spent communicating information to stakeholders.
What Is Real Time Reporting in Aviation SMS?
Real-time reporting is being able to see both data and results as data is collected. The benefits of real time reporting center around accessing timely, actionable data related to the aviation SMS without waiting for IT data analysts to:
Prepare data queries;
Validate data results; and
Generate reports meaningful to management.
Online, web-based aviation SMS databases makes data available across all dashboards and custom reports almost immediately after an event occurs. We say "almost immediately" because there is generally a few seconds of latency.
What Is Latency in Real Time Reporting?
Latency is the delay you experience before data is displayed to the end user in the form of related dashboards and reports. Latency includes the time required for the SMS database to respond to a user's request for a report, including time for:
the network to send data requests from the user's location to the server;
the server to respond and collect and organize the data;
the server to send the data back to the user; and
the user's computer to process the data and draw charts, graphs and tables.
Each of the above factors contributes to latency. For example, if you are using an old computer on a fast network, you may think that your SMS database is slow to respond. You may be wrong because modern browsers rely heavily on your computer's hard drive speed and processing power. Slow hardware causes many safety professionals to erroneously cast blame on:
Internal networks (network at your office);
External networks (network from SMS database server to your office); or
Database server (used to store, process and retrieve data).
Greatest Advantage of Real Time Reporting In Aviation Operations
One can argue that there are many advantages of having data available almost immediately. I could easily argue for:
Cost savings;
Reduced end-user frustration;
Improved employee morale.
As a manager, I would say the biggest advantage to real time reporting is:
Reduced risk!
When managers have access to data in real time, they are able to respond more quickly to changing conditions and react to hazards. Of course, as safety professionals respond to identified hazards, they are able to begin risk management processes in a more timely fashion.
Let's take a simplified example of cutting my arm on the belt loader. We will assume that the quicker that I receive medical treatment the least amount of complications will arise.
Stop the bleeding.
Start the healing.
Focus on keeping this from happening again.
There will be less risk due to complications when management can start treating the issue as quickly as possible. Furthermore, when management can easily communicate the risk to others, there is reduced risk to the organization for repeat injuries.
Related Risk Management Articles...
Benefits of Seeing Latest Reported Issues in SMS
The "Latest Reported Issues" safety chart is the kind of chart that saves considerable time. This chart can be used constantly by multiple user groups within the organization, including:
Line employees (to remain aware of current aviation-related hazards in their area of operations);
Safety managers (to learn which operational hazards to focus risk management efforts);
Department heads (to determine effectiveness of implemented control measures); and
Executives (to remain informed as to potential operational concerns).
A real time chart like the one at the right displays the latest report issues and the most essential information about those issues, including:
Title;
Date reported; and
Risk (composite of probability and severity).
Accessing this information quickly is most useful for employees who have a low level of participation in the SMS. Such employees might not take the time to navigate through safety promotion activities or safety bulletins in order to see any recent and relevant reported issues.
This chart shows useful, relevant information with little required effort from all parties, whether these parties are:
IT staff; or
Employees consuming the data.
In short, this chart is an excellent safety promotion tool to generate awareness and hopefully reduce recurrence of common safety events.
Related Safety Promotion Articles...
Stay Current with Reported Issues
In smaller or newer aviation SMS programs, it's easier for safety professionals to manage issues as they are reported due to low reporting volume. In larger and more developed SMS programs with a higher volume of reported safety issues, this chart becomes increasingly valuable for a couple of reasons:
Having to constantly navigate to the location where issues are managed becomes a hassle if you are doing it all the time;
Can easily track real-time as issues are reported and risk assessed; and
Quickly determine how relevant the issue is to your job position.
Moreover, keeping regular tabs on this chart allows management to get a sense of the hazard reporting culture over time.
Have you read these hazard reporting culture articles...
Where Hazard Reporting Data Comes From
Hazard reporting data for real time reports comes from your aviation SMS database. For example, to create the chart at the right, data are tracked simply by displaying:
The title of most recent 10 reported safety issues;
Each date reported with a reference number for the issue; and
The risk index for each issue once it has been performed.
To generate this chart in real time is only possible with an aviation safety database. You could use a simple spreadsheet, though it would only be real-time if your spreadsheet was directly connected to your organizational SMS database.
Who Should Care about This Chart
This chart should be the concern of all employees for the following reasons:
Safety managers who are improving responsiveness to reported safety issues; and
Front line employees who need to stay current on all relevant safety issues in their department.
This safety promotional chart should be readily available to all employees whenever possible.
Final Thought: Similar Charts
There are several other charts that work well in conjunction with this chart. These other aviation safety charts are:
All of these charts tie directly into recently reported issues, and give you a comprehensive picture about how many issues are reported, when they are reported, and who is reporting them.
---
For more information about these safety charts and others like them, please contact us.

To see aviation SMS software in action, request a live demo below.

Originally published December 2016. Last updated January 2019.