What Risk Management Decisions Are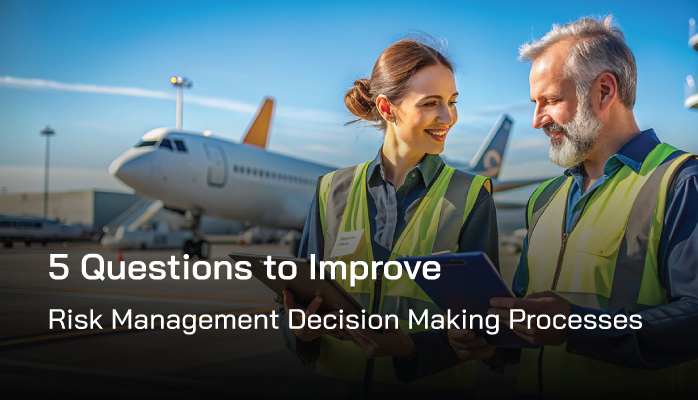 Risk management decision making processes will dictate the success of your aviation safety management system (SMS). Period.
Every change, no matter how small, arises from a risk management decision. Decision-making processes in risk management programs are often seen as a formal, documentable process, such as those seen in the U.S. military leadership training courses.
Alternatively, risk management decision making can also be an informal, "everyday" kind of process. Some prime examples of risk management decisions in an aviation SMS include:
Establishing classifications during issue management;
Choosing how much safety data to give employees access too;
Choosing how often to interact face to face with employees;
Deciding whether or not a risk meets an acceptable level of safety; and
Deciding whether or not control measures are effective.
There are countless more decisions resulting from aviation SMS activities. The point is that many risk management decisions in aviation SMS are of the "whether or not…" variety. This arises from the standards-driven approach of modern SMS implementations.
Decision making is the ability to consistently give quality, justifiable answers to whether or not something meets your company's particular standards. Hence, the most important part of risk management decisions is to demonstrate that you know what you are doing.
Related Articles on Aviation Risk Management Processes
Decision Making Based on Safety Standards
Having solid, repeatable standards is a good way to start making good risk management decisions. Standards are things like:
Knowing compliance requirements and expectations;
Defining risk management concepts such as hazards, risks, risk, and causes;
Company organizational goals and objectives;
Aligning company goals with company safety goals; and
Understanding company's acceptable level of risk.
Here are 5 questions to ask in any situation to help you make safety decisions and ensure that you are doing things for the right reasons, and with the right aims.
1 – Will This Decision Comply with Oversight Agency's Requirements?
This is the 'no-brainer' question. Each decision you make needs to comply with oversight agencies' requirements. To do this, you need to know:
What oversight compliance requirements are;
Where and how the current situation applies to those requirements; and
How decision will affect compliance.
Decisions in an aviation SMS' risk management activities should always – always – steer the organization towards regulatory compliance. Whether you are making a decision during change management activities, or reactive risk management activities, you should always be able to explain how your decision complies with regulatory requirements. It will spare you multiple audit findings.
Alternatively, if you are unable to easily articulate how your decision complies with regulatory requirements, you may choose to define why you believe the decision does not violate any established norms or rules.
Related Articles on Aviation Risk Management Processes
2 – Is My Decision Consistent with Past Risk Management Definitions?
Another area where we see aviation service providers having problems with during safety inspections or SMS audits is lack of consistency during decision making. For example, an aviation service provider may have two similar safety events that were handled in very different ways, and are unable to explain why each event was handled so differently.
There is no compliance requirement for 'being consistent', but lack of consistency will be a big red flag for SMS auditors/inspectors. Remember, decision making should demonstrate that you know what you are doing. Being consistent demonstrates that you have:
Established processes;
A modus operandi; and
And defined levels acceptability.
A very common reason that risk management activities lack consistency is that the safety team does not have easy access to historical safety data.
Imagine a scenario where the safety team is managing hundreds of reported safety issues each year using spreadsheets as their primary data management strategy. Spreadsheets are not the recommended data management strategy for most aviation SMS implementations. They are too limiting and are not conducive to a quick, effortless analysis as to how similar issues have been treated historically. An SMS database is the best SMS data management strategy, especially if your company has more than 50 employees or you are operating from multiple locations.
An SMS database allows safety teams to quickly review historical safety issues to determine what decisions were made in the past. This "quick review" also facilitates the analysis to determine whether or not these previously implemented mitigation measures continue to effectively mitigate the identified risk.
In short, an aviation SMS database facilitates consistent risk management decision-making processes.
3 – Could I Justify This Decision in One Sentence?
A very good indication of a good risk management decision is that you can:
Organize reasons why you are making the decision;
Clearly explain your reasoning; and
Quickly explain your reasoning.
Being able to do these things demonstrates that you, at the very least, have a very good idea of why a particular decision is being made. Moreover, asking yourself this question when making strategic risk management decisions is good practice for audits and inspections.
Are you ready for a pro tip? Don't forget to document your justification.
Too often, safety professionals are unable to remember why we made a particular decision in the past. If you are like me, I am unable to easily recount why I made a decision if the event is older than two weeks. This realization of my limited memory compels me to make notes in the SMS database. These notes are not long, drawn out novels, but simple, short, concise sentences written to jog my memory should I be questioned in the future. Another purpose my notes serve are to shed light on my thought processes should another manager review the documentation during an unrelated analysis, or when the QA department validates the treatment of the safety issue.
You can bet that auditors will be asking you pointed questions about why you made particular decisions. As said before, what we see happen most often is service providers receiving audit findings NOT for the decision that was made, but because they couldn't defend the decision.
When you can't easily defend your decisions, it looks like the decision was arbitrary. Arbitrary decisions are not good decisions.
Related Articles on Aviation Risk Management Processes
4 – Could I Explain the Goals of This Decision to a Child?
Every decision you make in your aviation SMS should have the goal of improving something. You could be improving:
A control measure;
Level of exposure;
Safety culture;
And so on.
With every decision that is made, you need to have very specific goals in mind. If you can explain your goals in very simple, easy to understand terms (a child could understand), it's a good indication you know for what reason you are making a decision.
5 – What Are Your Biases?
Confirmation bias is an extremely important factor in making good risk management decisions. Confirmation bias is when people devalue evidence that contradicts their preconceived notion of the situation.
We all have such biases. Anyone who tells you otherwise is probably making mistakes affecting their risk management decisions. What's most important is to be aware of what our assumptions and biases are. Some good ways to establish bias are:
Are you emotionally tied to a safety decision?
Have credible alternatives been considered?
Is the "worst case" bad enough?
Is the risk analysis overly optimistic?
Is this situation really as similar to ones handled in the past?
Being aware of prejudices and assumptions regarding risk management decisions can help elucidate glaring errors in your
decision making process,
justification, and
execution of the decisions.
Related Aviation Risk Management Articles
Final Thoughts on Risk Management Decision Making Process
This article was not written to show you how to arrive at a particular decision. As I stated earlier, there are many resources and training programs that will provide a step-by-step approach to make thoughtful, informed decisions.
The purpose of this article was to stimulate your brain and compel you to review your aviation SMS' risk management decision making process. Do you have a process? Or are you always winging it?
Chance are that if you have already implemented an aviation SMS, then your risk management processes are documented and accepted by upper management.
Quick questions:
Are you following your documented processes?
Are you auditing your risk management activities to confirm that these processes are followed?
Are these audits performed by you, or by a third party?
An aviation SMS database facilitates risk management decision-making; however, an SMS database is only as useful as the reports it provides. Can you easily determine which corrective actions and preventive actions have been used to mitigate a particular risk? If not, how do you know your next risk management decision is the best decision?
---
In addition to decision making, the following free workflows will help in your overall risk management process.
Published April 2017. Last updated January 2020.