Practicing vs Verifying SMS Continuous Improvement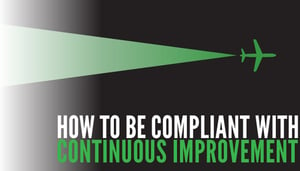 It's important to make the distinction between the
practicing of continuous improvement and
verifying that continuous improvement is happening.
Being ICAO compliant with continuous improvement is a systematic review to continuous improvement verification. Actually, practicing continuous improvement will happen in day to day operations. To summarize this distinction:
Practice continuous improvement: day to day operations with assessments, KPIs, issue management, risk control review, corrective actions, etc.
Verify continuous improvement: internal audit of SMS.
You will use internal SMS audits to confirm that your organization is sufficiently practicing continuous improvement.
Periodic Internal Auditing of SMS
To be able to tell stakeholders and auditors that your aviation SMS is practicing continuous improvement, you need to periodically perform an internal SMS audit.
These SMS audits should be conducted:
By an individual or audit team, depending on the size of your organization;
At regular intervals, such as semi-annually;
With all continuous improvement aspects of your SMS taken into account; and
With all operational stakeholders in mind, including employees and contractors.
The act of performing internal SMS audit demonstrates that you are dedicated to continuous improvement. That is, the act of verifying continuous improvement is a continuous improvement activity in and of itself.
Fulfilling this aspect of continuous improvement compliance involves being able to show a strong history of consistent internal SMS audit documentation.
Have an Internal Audit Plan
One aspect of conducting periodic internal audits is having an auditing plan. This plan should include:
Which auditing forms are used to conduct the audit;
Which departments/divisions are included in the audit;
Which parts of your SMS will be audited; and
The frequency that audits will occur.
Your auditing plan does not have to be complex, but it should outline your audits in a way that an external auditor can review your plan and immediately understand the scope of your internal SMS audits.
Audit Plan Samples Historical Issue Management
It's absolutely critical that your SMS internal audits include a random sampling of historical issues managed. This sampling should review:
Work that was done to correct this issue;
Initial and most recent risk assessments; and
Whether or not the issue remains at the last risk assessment.
What you should be looking for is that the current risk assessment matches the most recent one. What you don't want to see is a current risk assessment that is more than your most recent assessment, as this would indicate either:
Issue was not properly managed;
Issue was not reviewed frequently enough; or
Issue was improperly assessed.
This sampling is used to verify that managed issues maintain an acceptable level of safety.
Audit Plan Reviews Key Performance Indicators
Key performance indicators highlight core performance of your safety objectives. Auditing your KPIs involves verifying that:
KPIs are being monitored;
KPI monitoring data is up to date;
All KPIs are up to date; and
All KPIs have targeted goals.
When KPIs are not current or are not being monitored thoroughly, it shows a lack of commitment towards continuous improvement and will reflect poorly on external audits. Having automated KPI monitoring and notifications is a good way to ensure good audit performance.
Auditing Includes Vendors/Contractors
Your SMS audits should include your contractors. This may mean having a separate auditing form dedicated to assessing the interactions contractors have with your SMS. Things you might look for are:
Are contractors being held accountable for safety behavior?
How are contractors involved in the SMS?
Are contractors contributing to safety in positive ways?
The kinds of things you will audit in terms of vendors depends heavily on how many contractors you have and how involved in your operations they are. But the point is, you need to audit and ensure that your contractors are not detracting from the improvement of your SMS through their interactions in your operations.
Accountable Manager is Aware of Audit Results
Finally, the last way to demonstrate that you are compliant with continuous improvement is to ensure that your accountable manager is aware of important audit findings. Because your accountable manger is ultimately responsible for the SMS and continuous improvement thereof, he/she needs to be aware of:
Where the SMS is improving;
Deficiencies in the SMS (findings/concerns); and
How those deficiencies will be corrected.
You need to have demonstrable process documented, such as a having all internal audits and corrective action plans signed off that they were reviewed by the accountable manager. To be safe, you may document the process steps for accountable executive audit review in your Safety Policy.
---