What Is the Fuss about Management of Change?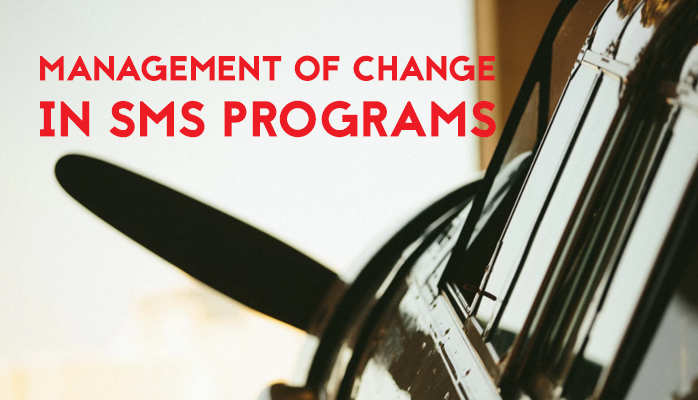 Management of change in aviation safety management systems (SMS) is essential for managing operational or organizational change at airlines and airports. Safety teams are typically involved in the management of change (MOC) exercises.
There is often confusion among new aviation safety managers when they are confronted with answering auditors' questions regarding MOC in their SMS programs. Best practices should always be reviewed when implementing your MOC workflow.
This article will briefly describe MOC and some preferred best practices.
Why Do We Need Procedures for Change Management?
According to FAA documentation regarding Management of Change:
"A change management process should identify changes within the organization which may affect established processes, procedures, products, and services. Prior to implementing changes, a change management process should describe the arrangements to ensure safety performance. The result of this process is the reduction in the safety risks resulting from changes in the provision of products or services by the organization. Change management should consider the criticality of the system and activities, the stability of the system and operational environment and past performance of the system."
Many safety managers are overworked. They are bustling from one fire to the next. These fires may include:
Maintaining proper documentation of routine risk management processes;
Promoting the safety program through surveys and newsletters;
Conducting and documenting safety meetings; and
Interfacing with safety counterparts of your airline or airport's vendors and suppliers.
There is a lot going on, and without documented AND practiced procedures, one can easily miss a step when managing risk resulting from the proposed organizational change. What will trigger this process?
New aircraft or technologies;
New routes;
New contracts;
Identification of high-risk areas; or
Change in management structure.
Principles of Change Management
The Civil Aviation Authority of Australia has produced the best documentation regarding management of change. Unfortunately, it isn't easily available anymore.
I found this copy on ACT Vantages' site for Managing change in the aviation industry.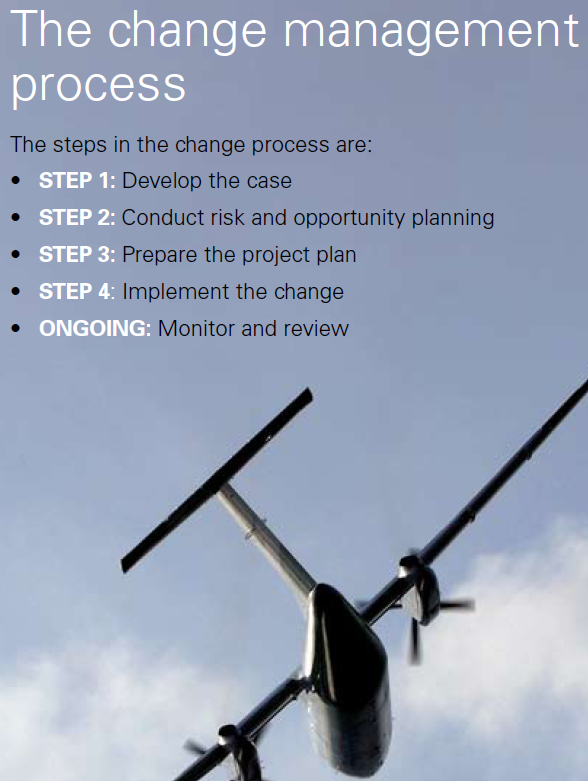 There is a section called "Principles of Change Management."
Consider your people first.
Gain top-level endorsement.
Involve all.
State the case.
Create ownership.
Communicate the plan.
Assess the culture.
Shape the culture.
Plan for the unexpected.
Consult with the individual
How to Manage the Change Management Process?
Let's assume you have read the excellent documentation produced by CASA (Australia's CAA). How will you perform the change management process?
We believe it is best to track and control all planned changes through a series of checklists, risk assessments and approvals to ensure your airline or airport is fully prepared for the changes to be implemented. Using checklists to manage change possesses many benefits:
Standardizes Change Management Methodologies
From beginning to end, each change management request follows your checklist through a standard process based on an accepted template. This ensures consistency and thoroughness while also offering flexibility. Each step in the process may be optional in this established change management process, based on the change under scrutiny.
Mitigate Risks and Hazards Associated with Change
Whether your airline is planning a new route or adding a new aircraft type, a meticulous evaluation of all the possible impacts and alternative solutions will ensure that your airline implements a well-designed change. Additional hazards will be reviewed and mitigation strategies prepared before the change is implemented.
Eliminate Missed Steps with Checklists and Approvals
Checklists ensure that changes are controlled and well-evaluated by incorporating crucial steps and approvals into the change management workflow to ensure that nothing is missed.
Centralizes & Streamlines the Implementation of Change
Checklists are easy to distribute and track in aviation safety management databases. They easily promote organization-wide visibility by tracking the status of all accepted changes and their associated activities. The implementation phase of change management tasks can also be managed using checklists, such as:
Risk mitigation;
Additional training, and
Communicating the change to employees; and
Creating a clean audit trail
Best practices should include tracking at each stage in the process. This can be done using version controlled document management or using aviation safety databases. Aviation management of change software saves considerable time and energy documenting change and automatically creating an audit trail.
Final Thoughts on MOC
Auditors love picking at management of change whenever performing aviation SMS audits. Having a templated process to manage change is the first step to satisfying this SMS requirement.
The final word?
Get a checklist to use as a template
Make sure you use it when performing your change management activities.