Aviation Safety Management Systems Are Defined by Interactions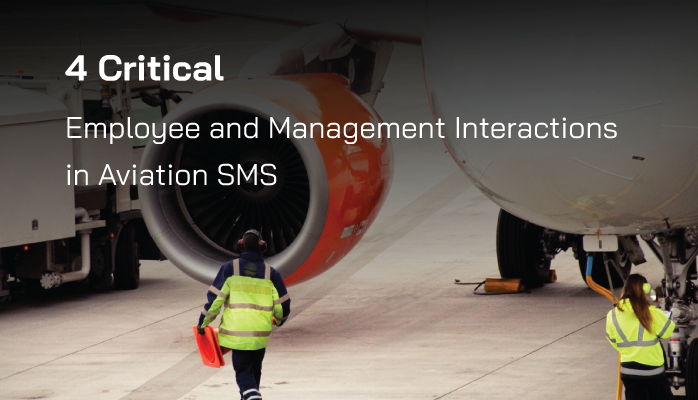 Aviation safety management systems (SMS) need certain interactions or features within the system for it to be successful.
Interactions in aviation SMS always denote a relationship between two parts. These parts can be any aspect of the SMS implementation's moving parts, such as its:
Employees;
Managers;
Interfaces (internal and external departments);
Regulatory authorities and standards setting bodies (IATA, IS-BAO, etc);
Policies and procedures; and
Software.
An aviation safety manager is often, but not always, the safety champion in spearheading risk management performance improvements. Safety managers also are responsible for creating the right conditions suitable for critical interactions that all successful aviation SMS programs have.
Related Aviation Safety Manager Articles
Each Aviation SMS Possesses Unique Challenges
Each aviation SMS will have certain unique features or interactions to be successful, based on its unique needs. While an aviation SMS is structured the same for every operator, the details and complexity of the implemented risk management processes may be different based on operators' size and complexity of operations.
For those who are new to aviation SMS implementations, an aviation SMS' structure is based on the four components that ICAO defined for aviation SMS implementations. These components (or pillars, as they are fondly called in the aviation industry) are:
Safety Policy;
Safety Risk Management;
Safety Assurance; and
Safety Promotion.
So while all aviation service providers are audited based on elements in the four pillars, each operator may have different strategies for accomplishing the same SMS objectives. These strategies include the interactions in this discussion.
There are at least 4 industry wide interactions that are a critical part of any successful SMS implementation. Such interactions can make all the difference between under-performing and effective aviation SMS implementations.
1 – Highlight Mistakes without Blame: Focus on Learning
When employees make mistakes, the immediate reaction in a "just culture" is to not discuss the mistake openly and to not take punitive actions against an employee reporting a mistake or error. Contrary to the "just culture" is the punitive culture, as seen widely in eastern cultures.
Aviation service providers who do not subscribe to just culture tenets share a common tendency to punish employees whenever they make mistakes. This "punitive culture" does not afford employees protections from management reprisals. Consequently, employees will naturally refrain from submitting safety reports when they know that "heads will roll" once management learns of the event. The result is a non-performant aviation SMS with little active employee involvement.
The reasoning behind the cautious attitude of a just culture is rather obvious – management fears to make involved employees responsible for the mistake uncomfortable by singling them out. Singling out is often thought of as passive-aggressively punishing them (i.e., contrary to a non-punitive safety culture). In addition, when other employees see that management is genuinely interested in improving safety performance, these employees will become more inclined to remain alert for latent safety concerns and report these safety concerns in a timely manner.
Related Aviation Safety Culture Articles
A Just Culture Is a Learning Culture
When mistakes are addressed appropriately, they can become invaluable learning tools for promoting a positive safety culture. Mistakes as learning tools, turn a completely negative issue, such as aircraft damage, loss of revenue, etc., into an event that potentially has a positive effect. This positive effect hopefully prevents recurrence and additional losses. Addressing mistakes "appropriately" would focus on the:
Valuable insights into a system's vulnerabilities;
Reviewing existing risk controls for effectiveness;
Identifying opportunities to reduce risk to as low as reasonably practical (ALARP) with the implementation or restructuring of risk controls;
Safety learning opportunities to increase employee competency and safety performance; and
Mistakes as a "blameless," natural occurrence that provide opportunities to improve operational processes.
Making mistakes should never be viewed as a problem so long as they aren't repeated mistakes. Addressing mistakes openly communicates a sense of transparency to employees.
Neglecting to openly discussing safety issues for fear of making employees uncomfortable has some rather insidious side effects on effective safety cultures. For one, it communicates to employees that mistakes are unacceptable and management may even punish/kill the messenger. More importantly, it implies that management may be hiding safety information. This is another way of saying "lack of transparency."
How management treats interactions with employees when mistakes are made indicate a safety culture's transparency.
2 – Safety Managers Informal Meeting with Employees
The other side of the employee-management-coin is the functioning relationship between management and front-line employees. Much of this relationship comes from how often safety managers are on the ground floor, simply interacting with employees.
The most effective interactions take place outside the stiff constraints of
safety meetings,
formal SMS system reviews,
audits and safety inspections, and
discussions about aviation SMS activities.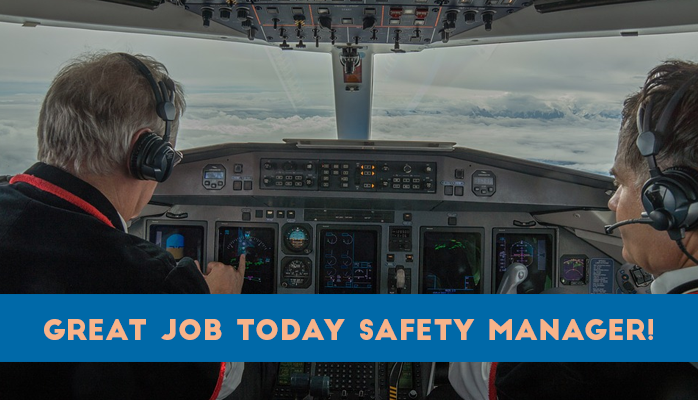 Many management types (and you have probably seen them) believe that safety promotion activities in aviation SMS needs to be strictly professional and soberly serious - which usually translates to material wrought with rigidness and that screams in so many ways, "tune me out!"
Much of the safety promotion information that is doled out at workplaces looks more like an IKEA how-to manual than a motivational tool for employees to align their actions with management's SMS objectives.
Familiar and friendly interactions between employees and safety managers cannot be underestimated. Such interactions help:
Employees feel engaged and responsible for management;
Employees feel that the SMS is more than simple bureaucratic policies and procedures; and
Managers have a better understanding of their SMS by knowing the attitude, characteristics and intent behind their risk management efforts.
Informal interactions can be as simple as saying hello, or discussing something (non-safety related) or grabbing a bite to eat/drink after work.
Have you read...
3 – Convenient Hazard Reporting Methods
The ability for employees and external stakeholders to easily report hazards, accidents, incidents and other irregularities cannot be understated. This is an incredibly important feature of every successful SMS implementation. Employees are your front-line defense against losses related to hazard related consequences.
Convenient hazard reporting methods is an interaction between all employees and the aviation safety software or safety procedures for reporting hazards. It's extremely important.
Hazard reporting is probably the most fundamental part of any SMS implementation.
Programs with inefficient or overly complicated hazard reporting tools give employees no incentive to report hazards. They simply become a source of frustration and confusion. When user-friendly tools are readily available and easy to understand, employees are significantly more likely to engage because of the positive incentives (understanding, expediency).
Creating an optimal environment for effective aviation safety reporting interactions is the responsibility of the aviation safety manager. He/she needs to do everything in his/her power to procure the right software or draft the appropriate policies/procedures so that your safety reporting process is painless.
4 – Employee Involvement in Change Management
Involvement is a rather complex interaction which is:
Directly tied to employees and risk management policies and procedures; and
Indirectly tied to interactions between management and employees.
As one safety manager told me recently, employee involvement is everything - it is the sort of culmination of:
Multiple, effective hazard identification and safety reporting methods;
Transparent safety culture; and
Good employee-management relationship (trust).
Cultivating involvement in aviation SMS implementations requires constant interaction between employees and management to the effect of helping employees feel involved in decision making processes behind the development of company risk management policies and procedures. Cultivating involvement is a process of interactions that always features feedback, such as through:
Safety surveys;
Safety meetings; and
Most importantly, actually listening and following through with changes based on suggestions.
Related Management of Change Articles
Final Thought: Beyond General Interactions
In any aviation safety management system, every interaction should be undertaken with great purpose and intention. Management should intentionally become "the familiar face" with front-line employees. Management should intentionally adopt the most effective safety reporting tools possible. They should also discuss safety issues with great openness and care.
Beyond the general rules though, each organization will have its own particular interactions that are an integral part of the SMS. Safety managers are tasked with seeking out and understanding the interactions that are specific to their organization.
---
Risk management procedures ensure that safety professionals have processes in place to treat accidents, incidents, and irregularities. When risk management processes become too unwieldy, there becomes a tendency to discourage employees from reporting trivial safety issues that stem from minor safety events or "not so close" calls. These minor safety issues provide necessary safety information to management in order to improve operational processes.
Without minor issues to treat in your aviation SMS' risk management processes, risk management activities will be treating only the more serious safety issues. This opens your company up to unnecessary risk and defeats the purpose of the aviation SMS.
Are your risk management processes effective? You may wish to compare your risk management procedures with these below:
Published March 2019. Last updated March 2020.