Optimize Ability to Monitor, Manage, and Document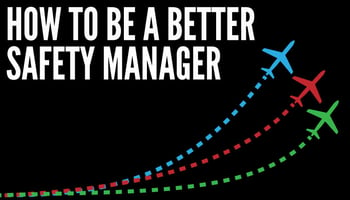 Becoming a better safety manager involves looking at how you are currently managing your SMS, and seeing where you can optimize your ability to:
Monitor safety performance;
Manage exposure, such as reported safety issues, reviewing controls, etc.; and
Document your SMS design and actions taken to mitigate exposure.
Being a better safety manager involves:
Being more efficient;
Spending less time on rote tasks, and more time actually managing safety;
Having a greater presence in your company;
Inspiring better acceptance of the safety management system;
Making more informed safety decisions;
Analyzing safety concerns more thoroughly; and
Getting more information out of your data.
Here are some simple ways to be a better aviation safety manager.
Understand Your Management Style
Being aware of your safety management style is a great way to improve your approach to managing your SMS. Being aware of your safety management style gives you an opportunity to tweak your management style to better fit the needs of your safety program.
The five safety management styles are:
The expert safety manager;
The respected safety manager;
The top-down manager;
The disciplinary manager; and
The corporate safety manager.
These safety management styles each have certain pros and cons that will work better in some environments and worse in others. Take this safety manage quiz to see what your style is:
Get Better Aviation Risk Management Tools
Sometimes, improving your ability as an aviation safety manager simply means gathering some new tools and resources that will better help you manage your SMS.
Here are some free resources for SMS mission critical aspects of your safety program:
For a full list of free resources and free safety tools, follow the link.
Beyond free resources, aviation safety software is another way to be a better safety manager because software:
Does the job of an assistant;
Offers the built-in processes and templates that act as natural guidance;
Automates a very significant amount of manual work;
Provides aviation industry tried and tested performance monitoring tools; and
Provides a roadmap and templates for thorough SMS design; and
Has high value to cost ratio.
Focus More on Safety Promotion
Safety Promotion is an area of SMS that countless managers don't pay as much attention to as they should. Many programs barely put in any effort towards promoting the SMS.
This is a lost opportunity because Safety Promotion is one of the best ways, if not the best way, to improve safety performance. This is because there is an intimate link between promotion and safety culture.
Even if your safety culture is great now, if you don't continue to promote your safety program, you can count on a deterioration of safety performance within a couple of years. We see this pattern over and over.
Easy ways to promote the safety program are:
Have Clear Understanding/Definitions of Important SMS Concepts
Many safety professionals don't have a clear definition of various SMS concepts. Misunderstanding safety concepts can lead to less than ideal safety analysis, and then to less than ideal safety decisions as well.
The following article is a great resource which covers many safety management definitions.
---