Conforming Aviation SMS Around Struggles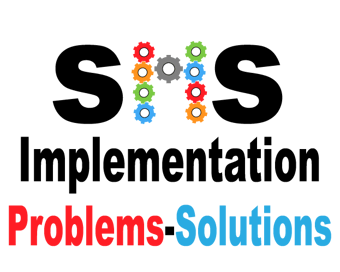 Aviation safety management systems (SMS) are now an FAA requirement for part 121 certificated operators.
Without having a verifiable SMS, operators will face denial of permits and other problems. For organizations that have only lightly dabbled with an SMS program and do not have a demonstrable program, they are now tasked with three things:
Implementing an aviation SMS program is a huge undertaking. Simply put, it tasks SMS managers with assembling an entire organization towards a single focus – a focus which is overflowing with procedures, policies, bureaucracy, behaviors, a mindset, and a culture.
Full aviation SMS implementations often take 3-5 years and have four different phases. Managers need to frequently evaluate to know which phase of SMS implementation they are in. Regardless of which phase of implementation a program is in, they tend to share similar types of problems.
Value of SMS
One of the most common challenges aviation SMS programs constantly struggle with at every phase of aviation SMS implementation is resistance due to employees and management who do not value their organization's SMS program.
Overcoming resistance in safety programs is a big topic, and we periodically cover it. Successful solutions generally fall into two categories:
Promotion and training to educate employees and management; and
Resources and guidance from the experience of more experienced operators on how to instill value of the SMS program in the company's safety culture.
The exact type or promotion, training, and guidance will differ from organization to organization, and implementation phase to implementation phase.
Lack of Management's Implementation Know How
On the management side of implementation, every manager will get to a point in implementation, whether early or later in implementation, where they are "treading in new water." Which is to say that they lack the practical operational and corporate experience to understand the needed processes and procedures for furthering the aviation SMS implementation.
For this problem, common solutions are to seek a veteran SMS expert who can:
Seek out hands on training of SMS implementation from aviation oversight agencies, other carriers, etc.;
Analysis and determination of program's most specific needs, and how they fall short of specific requirements (i.e. gap analysis);
Focus on customizing a solution to specific needs of organization, rather than the "prescriptive" compliance focused solution; and
Create a road map with step-by-step instructions.
SMS experts help ground safety mangers in the realities of where there program is, what it needs, and how to get there.
Efficient and Timely Implementation
Consistent effort for implementation and continual improvement on the part of safety managers will eventually lead to full implementation. But there are efficient and timely ways of implementing a program, and a more disorganized, chaotic approach.
The ability to be organized and have a manual or aviation SMS software that is:
In one place: options to store documentation that everyone has access to;
Easy to access: real time ability to use;
Easy to use: intuitive, guided interface;
Comprehensive: incorporates all elements of ICA;
Flexible and manageable: configurable, security based options; and
Fully operational: covers the needs of the entire SMS program, from flight operations to maintenance, and QMS to environmental systems.
Using template manuals or a pre-built aviation safety software ensures that such management tools are industry catered and tested, and are a significant improvement over trying to "reinvent the wheel." It will save time, misguided efforts, and disorganization.
Lack of Resources
Lack of resources for implementing aviation SMS programs come in several different forms:
Proper financial resources to actively manage the safety program
A common problem that impedes safety mangers from acquiring the proper tools is lack of resources or management support – usually financial resources/support. There are no easy answers here: it generally takes persistent championing (and wearing down of resistance) for specific resources and tools.
Inability to demonstrate SMS implementation and conformance to standards
Referring the program to third-party auditors for standards, or doing internal audits with auditing templates and resources will help a program identify where and why it can't demonstrate conformance.
Inability to qualify the maturity of SMS
Often, the inability to qualify the maturity of an SMS program is a symptom of poorly considered, poorly clarified, or unrealistic performance benchmarks standards. Being able to say with absolute assurance that "THIS is where the program is at in implementation" requires very specific, incremental benchmarks to measure performance against.
Having resources for specific data analysis and data mining is required to establish where program is and what the next steps are.
Final Thought: Too Optimistic Implementation Phase
This is a struggle we often encounter: safety managers think that they are in phase 3 of implementation, when in reality they are somewhere in between phase 2 and phase 3. Being overconfident about the phase of implementation is the same as being out of tune with what the SMS program needs.
Fortunately, when in doubt, there are many resources to help with all manner of problems:
To accurately assess the implementation needs of a safety program, it requires taking a hard look at your program and being totally honest about its performance – for better and worse.
---
Where are you in your SMS Program?