What Initial SMS Training Is, and How It's Different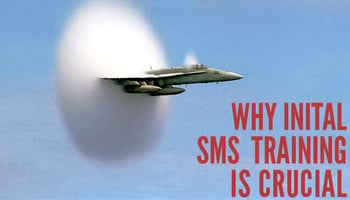 A common question aviation service providers hear from auditors is whether employees have been trained in the company's SMS program.
SMS training usually is and should be an initial training requirement. What this means is that when employees begin working at your company, the first contact they have with safety is to be trained on:
The process of SMS;
The goals of the company's safety management systems;
Employee's roles in the safety program; and
Non-punitive elements of the program.
Providing initial training is simply a way of acquainting employees with the program. If you already have existing employees when you begin implementing the safety program, those employees should all perform the initial training as an introduction to the new SMS program.
Typically, initial training will also touch on:
This training need to be extensive or long, and can be efficiently accomplished in less than an hour.
How Companies Implement Initial SMS Training
The responsible safety manager is in charge of creating initial training. It's a process of:
Creating the initial training process;
Gathering the important "discussion points" for initial training (see bullet point in previous section); and
Formatting them into a training document, checklist, video, etc.
Implementing initial SMS training really should not take much time. As long as the safety manager is aware the relevant resources, it's simply a process of showing new employees where to find them, and briefly explaining the basic tenants of aviation SMS programs.
It's also important to make sure that you document the employees initial training so that when an auditor says, "Where's your proof that employees have been trained on your SMS program," you have something to show them.
Goals of Initial Training
There are three primary goals of setting up initial training requirement:
Attempt to build positive safety culture from day one;
Mitigate risk of new employees.
It hardly needs be said that these goals make a lot of sense. It takes very little effort to implement initial training, but the potential benefits are high.
When SMS Initial Training is Performed
Aviation SMS initial training should be performed as soon as employees are hired on to the company. By "as soon as…hired," we are talking about either:
Before employee's start date;
On employee's first day; or
Within 2 weeks of employees first day.
Remember, "initial" means "occurring at the beginning." Your initial training should either occur at:
The start of the SMS implementation; or
The start of employee's tenure with your company, as discussed.
Fulfilling an initial training 6 months into an employee's employment with your company definitely defeats the purpose – but you would be surprised how common this scenario actually is.
Why Initial Training is Import for Aviation Safety Programs
During phase 2 of an ICAO compliant SMS implementation plan, you are required to provide reactive risk management training. Reactive risk management is, in short, the ability to:
Respond quickly to safety concerns;
Adequately mitigate risks that arise; and
Take proper action on safety issues.
Initial risk management training is a crucial step in achieving this requirement. Employee turnover is a major risk to every aviation service provider. The better new employees can react, the less risk they pose.
---
For more information about training and monitoring, you will find the following video informative: