What Are Leading Indicators in Aviation SMS?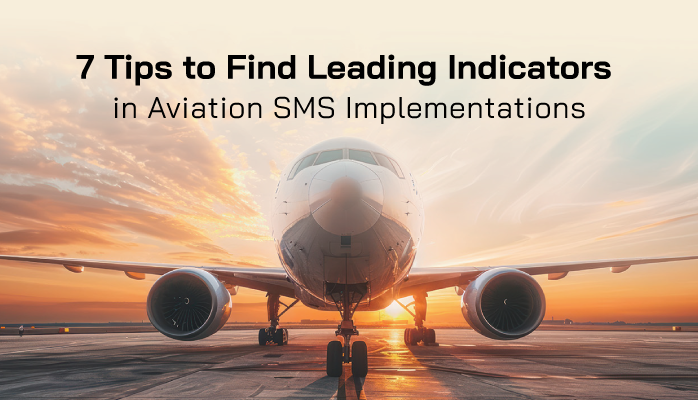 Leading indicators is a current hot topic in safety programs.
I've noticed a that there also seems to be differing and even conflicting information about exactly what are leading indicators in aviation safety management systems (SMS).
I've seen lagging indicators equated with
predictive risk management,
root causes, and
– most commonly – leading indicator examples.
Leading indicators in risk management are a statistic-lover's playpen. The 3 main things you need to know to find leading indicators in aviation SMS are that leading indicators are:
Proactive risk management in that they identify and take appropriate action to stop an arising safety concern before an incident happens;
The input of the program in that they are meant to identify the technical/organizational weakness that contribute to safety events – they are not the data "output" (lagging indicator) of an event; and
Identify precursors (note the plural) in that they identify "holes" (read Swiss Cheese Model) as they are lining up – they are not the "holes" (root causes) themselves: they are simply the warning signs.
If it's still unclear, see here the difference between leading and lagging indicators. Every aviation SMS will have different needs, goals and objectives. Consequently, you can expect to focus on a different group of leading indicators that other operators in your industry segment.
Related Articles for Aviation SMS Leading Indicators
A good rule of thumb is that the best types of leading indicators are defined by a number, such as an average or percent. Poor indicators are defined by "yes/no", such as "presence of X," "provision of Y." Here are 7 good tips to find leading indicators in aviation SMS.
1 – Teamwork in Safety Programs
I have maintained in the past that teamwork is the most important barrier your aviation risk management program has against safety incidents. Safety programs with employees who work well together are the most resilient and most adaptable type of program. Any data regarding teamwork - especially proactive data - is absolutely indispensable to any organization.
Of course, the problem is, how do you measure things like trust, teamwork, and relationships in an SMS? Fortunately, there are several fairly universal leading indicators in aviation SMS, such as:
Average length of employment in your company;
Percentage of employees with over 5 years at your company;
Average turnover rate; and
Average number (per employee) of safety issues involving problems with other employees.
Companies with high turnover and low average length of employment at your company, it's a pretty
Good indications that the working environment is not exactly conducive to teamwork include:
High employee and contractor turnover rates; and
Low average length of employment at the same company.
2 – Organizational Safety Communication
Communication can make or break your SMS. In communication, quality leading indicators should be looking at what goes into the potential of communication in your SMS. This would be elements like:
The number of ways safety communication can happen, such as via meetings, messaging, reporting, and training – the more channels for safety communication, the greater potential for effective safety communication;
The percentage of employees who receive specific communication training, such as non-violent communication techniques, using hazard reporting software, etc.; and
How much of the budget is consumed with acquiring and maintaining safety communication channels, such as training.
Finding leading safety indicators involves finding the mechanisms of communication, rather than the actual message of the communications, such as:
number of safety promotion campaigns, such as safety newsletters, bulletins and posters;
having communication available in multiple languages (e.g. hazard reports in multiple languages.), etc.
Related Aviation SMS Safety Promotion Articles
3 – Employee Preparedness
Employee preparedness basically means how well employees are prepared to practice risk management. Naturally, preparedness will revolve heavily around training. Three good examples are:
Percentage of aviation safety training that includes end-of-course competency testing to "pass" the training;
Mean score for end-of-course competency test scores;
Percentage of employees who have received all available safety training within the past year; and
Number of updates to training courses within the past year – which ensures that training courses stay current with the most relevant safety concerns in your SMS.
4 – Performance Monitoring Response
Employees need to hear how they are doing. The more feedback employees receive, the more proactive they will be – period-end-of-story.
The fact is that most SMS aren't tracking response data between management and employees, and if that's you then you should especially be paying attention.
Again, bad leading indicators would be yes/no things like, "having a feedback system" or "number of safety-culture surveys." Much better are leading indicators that appraise the response performance between management and employees, like:
Percentage of employees who received a safety performance review in the last year;
Percentage of performance review items that are safety related; and
Percentage of safety reports/suggestions in which feedback was provided directly to the submitter.
Monitoring employee safety performance requires robust data gathering and retrieval technology, like an SMS database. Low cost, commercially available SMS databases offer many opportunities for safety managers to collect and analyze employee safety performance. Tracking employee safety performance is not sustainable using spreadsheets or separate, disconnected point solutions that focus on a particular SMS activity, such as:
Hazard reporting system;
Auditing system;
Accident investigation system;
Aviation SMS training system; and
Corrective actions and preventive actions tracking system.
When your SMS is managed by a multitude of data collection tools, the effort to retrieve actionable data to make sound business decision decreases markedly. The best practice here is to acquire an SMS database that facilitates data collection and report generation. This is your only sustainable option if you wish to benefit most from your SMS data.
Related Aviation SMS Database Articles...
5 – Organizational Weaknesses
Organizational weaknesses come in three types:
controls,
bureaucratic structure, and
exposure to hazards' risk consequences.
Being able to identify these weakness is a prime example of why leading indicators are so important. Organizational weaknesses perfectly illustrate the concept of identifying hazards and the associated risks that working together create problems before the problem happens.
Great lead indicator examples to identify these three types of weaknesses are:
Average number of [monthly, seasonally, yearly, etc.] hazard reports submitted per employee;
Average number of risk controls implemented with each change management;
Percentage of incident reports on which causal analysis was performed (such as Bowtie analysis);
Number of safety audits/inspections completed per year; and
Percentage of jobs that have safety checklists.
All of the above items bear a direct relation to situations that cause incidents. The more checklists, audits, hazard reports, etc. the less likely the organization will be exposed to hazard related consequences.
6 – Adaptability
Adaptability is an important area to focus on for leading indicators. Adaptability mainly represents your SMS' ability to respond to needs and safety concerns. Adaptability is a major concern for large or heavily prescriptive aviation SMS, as the bureaucracy involved in implementing change can be burdensome, and even crippling.
Great leading indicator metrics for adaptability involve seeing how quickly and how punctual your organization is in meeting goals on time, such as:
Average time to complete corrective actions;
Average time to fully implement changes in response to suggestions or submitted issues;
Percentage of issues/CPAs/audit recommendations that were closed on time; and
Average number of days for new employees to submit first hazard report.
7 – Safety Promotion
While not true of every SMS, safety promotion has strong correlations with safety culture - it almost goes without saying that safety promotion is the attempt to improve safety culture.
When we are talking about leading indicators, we want to see data that indicates how "committed" employees are with the SMS. Some of the better leading indicators related to safety promotion include:
Percentage of employees who receive full SMS induction training;
Average frequency of safety meetings;
Average number of minutes logged per safety meeting; and
Mean frequency of safety newsletters.
Related Aviation Safety Culture Articles
Final Thoughts on Discovering Leading Indicators for Your SMS
Leading indicators offer safety management teams snapshots of your safety culture over time. These predictive analytical tools are only applicable for mature aviation SMS implementations.
Safety management teams cannot evaluate trends and alter the course of the SMS until they have sufficient data to analyze. Leading indicators assist upper-level management in their decision-making processes. By "sufficient" data, there are two points I want to leave you with.
Evaluated SMS data should have enough critical mass (enough data points) to ensure your data is not skewed by occasional anomalies; and
Captured data elements should be broad enough to "check the pulse" of many areas of the SMS.
Mature SMS implementations can generate considerable amounts of safety data. Having the ability to collect, organize, store and retrieve the data is the pain point of MOST mature aviation SMS implementations. This pain derives from inadequate planning or insufficient budgets for SMS database tools earlier in the SMS implementation.
If you are starting your SMS implementation, you will want to figure out your SMS data management strategy early on. This planning prepares your safety team for future data analysis tasks that allow your SMS to benefit from the predictive risk management phase of the SMS.
---
Do you need help? We are willing to help you succeed in your SMS goals and objectives by providing SMS database software designed specifically to manage all four SMS components.
Inspiration for Your Leading Indicators
Having trouble getting started with your leading indicators? Here's a list of 40 to stimulate your thought processes!
Do you need an easy way to track leading indicators or KPIs? Watch these short videos to learn how we can help you.
Published April 2019. Last updated September 2020.