Characteristics of a Sustainable SMS Implementation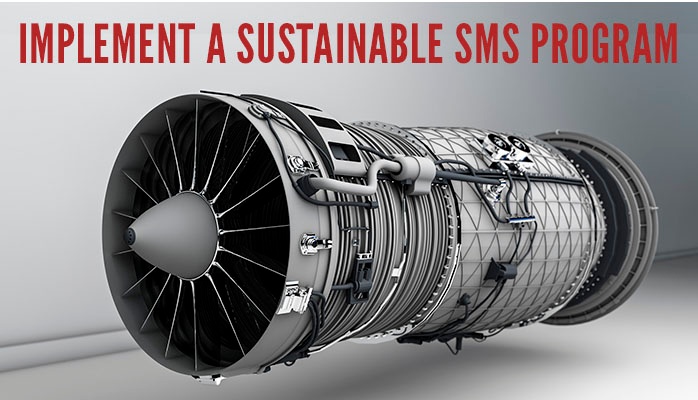 Sustainability is a modern buzz word, and aviation safety management systems (SMS) are no exception. Sustainable SMS implementations are those that survive
upper management personnel changes,
safety manager changes, and
high volume of employee turnover.
The question every safety manager and/or upper manager needs to ask is, does my SMS implementation achieve these sustainable goals?
Chances are, the answer is no – not yet. That's okay. Aviation SMS implementations are always a work in progress.
Implementations are long, drawn-out marathons, not sprints. There will be times of steady progress; however, most SMS implementations will also suffer setbacks. How does your company identify these obstacles? What is your plan for dealing with these common scenarios should they plague your aviation SMS?
Related Aviation SMS Implementation Articles
Every SMS Implementation is Slightly Different
Every aviation service provider is unique. No two companies are the same, and with this in mind, no two aviation SMS implementations will follow the exact same path. There will always be some challenge that requires the SMS to be custom-fit to the organization. This may be due to differing:
Organization size and operational complexity;
Aviation industry segment (airline, airport, flight school, maintenance, etc.);
Management structures;
Safety cultures;
Employee and contractor backgrounds;
Budgets;
Competency and effectiveness of regulatory oversight; and
Missions (business purpose) and competitive business processes.
In hindsight, most safety managers would do things differently a second time around to build a better (i.e., more sustainable) foundation during their SMS implementation phases.
Some of these initial "sustainability" tips are:
Sustainable SMS implementations rely on the system rather than a person;
Sustainable implementations have a safety champion (who may be a different person than the safety manager);
Sustainable SMS use gap analysis to determine requirements and monitor implementation progress; and
Audit checklists will be your best friend.
Beyond these tips, here's how to set your SMS up for future, long-term success.
Acquire Upper Management Support
Here's a scenario we have seen over and over again:
A charismatic, task-oriented safety manager pushes the SMS initiative hard and performs most of the heavy lifting. By "heavy lifting," I'm referring to drafting the SMS' risk management policies and procedures with little support from other managers within the company.
The aviation SMS Implementation reaches deadlines and passes initial regulatory audits. Eventually it is considered as "fully implemented" or having reached "Phase 4." This is great news not only for upper management, but also for the regulatory agency providing oversight.
Fast forward 6 months. The original safety manager has left the company. A new safety manager takes over the reins. Many times the original safety manager does not fully debrief the new, incoming safety manager, or the introduction to the organization's SMS is very shallow, with few details. The new safety manager is thrown into the deep end of the pool to "sink or swim." Since there was little involvement from other managers in the initial SMS implementation, there is not much support or subject matter expertise available for the incoming safety manager.
In so very many cases, the original manager may not have had sincere upper management support. The accountable executive may have known about the SMS, but in reality, the accountable executive and the other upper-level managers relied exclusively on the safety manager to handle "all things SMS." This phenomenon is easily visible in companies where the safety manager handles all SMS documentation and operational department heads have no desire or inclination to help document aviation SMS activities.
So now when the new safety manager wants to completely overhaul the SMS implementation, nobody stops him. Upper management may even encourage it. This revised aviation SMS is now rebooting at ground zero, phase 1 of the SMS implementation.
In the same vein, similar scenarios may include:
The safety manager leaves the company, taking the SMS data on his laptop;
Safety manager forced out of the company without any time to transmit/share SMS operational knowledge;
Upper management and the safety manager have open conflict about direction of the SMS initiative;
Upper management does not drive the kind of top-down safety culture needed for safety performance that exists in operational performance (and not just on paper).
The fact is that first and foremost, sustainable aviation SMS always have upper management support and have actively involved operational department heads to both support and actively promote the SMS implementation. Upper management is ultimately responsible for the SMS, and apportions resources. Without upper management overtly backing the SMS, there will always be a high risk that the aviation SMS will completely and hopelessly falling apart.
Related Aviation SMS Articles
Understanding the Aviation SMS Implementation Strategies
There isn't just one SMS implementation strategy. There are several effective strategies for introducing an aviation SMS into your organization. These approaches include:
Quantitative approach: always implement documentation by deadlines, even if actual performance isn't quite there yet (i.e., documentation is a bit higher priority than culture);
Qualitative approach: always implement the aviation SMS at the actual rate of performance in operations, so that documentation closely matches real life (i.e., safety culture is higher priority than documentation); and
Rapid approach: implement SMS bureaucracy as quickly as possible, regardless of whether actual safety performance has changed at all (i.e., worry about documentation first, then focus on safety culture).
Quantitative SMS Implementation Approach Most Common
Most companies we work with generally take the quantitative approach. These organization realize the value of developing safety culture during implementation, but view reaching deadlines as the highest priority. In reality, this is a highly pragmatic approach when one considers that making changes to safety culture are:
Not guaranteed to return desired results; and
Difficult to measure in the short time as safety culture changes commonly require considerable time and effort.
Qualitative approaches are relatively less common, as they take longer due to the safety culture focus, but they are the most honest approach. Proactive aviation service providers that may not be required to implement an aviation SMS are more inclined to take this approach. In these cases, their timeline to demonstrate SMS compliance may not exist or the deadline may be an internal "goal."
Rapid SMS implementation approaches are also very common. You will see this type of implementation with managers taking the viewpoint of "Let's fake it until we make it." We can easily understand management's desire to say they've "made it," but there are many pitfalls in the "rapid approach," such as:
audit findings; and
regression in progress due to competing demands.
I personally like the "rapid approach," however, management must not become distracted or become lulled into a false sense of achievement. "Faking it" is often representative of the "paper SMS" where management is merely interested in checking the "regulatory compliance checkbox." I'm not saying that a "paper SMS" is always a bad SMS implementation strategy. There are several business scenarios that support the logic behind a paper SMS.
Related Aviation SMS Implementation Articles
Be Realistic: Know SMS Implementation Myths
Another major pitfall during SMS implementation is having the wrong expectations about what the aviation SMS will bring to your company. Wrong expectations result in a false sense of security. Some of these myths are:
SMS Implementation will improve actual safety performance;
Safety manager owns the risk management program; and
Employees will be receptive of the SMS initiative.
These above points can be true, but little in life is handed to us on a silver platter – the above points included. Safety performance and getting employees comfortable with safety changes are two things that safety managers have to work extremely hard to make happen.
How to Set Realistic Deadlines For Your Aviation SMS
Where many SMS initiatives run into problems is not setting realistic deadlines for implementation activities. This is a problem because an unrealistic deadline:
Creates pressure to conform to standards that aren't feasible;
Causes managers to "pencil-whip" requirements, such as seen in "paper-SMS;"
Looks bad to be constantly late on progress;
Tendency is to widen the gap between documentation and real performance by forcing the deadline.
Pressure and widening gaps are recipes for an SMS implementation that will eventually implode. If this sounds familiar, it's never too late to re-define your deadlines. Setting realistic deadlines is about:
Marking down the date you anticipate an SMS activity will be implemented by; and
Then adding 33% to 50% more time.
The point here is that almost everything in life takes a lot longer than you think it will. If you think phase 2 of SMS implementation will take 12 months, set a deadline of 16-18 months. It will give you breathing room to do a proper implementation, and if you are hitting your anticipated dates then it looks like you are well ahead of schedule.
Auditors like this sort of realistic planning. Moreover, you can rest assured that your implementation has a solid foundation that will outlive your stay with the company.
Related Aviation SMS Implementation Articles
Final Thought: Ongoing Inspections on Operations vs Documentation
Regardless of which approach you use to implement your organization's aviation SMS, it's extremely important to be constantly inspecting real operational environments to assess how they stand against implementation documentation. This practice affirms that you either are:
Confirming that actual risk management processes and SMS documentation align; or
Aware of the "gap" between actual risk management practices and your SMS design documentation.
---
A great way to measure the sustainability of your SMS program is to understand where it fails. Here's a cutting edge risk management tool that addresses where SMS implementations fail during safety incidents. It's the only risk management tool of its kind.
Published April 2017. Last updated October 2019.