Recurrent SMS Training Can Be Expensive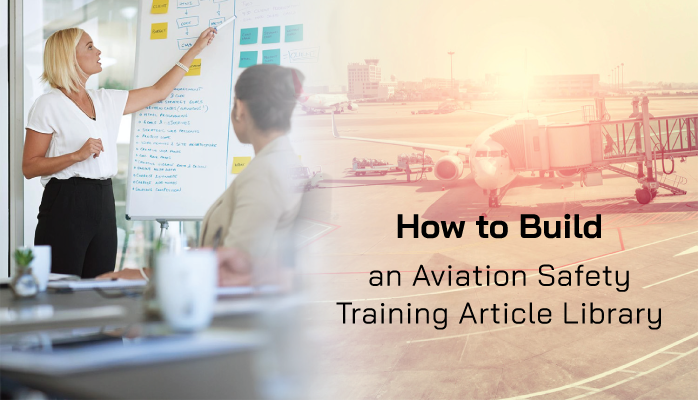 Aviation safety management systems (SMS) require both initial and recurrent SMS training for all employees. Safety professionals recognize this requirement once they reach Phase 2 of the SMS implementation.
For small companies with 20 to 100 employees, it is not feasible to send all employees to aviation SMS training courses. Nor is it feasible to regularly hire an SMS consultant to deliver training to all employees. Not only do you have costs relating to consultants' time and expenses, but also lost revenue due to employees not performing billable services.
In these scenarios, smaller operators can have an SMS training policy that requires employees to read aviation-related safety articles on a routine basis, such as monthly. Another alternative is for employees to read a predetermined number of aviation safety articles each year. Of course, the policy must be documented and for each employee, the number of articles will need to be tracked, counted, and documented.
To take this example further, management could pre-select or recommend articles based on each employee's participation level in the aviation SMS. After all, not every employee requires the same level of SMS training. SMS training must be delivered that is commensurate with each employees duties and responsibilities to the aviation SMS.
Related Aviation SMS Training Articles
SMS Training Activity Needs to Be Documented
One of the biggest (and recurring) challenges for aviation service providers is SMS documentation related to required safety training. This is not the biggest challenge by far, but it is among the top ten.
Aviation service providers have multiple "systems" in their organization. Many of these systems are operations-related, but other systems support operations and the SMS. Since aviation SMS is required for most aviation service providers, we should now consider the aviation SMS an "operational system," as SMS documentation must be continually updated to demonstrate SMS compliance.
Many of these systems are independent and don't talk to the others. This architecture is a problem for SMS training managers because:
Finding accurate training records becomes difficult;
Determining currency can be time consuming;
Not all managers have access, thereby reducing participation and accountability; and
Redundant data stored across multiple systems.
Solutions to Provide Required Aviation SMS Training
Regardless of how you document your recurring safety training requirements, it does not have to be complex. An inexpensive solution is to use a pre-configured "aviation safety article training library." This SMS training tool allows managers to configure how many articles each employee must read within the prescribed time.
Depending on your available resources, I can think of two scenarios or tools that safety managers can use to manage documentation required for recurring safety training:
Spreadsheets with Aviation Safety Articles; and
Aviation SMS Database with Safety Articles.
Related Aviation SMS Database Articles
Creating Your Own Safety Article Library - It's Simple
If you have an IT department, or if you are a power user, you can create your own safety article database. If you choose this alternative, a Web form may allow employees to enter which safety articles they have read. Alternatively, employees can email or submit a report for the safety manager to document employee activity.
While this first approach may satisfy the requirements and provide a "solution," I am certain this is not a sustainable solution in the long term. As soon as you have turnover in your safety department, I can see how this process will easily become neglected.
For companies with extremely limited budgets or operators without solid management support, this option will work, but I would not want to be the person to manage this documentation. There is an easier way if you have a small SMS budget.
Simpler Usually Means Better for Sustainable Safety Training
A simpler approach is to purchase an existing safety article training library that allows employees to browse safety articles and read the ones that interest them. In this case, when employees read the article, the safety article library automatically documents employee activity.
There are low-cost, commercially available SMS databases that have integrated SMS training documentation tools. This is perhaps the most sustainable approach and is scalable for larger operations. One careful point that safety teams should never forget: "if the process is not user-friendly and easily repeatable, the process will not last." Keep it simple!
If safety training is important to your organization this year or next, then you should also include safety training as one of your key performance indicators (KPIs). KPIs should always be related to organizational goals and objectives. Since SMS training is required, your SMS should list some KPIs that relate to the organizational performance of SMS training objectives.
Managers Should Recommend Aviation Safety Articles
Proactive aviation safety professionals are always looking to expand their knowledge and learn new techniques. Without a doubt, safety and security managers read more aviation-related safety articles than any other user group in your operation.
With this thought in mind, as managers come upon particularly safety articles that relate to your operations, they should have the ability to easily recommend these articles to other employees within the organization. This bonus feature in a safety article library would allow managers to unobtrusively share their approval regarding particular safety articles.
Another feature that would be beneficial for any safety training article library is for managers to share the link of a very useful article with the rest of the organization on the company's Message Board.
You may call your Message Board the "Read File" or "Safety Bulletin." Regardless of what you call your message board, having the ability for managers to share training resources across their division or company is a great safety promotion activity. Of course, these activities would be documented and visible to civil aviation authority (CAA) regulatory auditors or other auditors, such as clients auditing your operations.
Related Aviation Safety Training Articles
Ideal Safety Article Training Library Must Be Configurable
As I'm dreaming of the perfect safety article training library, I would want safety managers and department heads to have a pre-configured list of educational safety articles. For an aviation SMS program, a good library would have at least 100 categorized safety articles. For aviation SMS programs, the four pillars make perfect sense: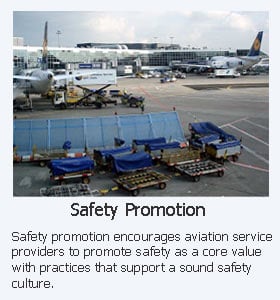 Safety Policy;
Safety Risk Management;
Safety Assurance; and
Safety Promotion.
To offer scalability, managers would need to add additional categories as the need arises, such as:
Security;
Dangerous Goods Handling;
Human Factors;
Fire and Smoke;
Stress Management, Fatigue & Vigilance;
Decision Making; or
Leadership, Team Behavior and Synergy.
Therefore, the list of categories must be configurable. In addition to configurable categories, managers must have the ability to add aviation-related safety articles from external sources, such as the:
If you are creating your safety training library, adding safety articles from external sources would be a super feature. I would certainly want this.
If you are just starting your SMS implementation and haven't figured out how to deliver and track safety training, you should be carefully considering your options.
SMS training must be documented and the documentation must be stored as long as the employee remains at your company. Therefore, your SMS data management strategy for managing initial and recurring SMS training cannot be understated.
Related Aviation Safety Training Articles
Some Articles May No Longer Be Relevant
Being able to add articles to your online safety training library is a great feature. However, the environment constantly changes in the aviation industry.
How about hiding safety articles that either:
No longer add real value to your organization's SMS implementation; or
Do not fit with your organization's existing processes?
For example, your "pre-configured" safety article library may contain articles that are specific to airports, but you are an airline or aviation maintenance organization. In this case, managers would want the ability to hide certain pre-configured list of safety articles.
Another example would be aviation security best practices. Pax screening may prove to be a very relevant topic this year due to terrorist activity, but maybe five years from now, articles revolving around this topic may no longer serve your safety program.
Effective Safety Libraries Continue to Grow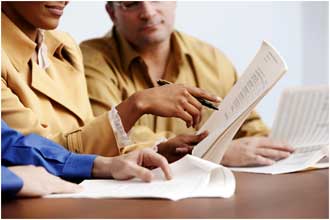 Fresh content keeps employees interested and engaged in your safety program.
Employees want fresh content. New safety articles will keep them interested and willing to explore and proactively learn.
Since your employees expect fresh safety articles to continually come into the library, there must be an easy way for multiple managers to add articles. I recommend allowing these following managers to add safety articles:
Department Heads; and
Safety Managers.
Department heads are also reading and will uncover useful, educational content to add to the library. Instead of making the administration of your safety library difficult, I recommend distributing the workload and allowing multiple managers the ability to contribute their "discoveries" to the library.
Related Aviation Safety Training Articles
Final Thoughts about Safety Training Libraries
Recurrent safety training does not have to cost hundreds of dollars per year per employee. A safety article training library can save your company thousands or tens of thousands of dollars each year.
Furthermore, you can easily create your own safety library or use the existing safety training library in your aviation safety management system database.
Good luck. Please share your thoughts.
---
If you are creating your own library of educational safety articles, here is a categorized list to seed your new library.
Every SMS Pro product has the Safety Training Library. If you need a user-friendly way to capture hazards and also train employees, consider using SMS Pro. Below are some short demo videos showing you the power that even small operators can capitalize on.
Published December 2016. Last updated November 2021.