Objectives of Aviation Quality and Safety Management Systems
The objective of an aviation quality management system (QMS) is to continually improve the level of customer satisfaction by meeting their needs. The objective of a safety management system (SMS) is to also continually improve, but instead of focusing on customer satisfaction, an SMS program focuses on stakeholders' safety, both real and perceived.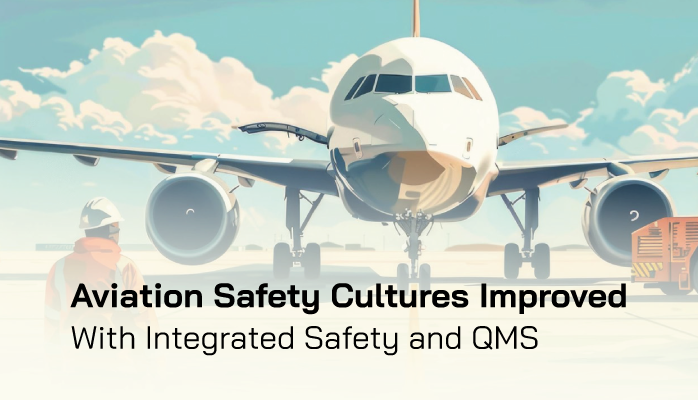 How can aviation safety professionals measure safety and customer satisfaction? Some objective measurements are easy, such as:
Meantime to failure;
Gross defect rate;
Net defect rate;
Productivity rate; and
Turnover rate.
Unfortunately, safety and customer satisfaction are more nebulous and difficult to measure objectively. How do tell whether a company is safe?
The low number of reported hazards or incidents?
Low accident rate?
Process Approach Heart of Safety & Quality Management Systems
Integrated safety and quality management systems strive to meet their objectives using the "process approach." Airlines and airports are in business to provide services. When aviation service providers have a monopoly, there is little incentive to improve processes, except for often inconsistent pressure from civil aviation authorities.
Aviation service providers operating in a competitive market achieve their objectives when their customers are happy and they feel reasonably safe.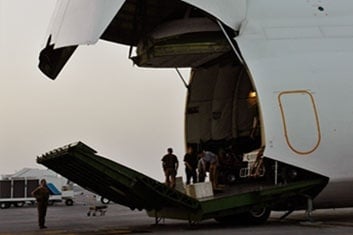 Services they provide may include:
Aviation maintenance repair and overhaul;
Catering;
Ramp services;
Ground handling services;
Ticketing and passenger-related services;
Fueling; and
Cargo.
Aviation service providers offer their services using either in-house or contracted labor, equipment and buildings. A single activity or a group of inter-related activities is commonly referred to as a "process." Managing these processes to achieve the best outcome is what quality professionals refer to as the "process approach."

Process Approach May Be Overlooked in Aviation SMS Programs
The process approach is often overlooked by aviation safety professionals because it is seldom taught in conventional aviation SMS training courses. Safety professional will have more control over the entire chain of inter-related processes when using the "process approach."
Safety professionals adopting the process approach understand the importance of:
Understanding and continually meeting stakeholder requirements;
Concepts of added value when evaluating processes and systems;
Measuring performance and process effectiveness; and
Continual improvement based on some type of measurement.
The last point may be difficult to prove in a safety management system, especially when safety managers do not have access to professionally designed aviation SMS database tools. Quality management systems strive for objective measurements, but objectively measuring the effectiveness of certain safety programs and the effectiveness of corrective actions in a safety program can be difficult or nearly impossible in the short term. Therefore, continuous improvement of certain processes must be measured subjectively and repeatedly.
For example, safety managers can easily measure their reporting culture. This is commonly achieved by counting the number of safety reports within a given time period and dividing the number by the number of participants (or employees).
Evaluating a reporting culture is very straightforward and objective. However, judging a safety culture is more difficult and observers rely heavily on soft-skills requiring introspection, perception, and feedback from fickle subjects. Safety culture surveys are used to obtain more objective results.
Positive Safety Cultures at Airlines & Airports
Unlike auditing a particular department or division for a specialized subject area, safety cultures affect entire organizations, from the account executive to the line-level employees. Airlines and airports with the highest safety ratings display a constant concern about safety. This constant concern for safety is tightly interwoven into their organizational culture.
To test the heartbeat of your safety culture, routine safety culture surveys have proven effective. The key takeaway here is "routine," meaning that safety managers must follow up year after year in order to measure results that may be skewed in the early stages of safety culture surveys.
Safety & Quality Managers Seldom Follow Through on Culture Surveys
As noted above, routine safety and quality culture surveys should be performed on a regular basis. Annual cultural surveys seem to be the norm for those airlines and airports who engage in these surveys. Based on empirical evidence, airlines and airports seldom have more than three years worth of survey data.
The reason is that:
Processes for conducting cultural surveys are ill-defined;
Processes lack oversight; and
Safety and quality managers seldom stay in the same position for more than three years.
Final Thoughts on Adopting Processes for Quality & Safety Cultures
Quality management programs are great at defining processes and managing these processes. From what I have seen in many safety management programs, there is often a lack of defined processes to ensure the continuity of certain programs, especially when safety managers leave the company.
By using integrated aviation safety and quality management database software, there will be less chance that programs fail when safety managers leave the company. Integrated QMS and SMS software programs also provide tools that assist managers in conducting cultural surveys on a scheduled basis.
When a process is too difficult to repeat, employees will seldom be able to continue the process as the years' pass. This is especially true when processes are repeated annually. So much time passes between cultural surveys. Therefore it is easy for managers to overlook the importance or to forget to carry out the task without adequate controls in place.
Hopefully, the controls will be automated tools coupled with upper management oversight.
---
Learn what other safety managers are doing on the daily, weekly, monthly schedules.