Relationship between Aviation Safety Management Systems and Safety Culture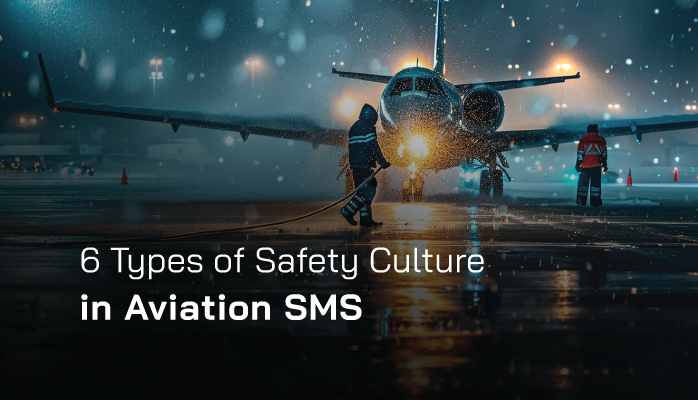 I have recently seen a great rise in the interest and emphasis placed on safety culture in aviation safety management systems (SMS).
Until the last number of years, safety culture has been treated like an appendage or "bonus" to having a solid aviation SMS program. Now however, I see safety culture starting to pop up all over the place.
By definition, aviation safety culture is described as reflecting the real commitment to safety, or how people act when no one is watching. With this understanding, the safety management system is the competency to achieve safety and the safety culture is the commitment to achieve safety.
This understanding is not good enough. Commitment is just one type of a larger safety culture.
Risk management programs are slowly waking up to the fact that in the relationship between aviation safety management systems and safety culture:
The SMS provides the structure, map, and guideline for safety success;
Safety culture is the means of realizing safety success; and
Together they are the competency to achieve safety.
I liken this relationship to going out and spending a week in the woods. The safety management system is your tent, backpack, tools, map, compass, etc. The safety culture is your attitude, behavior, ability to use your tools, etc. You need both things to survive.
This benefit of truly understanding this relationship is that you can greatly improve safety. The bad news is that influencing safety culture is harder and requires more work than simply "checking boxes" to be compliant. Here are 6 types of safety culture to focus on in your aviation safety management system.

1 – Commitment as Aviation Safety Culture
Commitment in safety culture is:
Management's willingness to do what is necessary to improve safety;
Individual employees (including management) personal concern for the safety program; and
What kind of investment has been made to the safety program.
In short, Commitment can be summed up by: how invested every level of your company is in the SMS program. Investment comes I many forms:
Upper management support of the safety program;
Dedication to following prescribed behavior;
Financial investment in the safety program;
Attitude of management towards quality performance vs safety preparedness; and
All individuals level of positive outlook towards the safety program.
Safety cultures that feature strong Commitment universally have better safety Behavior and safety Awareness.
2 – Safety Behavior in SMS
I put the greatest stock in good safety Behavior as being a sign of great safety culture. This is because above anything else, how you act will have the greatest bearing on the safety program.
Someone might hate their SMS program. Yet as long as they follow simple safety behavior rules (policies, procedures, hazard reporting, etc.), the program will be much safer with them than someone who loves the SMS but can't follow through in behavior.
Behavior comes down to this:
What kinds of Behavior does a safety program's management value?
How do employees behave in regard to their policies and procedures?
Are safety behavior and safety relationships more important the personal differences?
Are employees complying with desired behavior when the boss isn't watching?
Answers to these questions require careful consideration of your safety program, but they provide valuable insight in the behavior that characterizes your safety culture.
3 – Justness
Justness is a strong reference to Just Culture, which is an organizational policy of:
An SMS that meets the safety needs of the program (and doesn't just adhere to compliance requirements);
Dealing with safety issues and employees fairly (i.e., no favoritism, no corporate culture, etc.);
Top-down created incentives for participating in safety improvements; and
Willingness to keep everyone as involved as possible in group changes.
Justness is an extremely important aspect of safety culture in that it is largely a result of documented management attitudes about safety.
4 – Information Access and Attitude
Information in safety culture is similar to Justness, except that Information looks specifically at how management values information. Information is directly related to the Safety Policy component of the Four Pillars of SMS.
Information practices that create positive safety culture are:
Transparency in regard to data-access – management grants access to most or all safety information;
Ease of access – management makes accessing that safety information as easy as possible; and
Information reliability – management documents all relevant safety information.
This type of safety culture is a hot topic recently, as growing concerns over privacy and secrecy have plagued governments and multinational corporations. It is always recommended that aviation safety management systems are as transparent, accessible, and detailed as possible.
5 – Awareness of SMS Hazards and Risks
Awareness in aviation safety culture is simply what it sounds. How aware of safety issues employees, management, and executives are.
Specifically, it this looks like:
Awareness of hazards and risks;
Attitude about unknown hazards and risk (actively looking out for unknown hazards and preparing for new safety situations?); and
Desire to broaden understanding.
These seem like terribly conceptual points. A great way to apply them practically in your program is through:
Hazard awareness competency quizzes; and
End of training course assessments.
This gives you quantifiable data about safety awareness performance.
6 – Adaptability to Changes and Events
Adaptability in aviation SMS programs increasingly becomes important the more mature the safety culture is and the further along in SMS implementation the safety program is.
Adaptability is:
The ability of employees to adequately respond/react to the needs of a safety situation;
Pro-activeness towards mitigating and avoiding risks before they occur; and
How quickly employees can incorporate new data, procedures, and information into their safety behavior.
Adaptability is as much a response to an event as it is an ability to quickly be prepared for possible safety events.
---


Published October 2016. Last updated January 2019.