Safety Policy Can Greatly Help Effective Safety Culture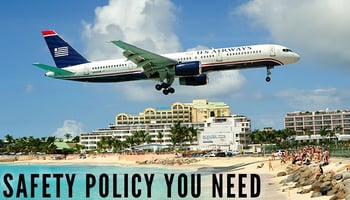 Safety policy is a major asset for building an effective safety culture in aviation SMS programs. Safety policy should not be tucked away somewhere out of site, or just used to "check the box." Having the right kind of safety policy will influence each one of the four pillars to build safety culture:
Policy can be used as a training requirement (Safety Promotion);
Policy will be instrumental in cultivating hazard reporting (Safety Assurance); and
Policy is an essential component in Safety Risk Management activities (i.e., System Description).
The Safety Policy pillar is about building a skeleton framework for your SMS program in terms of:
Setting expectations;
Delivering most critical safety information; and
Providing guidance for safety behavior.
Here are 4 pieces of safety policy that you should have in your aviation safety management system.
1 - Mandatory and Voluntary Issue Reporting Policy
Mandatory and voluntary issues are very important for building the kind of safety reporting culture for your organization. This policy simply lists:
What kinds of safety issues employees must report; and
What kinds of safety issues employees can report if the situation warrants it.
Having this kind of safety policy offers the kind of guidance that could otherwise deter employees from not reporting issues. Some safety managers don't care for language like "mandatory," but the fact is that every job has requirements that one must complete.
It's healthy to set boundaries like this, and it gives a clear path that employees can follow to meet expectations. Having this type of policy is conducive to an effective safety culture.
This policy can be as simple or detailed as you would like. It will be very helpful for employees to provide the type of issue that is mandatory/voluntary as well as by a brief description.You can include this policy as a part of recurring SMS training.
2- Safety Org Chart
Org charts will differ from quality to safety operations. Org charts measure two things:
Hierarchy of responsibility; and
Information flow.
The second point is extremely important is an overlooked aspect of org charts. When employees want to know what happens with safety information, they look at the org chart. When employees want to know who to talk to, they look at the org chart.
Having a safety org chart also proves that management has outlined the structure of the safety program, including duties and responsibilities of all personnel in relation to the SMS program.
3 - Non-Punitive Reporting Policy
Most companies now include a non-punitive reporting policy as a part of their safety policy repertoire. This policy is absolutely essential for your risk management program.
It's a great way to introduce employees to the safety program as an initial training requirement; and
It good to continually remind employees of non-punitive reporting during recurrent training.
The fact is that countless employees at many companies are afraid to report safety issues. Part of overcoming this fear is:
Continually reminding them of the non-punitive policy; and
Reinforcing this policy through action.
4 - Safety Manager Contact Information
A common audit finding is that employees don't know who their safety manager is. This problem increased as organizations get larger. The primary way to combat this easily avoidable audit finding is:
Create a policy that includes safety manager's name and contact info;
Include this policy as an initial training requirement; and
Include this policy as a recurring training requirement.
The fact is that in larger organizations the safety manager doesn't have time to interface with each employee. Having this kind of policy will help ameliorate this problem.
---
For more information about creating a superior Safety Policy library, see the following checklist: