What is Aviation Safety Policy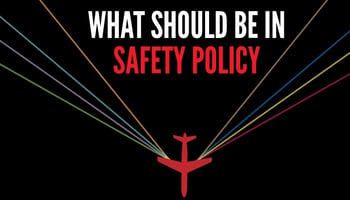 An aviation Safety Policy is a document in safety management systems that outlines:
What your organization's safety value are;
What safety commitments your organization is willing to make; and
What the important resources are that employees can use to behave safely (policies, procedures, accountabilities).
ICAO's Doc 9859.3 writes that your Safety Policy is used to, "Describe the organization's intentions, management principles and commitment to improving aviation safety in terms of the…service provider."
Your company's SMS Safety Policy should be the "bottom line" on all safety questions. When employees have questions regarding the SMS or safety, you should be able to send them to your Safety Policy for an answer.
The Criteria for Your Safety Policy
Further criteria outlined by ICAO for your Safety Policy are that it should:
Be in size and complexity commensurate with the size or your organization;
State organizations intentions, principles, objectives, and commitments;
Be signed by accountable executive;
Be promoted by executive and other managers;
Be reviewed periodically;
Involve personnel at all levels of the SMS; and
Be communicated to all employees in organization.
Your Safety Policy needs to fulfill each of the above points if you are to have a compliant policy. In fulfilling these requirements, you also complete the Safety Policy pillar of the 4 Pillars of SMS.
How Big Should Your Safety Policy Be
ICAO states that your Safety Policy should be based on the size on complexity of your organization. In some ways this is true, but in other ways this is not true in actual practice of developing your policy.
The fact is that most of your Safety Policy will be about the same size as any other company's Safety Policy. This is because many of the required Safety Policy elements are static items that are the same size, such as:
High level safety goals;
Specific safety objectives;
Commitments to safety;
Safety org chart; and
Key safety personnel.
Your Safety Policy needs to include such items, and they will hardly vary in size among different organizations. Where a Safety Policy tends to differ in size from other companies' Safety Policies is its sections on:
Accountabilities;
Roles and responsibilities; and
Procedures and SMS policies.
Larger organizations will need account for (i.e., document) a greater number of roles, responsibilities, policies/procedures, and accountabilities that interact in complex ways. Their Safety Policy needs to capture this size and complexity, Smaller operations, with less employees and a less diverse operational environment, will need to account for less.
Your just need to make sure that your Safety Policy includes all required elements, and that the accountabilities, roles, policies, and procedures capture what actually exists in your operational environment. In this manner, your Safety Policy will naturally develop to be the right size.
What Should Be in Your Safety Policy
Though we have already covered some of these important items listed below, your Safety Policy should include:
Key commitments, such as:

CEO commitment to safety
Organizational commitment to safety
Commitment to non-punitive reporting
Voluntary and mandatory reporting

Specific company safety objectives that help SMS reach goals
List key personnel, including:

Accountable executive
Safety manager to maintain SMS
Safety committees
Other important personnel

List all roles in your organization, including the safety responsibilities and accountabilities of each role
Important safety resources, including SMS:

Policies
Procedures
Checklists
There may be more items you should include in your Safety Policy, but these items cover the core elements to help you reach Safety Policy compliance.
Final Thought on Reviewing Your Policy
Your Safety Policy is not a static document. It will change in size and scope over time as you review and update it.
A best practice is for your accountable executive, safety manager, and safety committee/team to perform a comprehensive audit of your Safety Policy once per year. Beyond this, any anomalies discovered in the policy when referencing it during normal operations should be promptly fixed, rather than waiting until the comprehensive review.
---