What Is a Key Performance Indicator?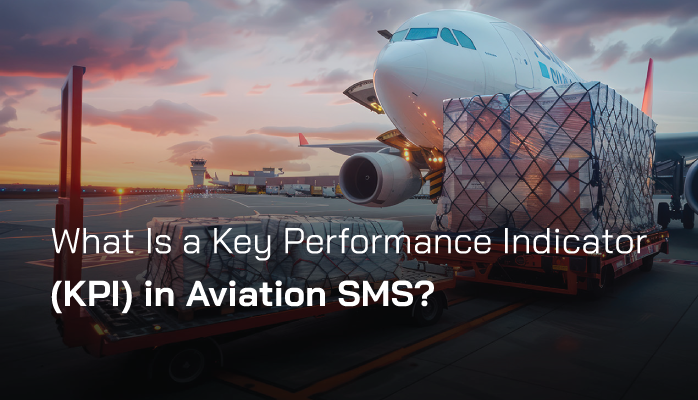 Answering the question, what is a key performance indicator, is not exactly as straightforward as it may seem.
This is because key performance indicators, known commonly as KPIs, have multiple uses in aviation safety management systems (SMS).
Most obviously, as "performance" in the name implies, KPIs are data metrics (i.e. "Indicators") used to track "performance" in aviation SMS.
Performance in SMS programs is not always "safety." The four general categories of performance that can be tracked using your SMS are:
Safety;
Quality;
Operational; and
Financial.
Related Articles for Aviation SMS Key Performance Indicators
What Is the Key to KPIs?
There is a second important element of KPIs, and that is the "Key" aspect of KPI data metrics. KPIs should only track the most important data metrics in these four areas. To understand the hierarchy of how important an organization's many data metrics are, they need to intimately understand:
Core company goals and objectives.
Key performance indicators are "key" in the sense that they directly monitor metrics aligned with core company goals/objectives. So in a way, KPIs are used for goals and objectives monitoring.
How Are KPIs Used in Aviation SMS?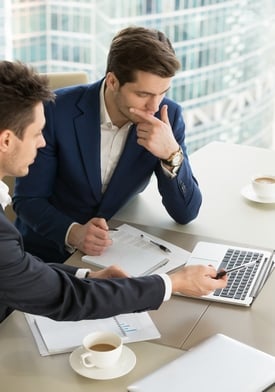 The reason that so many businesses become slightly zealous about KPIs is that they are integral for understanding operational performance. Simply put, KPIs are like glasses for a business. Without them, it's hard to see where you are going.
KPIs are used in aviation SMS programs to:
Track continuous improvement;
Ensure that goals and objectives are being met;
Monitor safety performance;
Monitor SMS performance;
Understand shortcomings of the safety program; and
Evaluate important operational non-SMS elements (ROI, quality management, etc.).
As you can see, KPIs are SMS monitoring systems. They help ensure that safety isn't compromised. and allow management to focus on what is truly important to the organization, even when these factors are not directly related to SMS performance.
An aviation SMS is an information-gathering and decision-making tool that extends beyond safety. Many hazards may enter your hazard reporting system that reflects operational weaknesses and inefficiencies. As managers review these identified hazards, there is an opportunity to develop or modify business processes to make the organization more competitive in the marketplace.
KPIs are a decision maker's best friend. Your aviation SMS has the true potential to become a profit driver when implemented properly. Instead of focusing on merely "checking the box", business-savvy safety teams communicate the financial benefits of the SMS to upper management, who in turn, use this business intelligence to strategically align operations toward a more profitable outcome.
While safety teams may be focusing on obtaining hazard identification data to mitigate risk, business managers can use collected data to make more informed business decisions. KPIs allow business managers to focus on what "excites" them, while safety management teams can focus on mitigating risk to as low as reasonably practical (ALARP).
Related Aviation Hazard Identification Articles
How Do You Create Key Performance Indicators?
Aviation safety managers create key performance indicators by first carefully considering core company goals and objectives. Key performance indicators should be based on these objectives, and help management determine whether goals are being met and respond accordingly.
Key performances indicators are generally created to meet company goals and objectives that relate to:
Quality management;
Safety management; and
Financial objectives.
After core goals are considered, safety management can then:
Create a list of best metrics that relate to goals; and
Eliminate all metrics except only the most informative and relevant metrics.
Aviation SMS database software greatly assists in the ability of safety managers to create and manage KPIs. In order to benefit from KPIs on a regular basis, aviation service providers need modern data management tools that exceed the limitations of ubiquitous spreadsheets.
Spreadsheets are not the desired technology to manage SMS data. I'm a data management expert and have been working with aviation service providers for over a dozen years on their SMS implementations. Spreadsheets may be suitable for operators who simply wish to "check the box," but spreadsheets are not scalable and data access and retrieval very cumbersome for all but very small organizations. Interestingly enough, these very small companies that use spreadsheets to manage their SMS don't have sufficient quantities of safety report data to act against. As a rule of thumb, if there are more than 50 employees in the company, don't waste your time storing SMS safety report data in spreadsheets.
For European operators, have no choice. EASA requires an SMS database to store report data as they have realized the futility and lack of usability of spreadsheets for storing safety reports.
Related Articles on Using Spreadsheets in Aviation SMS
Sources for KPIs
There are several categories of the operational environment that safety managers need to consider when looking for and choosing KPIs. These KPI sources are:
Underlying causes (i.e. aviation leading indicators);
Lagging indicators;
Types of issues;
Issue location (i.e. department or division or physical location);
Aircraft, vehicle, or parts;
Hazards and risk controls;
Root causes as KPIs;
Human factor as KPIs; and
Return on investment data.
Much of the above data can be gleaned from an aviation safety database. Trying to analyze data and generate reports across multiple operational areas will be a nightmare if you rely on spreadsheets. If you want to use SMS data for decision-making as well as regulatory compliance, then I recommend an SMS database to manage safety data.
Related Aviation SMS Database Articles
KPI Best Practices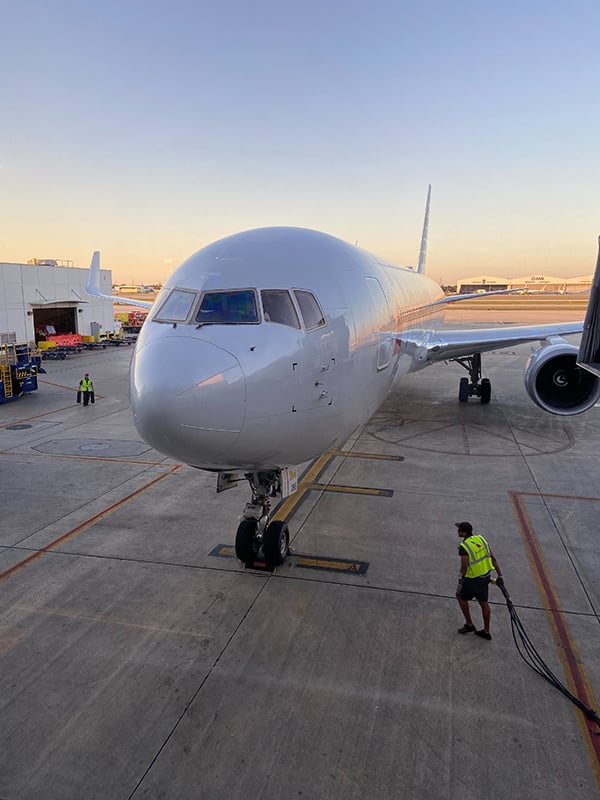 Best practices for KPIs are generally learned over time and are specific to your company. That being said, there are some proven best practices for KPIs that you can glean from the aviation industry as a whole.
Some of the best practices that you follow are:
KPIs should change over time as a company meets goals and develops new objectives. KPIs are not permanent, they lose value over time.
Keep refining your KPIs. Your KPI list is always a work in progress;
Review KPIs after any updates to company goals and objectives;
Make sure KPIs address short-term goals, medium-long-term goals, and long-term goals;
Make sure you have KPIs for front-line employees, mid-management, and upper-management objectives; and
Monitor dogmatically, such as by keeping KPI metrics on a dashboard so that you can check them on a daily basis.
The above best practices have worked extremely well for clients and contacts in the aviation industry. In order to stick to these best practices for KPIs, you might consider creating a KPI calendar to plan out all KPI-related activities:
Goals and objectives review;
KPI review; and
KPI metric brainstorming.
Final Thoughts on KPIs for Aviation SMS
KPIs are decision-making tools. Well-designed KPIs allow management to become more responsive to changing business requirements and environmental factors.
There are some advanced use cases for implementing and monitoring KPIs in your SMS. For example, you could set up triggers to alert management when trends are developing in areas monitored by your KPIs. Let's take a quick look at how this is done:
"My BEST Airline" management has a problem with recurring losses due to hangar rash. It is in the best interests of the airline to stop bleeding cash from these preventable accidents. They really don't have a good idea as to how many hangar rash events are occurring, but they know that costs are disproportionate to the size of their operations. The remedy is to monitor reported safety data and alert management when a trend starts to develop. Their goal is to reduce hangar rash, so they begin to develop KPIs that relate to the manifestation of these types of events.
Hangar rash happens in about 1 out of every 1,000 departures. Hangar rash is commonly the result of ground crews improperly parking, mooring, or braking movable objects. There are other causes of course, but for this quick example, let's keep it simple.
To monitor this problem area, the safety management team will collect safety report data and classify the data as it enters the SMS from the hazard reporting system. In these cases, safety managers will classify relevant safety reports with a KPI that management knows contributes to hangar rash: "I'm proper parking, mooring or braking movable objects." Management wants a notification whenever three of these types of safety reports enter the SMS within six months period. This is an example of course. The threshold and time interval are dependent on the type of the event, frequency of the event, and management's risk appetite.
Does this sound like something that would add value to your managers? This is very possible with an SMS database, but not using spreadsheets. When safety managers show upper management how SMS data can assist in making timely, data-based decisions, there will be less resistance to the SMS. Furthermore, your SMS will be seen as a profit driver instead of the black hole that consumes limited company resources.
---
We have the tools and ability to help you manage your KPIs. Let's work together to turn your SMS into a money saver.
Prefer to Watch SMS Pro Videos Instead of the Live Demo?
If you don't have a list of KPIs, you need to create them now. If you already have KPIs, there's no better time to review them than now. These lists will be extremely helpful: