Are Aviation SMS Software Programs Necessary?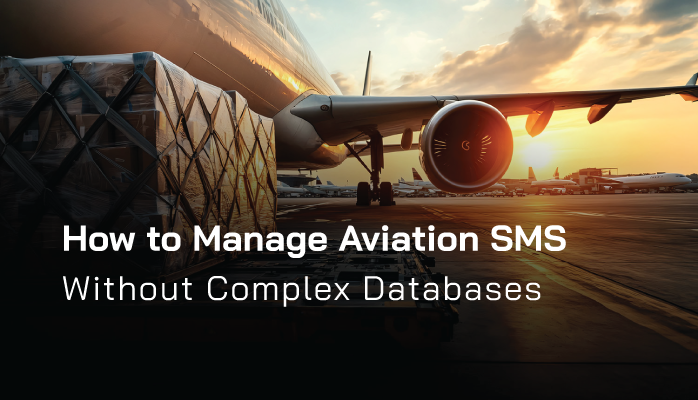 Most aviation companies are profit driven. Aviation service providers attempt to provide safe services while providing a return on investment.
Many upper-level managers at smaller companies believe that safety managers don't need modern aviation safety management databases to manage aviation safety management systems (SMS) documentation requirements.
They may be right. Not every company should buy these SMS tools.
Related Aviation SMS Database Articles
Not having an SMS database to document all SMS activities presents a problem for the majority of safety managers. After looking at any SMS gap analysis checklist, except for IS-BAO of course, you will see that any well-organized safety manager could manage the SMS documentation requirements using:
spreadsheets;
spreadsheets with an electronic safety reporting system (point solution);
a combination of several in-house tools like SharePoint, Google Docs;
in-house built MS Access database with a web-based safety reporting system; or
combination of point solutions, like safety reporting, auditing and training & quals.
Yes, the safety manager could do this for several years without a problem. I've seen it done.
Questions Safety Teams Need to Consider for SMS Data Management
Yet there is a time and place for everything. Before making a decision as to your "custom-built" in-house SMS data management system, you should ask yourself some questions:
When I leave the company, will somebody be able to easily continue the SMS?
Will my documentation allow another safety manager to easily learn our SMS data management processes?
What level of complexity is the SMS regulator or standards body (IATA, IS-BAO, etc.) expecting?
If the company grows, will this "in-house" solution adapt and continue with sustainable processes?
What types of SMS performance monitoring reports does the accountable executive need?
Which employees need access to the data?
How will other managers access this data? What reports do they need?
Will other managers find what they need when I'm on vacation?
How long do I need to save aviation SMS data?
What happens to SMS data when there is an earthquake or fire?
Is this custom, in-house solution audit-worthy?
Would the accountable executive be proud to demonstrate the SMS to regulators?
Can the accountable executive determine whether safety performance is improving/declining?
Where should I store proof of our safety communication activities? SMS training records?
Can the accountable executive spot trends in SMS performance?
These are some considerations every safety manager must ponder when considering alternatives.
Related Articles on Aviation SMS Documentation
When to Ask for Help?
Safety managers are results-driven professionals. They are self-starters and problem-solvers. There comes a time when spreadsheets and point solutions introduce too much risk into the SMS data management processes. Some good rules of thumb for avoiding the spreadsheet game are:
Aviation service provider has more than 40 employees; or
Service provider has high employee turnover; or
Accountable executive is "hands-on" type of manager; or
Company prides itself on excellence (professional image is important); or
Company has a history of regulatory audit findings (no room for more mistakes); or
You need to demonstrate compliance for more than two or three years; or
Safety manager has no time to manage all SMS documentation requirements using spreadsheets.
In these cases, the safety team must determine how to convince upper-level managers that professionally designed software packages save time and help in protecting assets and reduce risk to operational safety performance.
But do you really need professionally designed SMS database software to meet requirements? No, you don't. When your company has an excess of cheap, reliable resources, or they simply want to "check the box" and have a paper SMS, then you don't need to invest more money into alternate technologies.
What Do Managers Believe about Aviation SMS Requirements?
SMS implementations can be a contentious topic in many management circles. Not all, but many upper-level managers believe that the ICAO-mandated SMS:
Attacks profitability;
Are a passing fad with ill-defined standards and objectives;
Too big to manage on a global scale;
Impossible to apply to all required aviation industry segments;
Not conducive to competitive, capitalistic economies;
Are left to aviation SMS auditor's interpretations; and
Can be put off until tomorrow.
Related Articles on SMS Implementation
What Are the Real Benefits of Aviation SMS?
Aviation SMS is designed to reduce losses and protect:
Customers;
Workers;
Assets and property; and
Company reputations.
Not every company will benefit from SMS. Their safety culture is toxic and they will simply be throwing money away when they start working on their SMS implementations. An aviation SMS can change substandard safety cultures, but it can take a long time, or be accomplished very quickly when you get rid of problem employees.
We may (or may not) agree on the benefits derived from an SMS, but what are the benefits of using professionally designed SMS database solutions over doing this task manually, such as with paper and spreadsheets?
Do We Need an Aviation SMS Database Program?
Historical analysis and empirical evidence indicate that all but the smallest aviation service providers save time and money implementing aviation SMS when they are supported by professionally designed aviation SMS databases.
For example, smaller safety teams from companies between 20-200 employees can expect to have an SMS started using an SMS database within two weeks. This is an average time period that I've seen for the past dozen years based on the following timeline for an aviation service provider implementing an online, web-based SMS database program.
Getting Access to SMS Database
Service provider receives SMS database within 1-2 days after payment;
Week 1 after Receiving Access to SMS Database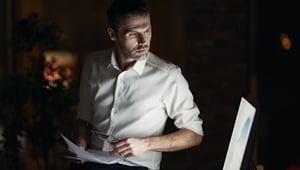 Safety manager works on following elements in SMS database in preparation to prepare employees to use the system.
Safety policy;
Non-punitive reporting policy;
Safety reporting policy (what types of safety issues to report);
Safety duties and responsibilities;
Org charts;
Prepare SMS computer based training;
Configure risk matrix;
Configure email notifications for safety reporting system;
Configure email notifications for overdue tasks;
Review and align classification schemes for risk management processes.
Users are added to the SMS database, but not yet notified of accounts until the safety manager is ready for employees to complete SMS induction (initial SMS) training.
Week 2 after Receiving SMS Database
Understand and configure risk management workflows in SMS database;
Start reviewing SMS manual or use SMS manual template that comes with SMS database;
Train department heads on risk management processes using SMS database;
Configure safety trend alerts - email alerts for automated trend email alerts;
Draft newsletter or safety message alerting employees of new SMS database;
Start of Week 3 after Configuring SMS Database
Start receiving and managing reported safety issues.
Continue revising SMS manual;
Conduct gap analysis (if not already completed);
SMS activities after the third week are dependent on many variables, but mostly on the maturity of the SMS implementation.
Related Aviation SMS Database Articles
If you are a smaller, non-complex operator with fewer than 20 employees, your SMS can be managed using paper, MS Excel and Word. Other common tools that are readily available that may save you money managing your SMS are:
I believe the first step in determining whether you need an SMS database is to understand what is required in an SMS. The fastest method to determine this is by conducting a quick gap analysis to determine what is required in the SMS and whether you have tools on hand to manage all the requirements. To facilitate this process, here is a link to get your gap analysis checklist.
Have You Read
What Are the Financial Benefits of Aviation SMS Database Programs?
The more popular aviation SMS database programs offer many financial benefits. Empirically, we have seen that aviation SMS databases improve fiscal efficiency by:
Identifying and tracking hazards in one centralized database platform;
Focus risk management efforts onto problem areas;
Reduce the number of systems otherwise needed to manage aviation SMS requirements;
Reduces manpower required to satisfy regulatory requirements;
Reduces expenses for overall regulatory compliance management; and
Greatly improves reporting timeliness and accuracy.
Professional Aviation SMS Databases Make Good Business Sense
Many aviation service providers have tried to manage SMS regulatory requirements by using existing systems. They have learned that they may be able to manage the SMS data during the first two to three years before feeling the pain.
What we have seen is that initially, policies and procedures are documented and stored in the company's document management system, whether that is on the corporate file server or in SharePoint. The company may create a hazard register in MS Excel to document its hazards and risks.
About the same time, these aviation service providers may set up a hazard reporting system. It doesn't have to be sophisticated to pass muster. It can be as simple as a paper form that when complete goes into a hazard reporting bin, or you may have a simple web form to capture employee hazard reports. Reports come in and they are typically managed by MS Word and an Excel spreadsheet. Does this sound like you?
You may slide by for two to four years, depending on the attentiveness and diligence of your SMS compliance inspectors. And then the problems occur, starting with a finding or multiple findings.
What Are Common SMS Regulatory Findings?
The most common SMS finding we have seen over the past dozen years is that the operator is not conducting operations according to their SMS manual. The SMS manual is your blueprint - how you plan to do business regarding the management of SMS requirements.
Other common audit findings are that service providers are not
Reviewing their Hazard Registers by appropriate management personnel;
Policies and procedures are not reviewed on regular basis (based on available documentation); and
Hazards and controls are not monitored for effectiveness.
All three of the above findings can be avoided without SMS database software; however, your SMS database has been designed to avoid these audit findings.
Read More
Growing Companies Should Consider Adding SMS Database
In order to reduce the growing pains that safety managers must endure, professionally designed aviation safety software simply makes good business sense if your company is growing and needs to secure contracts from government entities or most oil companies. These types of clients need assurance your SMS is alive and well. Easily proving to your prospective clients that your company has a living, breathing SMS is much easier when you can show them at a moment's notice that all requirements are nicely organized and updated.
From my conversations with clients, having an SMS database assures accountable executives that SMS activities are not left to chance. Having immediate transparency and oversight of the SMS is only afforded by using an SMS database.
From human resources and budgeting perspective, the safety team can be reduced by 50% when using commercially available aviation SMS software designed specifically to address these SMS regulatory requirements.
In addition, this reduced safety team will be able to provide more safety-management-related services than a team twice their size.
In conclusion, if you are a small company, you can manage your SMS successfully without an SMS database, You may wish to conduct a cost-benefit analysis to determine any potential cost savings.
---
SMS Pro was designed specifically for the aviation industry. Our passion is to provide quality safety solutions to aviation safety personnel.
If you don't have an aviation SMS database yet, you may wish to start small with hazard reporting and basic risk management. These short videos show you some examples:
Introduction to Centralized Data Management in SMS
Last updated in November 2022.