Why Use Aviation Key Performance Indicators As Goals or Objectives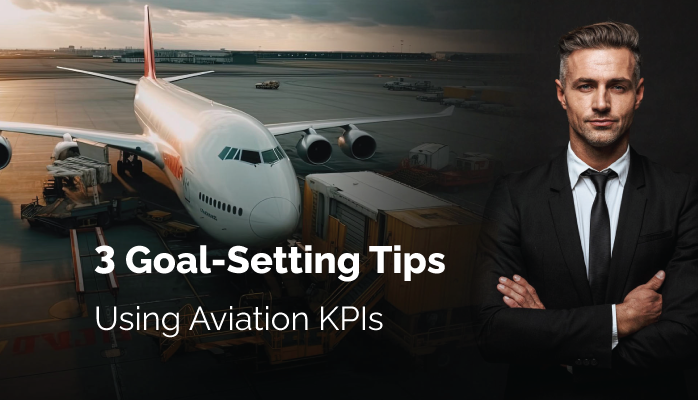 Setting goals and objectives for your aviation safety management system (SMS) is a requirement, i.e., not optional.
Become accustomed to this requirement. Embrace it. Realize organizational value from this requirement and stop squandering an excellent opportunity to improve operations and show that the SMS can become the promised "profit driver."
Don't believe you can pencil whip this requirement like so many safety managers today.
Key performance indicators (KPIs) are the natural "low-hanging fruit" for starting your aviation SMS goals and objectives initiatives. Goals and objectives go hand-in-hand with KPIs and will keep you from making a mistake that I see so often made by safety managers who don't really understand KPIs.
Related Articles on Aviation SMS Goals and Objectives
Before you go crazy and create 300 goals for the aviation SMS to monitor this year, first:
understand what are your organizational goals and objectives; and then
determine what are your organizational SMS goals and objectives.
Below are some tips to consider when either reviewing your aviation safety goals and objectives or when creating new targets for your company.
KPIs Are Natural Goals & Objectives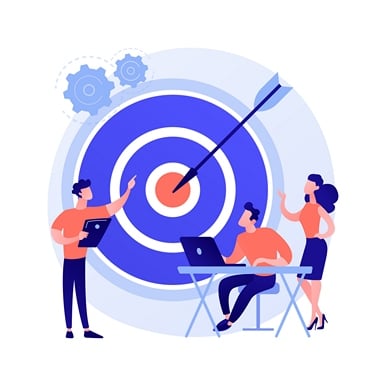 An aviation key performance indicator (KPI) is a metric used to evaluate elements that are critical to organizational success.
KPIs change over time and are different for each aviation service provider. Airline safety KPIs may be
employee injuries;
lost time due to fatigue;
employee absenteeism;
aircraft contacts with fixed objects (such as snow banks, hangars, etc.);
improper aircraft towing;
towing vehicle damage;
center of gravity shifts;
hangar-related events;
tools or parts falling on aircraft;
improper maintenance procedures; or
procedures not followed.
On the other hand, airport KPIs may revolve around
flights diverted due to bad weather;
unauthorized passengers passing through secured airport areas;
slips, trips, and falls (employees and pax);
tower communications;
snow removal equipment interference;
unsafe tenant activity;
runway excursions; or
runway incursions.
Related Articles on Key Performance Indicators (KPIs) in Aviation SMS
Aviation safety managers who are reviewing safety goals and objectives should first review existing organizational KPIs, as these elements are what upper management deems critical for measuring organizational success.
When setting safety goals and objectives, consider KPIs that are:
1. Pain points for your airline or airport
Some KPIs are simple measurements that most employees have little control over. These may include:
Number of seats sold;
Number of bird strikes; or
Number of departures.
Good organizational goals consider elements that can be worked on as an organization. Please don't infer that there should not be "department" or "business unit" goals and objectives; however, these smaller organizational subsets should identify their own goals and objectives that sync harmoniously with organizational goals.
2. Meaningful for upper management or regulatory agency KPIs
Upper management is naturally concerned about the bottom line. Carefully consider what affects the bottom line, such as:
damage to property or equipment,
number of audit findings (risk of losing operating certificate), or
employee turnover.
When KPIs have little effect on organizational success, they become distractions and offer little value and should not be used to set any SMS goals or objectives.
3. Easy to measure and communicate with employees
Goals and objectives have a higher likelihood of being achieved when all employees take ownership of these goals and objectives and there is a conscious desire to participate in operational success. Since you probably have a functional SMS, you have tools to effect safety communications. Of course, you do as this is an SMS regulatory requirement. Your safety communications tools are what you use to promote safety and to promote the SMS. These tools include:
Safety newsletters;
Safety surveys;
Bulletin boards;
Safety posters and banners;
Electronic message boards; and
Your web-based safety reporting system (if it has messaging capabilities).
Related Articles on Safety Promotion in Aviation SMS
Effective goals and objectives are those that can be easily communicated and measured. If you cannot measure the KPI or if the KPI in question happens rarely, then this KPI should not be included in your goals and objectives.
An example may be the "runway overrun" KPI. If an airline or airport has experienced two runway overruns within the past six months, then runway overrun should be a KPI to consider. Conversely, if this happens once every five years, focus on another KPI to use for setting your goals and objectives.
Final Thoughts on Setting Goals Using KPIs
KPIs are the best place to start looking when setting goals and objectives. Many aviation service providers include goal setting when creating or reviewing key performance indicators. While this may save time, one can easily argue that these two exercises should be conducted independently.
This can turn into the chicken and egg paradox. What comes first, the KPI or the goal? In the perfect world, you will start with organizational safety goals and then set KPIs to monitor SMS performance. Then you can use succeeding years to start from your list of KPIs to review and determine whether they are still relevant to achieving corporate goals and objectives.
I should mention that the chicken and egg paradox only becomes a valid point the first year you set goals and objectives. Since KPIs are required to monitor SMS performance, every aviation SMS will have a list of KPIs. If not, don't worry about it. KPIs don't have to be perfect, but they should truly represent organizational goals.
Determining KPIs in succeeding years requires more careful consideration. We recommend that the first step is to generate your list of KPIs, and then hold a meeting to discuss goals and objectives.
In conclusion, use KPIs as goals and objectives when:
They really matter to organizational success;
They really matter to management; and
When they are easy to measure and communicate to employees.
Good luck. Below are some links to all key performance indicators resources. These resources are useful to compare your KPIs and to educate team members on KPIs.
Last updated June 2023.