Better Alternatives to Spreadsheet-Based SMS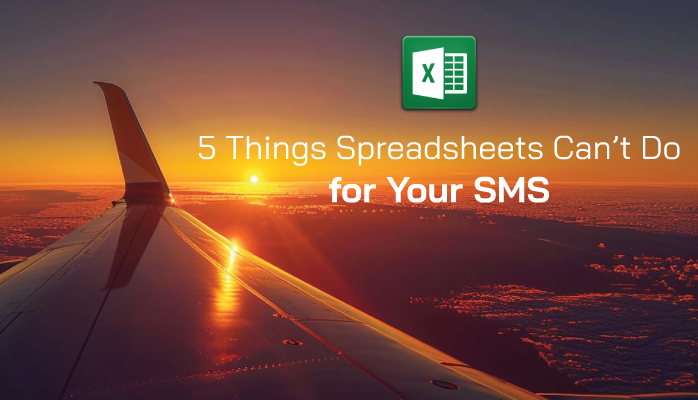 Spreadsheet-based safety programs are incredibly common. Many of you reading this use spreadsheets to manage your SMS activities, such as documenting:
Gap analysis;
Hazard reporting activity;
Training and qualifications tracking;
Hazard and risk register;
Audit management; and
Key performance indicators.
Electronic spreadsheets are a legacy of a time after the advent of computers. How many of you remember Lotus 1-2-3? Yes, this was a DOS-based spreadsheet, but it sure beats paper! Then Microsoft Windows came along and MS Excel offered a major improvement in managing lists on paper. MS Excel became very common in business operations and, naturally, they find use in tracking safety activities.
Now, with software in the form of integrated SMS database software and SMS point solutions, spreadsheets are falling further and further behind the sophisticated functionality of such software.
The main things spreadsheets can't do are:
Automated workflows;
Escalation;
Automated email notifications;
Metadata capture; and
Complex data analysis.
The end result is that spreadsheets are significantly more labor intensive and yet much less effective for SMS management than database software solutions. Here are the 5 main things spreadsheets can't do for your SMS.
Related Articles on Spreadsheets Usage in Aviation SMS
1 – Automated Performance Monitoring
How much time do you spend trying to monitor the performance of your SMS? This includes things like:
Gather safety data;
Document safety data;
Format data into meaningful, relevant sections;
Create charts, graphs, and performance metrics; and
Understanding the context of data.
If you are running a spreadsheet-based SMS, performing these tasks takes a long time, and sucks up a great deal of manpower. Hence, we see that nearly all spreadsheet-based SMS either:
Don't put forward the requisite effort to have meaningful performance metrics; or
Have simple metrics.
Furthermore, creating reports based on performance metrics requires detailed knowledge of the spreadsheet program you are using. Point solutions and aviation safety software solve these problems by:
Offering automated data gathering and data monitoring;
Saving you a significant amount of time in performance monitoring, generating reports, etc.; and
Evaluating the context of data, such as establishing meaningful trends.
Related Aviation Safety Performance Monitoring Articles
2 – Spreadsheets Can't Automate Important Meta Data Gathering
Metadata provides extremely valuable context to your safety data and opens up a whole new level of:
Performance monitoring;
Trend analysis; and
Data mining.
Trying to capture metadata, let alone make sense of it for meaningful Safety Assurance operations, is extremely difficult (and often impossible) in spreadsheet-based aviation safety management systems. Metadata would include important information like:
Timestamps;
Details about who performed certain actions;
Classifications systems and tags; and
IDs and other identifiers.
There are many more types of metadata, but these are just some examples that provide you with an idea of the kinds of things that are difficult or impossible to capture with manual, spreadsheet-based SMS. Timestamps are an interesting point if you wish to track how responsive your SMS is when employees report an issue. How long does it take, on average to:
Close out high-risk issues?
Close out medium risk issues?
Start an investigation once an issue has been reported?
Close an investigation?
Review hazards and risks in the hazard register?
These data points are useful for setting goals and objectives that assist your company to demonstrate "continuous improvement" of the SMS. For those of you who are not die-hard safety managers, "Continuous improvement of the SMS" is the third element of the "Safety Assurance" component of an SMS.
Related Continuous Improvement of SMS Articles
3 – Complex Data Analysis
As discussed, complex data analysis is simply not feasible with spreadsheets for several logical reasons:
You would need to have extremely sophisticated technical knowledge of the spreadsheet program you are using, such as being an Excel programmer;
You would need to be able to gather meaningful metadata; and
You would need to have the resources and manpower to actually perform complex monitoring and analysis.
Point solutions and SMS database software automate this process via:
Automated data gathering;
Automated metadata; and
Automated performance metrics.
For smaller safety programs, having limited data analysis isn't a big deal because the amount of total data is small. As an aviation safety program scales in size, so too does the need for more complex data analysis activities. Spreadsheets are the wrong technology to manage an SMS if your company is larger than 50 employees. For this, you will need SMS database software to reduce the risk of an "unsustainable" SMS.
If you have doubts, consider all the documentation requirements for an aviation SMS. They will include, but are not limited to:
Hazards report register and list of actual reported issues;
Safety performance indicators and related charts;
Record of completed or in-progress safety assessments;
SMS internal review or audit records;
Safety promotion records, such as surveys and newsletters;
Personnel SMS/ safety training records;
SMS/ Safety committee meeting minutes;
SMS implementation plan (during implementation process); etc
As you can see, this partial list of expected documentation will make even the most cynical safety manager reconsider using spreadsheets instead of databases. A low-cost, commercially available aviation SMS database will save considerable grief and reduce risk to the SMS.
Related Aviation SMS Database Articles
4 – Integrated Safety Management
The inability to integrate your safety management system is without question one of the primary disadvantages of spreadsheet-based safety programs. An integrated SMS is one that ties together different parts of the system in meaningful ways, such as:
Risk management system;
Safety communications;
Auditing;
Change management; and
SRM and SA process integration.
With spreadsheets, you are essentially limited to having a spreadsheet perform only one meaningful task. Trying to manage the many moving parts of an SMS in spreadsheets requires an unrealistic amount of effort in such systems. This is why spreadsheet-based safety programs usually only have a handful of spreadsheets to document core operations.
With aviation safety management software, all pieces of the system are integrated together, communicate with each other, and document all aspects of your SMS.
To take this further, if you have ambitions to integrate your quality management system (QMS) into your SMS, then spreadsheets will only set you back. When you integrate the QMS into the SMS, your data gathering and storage requirements naturally increase.
Have You Read
5 – Centralized, Role-Based Security Access to Data
From a technical standpoint, spreadsheets lack any meaningful data access security. Either you have access to a spreadsheet or you don't. If you do have access, you can see all data that are in the spreadsheet.
Point solutions and safety database software usually have highly configurable security protocols for data access, such as:
Roles with complete access to all data in a particular system;
Roles with partial access to data in a particular system; and
Roles without access to data in a particular system.
This is meaningful on a system-by-system basis, such as your risk management system or meeting management system. But taken as a whole, you can provide secure access that, on a global level, is entirely custom fit to:
Transparency goals of your operations; and
Policies of your organization.
Role-based security allows you to protect sensitive information from roles in your company that you don't want to see it.
Final Thoughts for Relying on Spreadsheets in Aviation SMS
Full disclosure here: I am a database engineer. I design commercial databases, including databases to manage aviation SMS requirements. I also provide spreadsheet consulting services to anyone needing a coach, mentor, or programmer to assist.
To get to the point: I am an IT professional who understands both technologies. I am also an SMS professional with more than a dozen years of developing SMS database software; therefore, I understand the data requirements for successful aviation SMS. It is my professional opinion that spreadsheets are the wrong technology to completely manage your SMS.
Smaller companies do not have the IT resources or subject matter expertise to develop an SMS database, much less support the database for many years as SMS requirements change. It is more cost-effective to subscribe to commercially available SMS database products. If you use these systems properly, you will have fewer audit findings and less risk to your operating certificate.
Final words: Don't rely on spreadsheets to manage your SMS. An SMS database is a correct technology for successful SMS.
Last updated February 2023.