Hazard Reporting Process is For More Than Just Hazards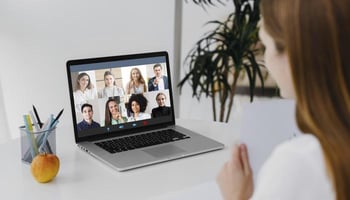 The idea of "hazard reporting" is a bit inaccurate because employees should be reporting more than just hazards.
Hazards are just one type of concern that employee should report. When we are talking about hazard reporting, what we are really talking about is "issue reporting."
Issue reporting includes many levels of concerns, such as:
Identified root causes in the operational environment;
Hazardous sources and other potentially dangerous conditions;
Risk occurrences such as accidents and mishaps; and
Threats that lead directly to hazard occurrence.
There are many concerns apart form hazards that provide prime opportunities for reporting.
Furthermore, issue reporting includes all types of concerns, such as:
Quality concerns;
Operational concerns;
Compliance concerns;
HR concerns; and
Security concerns.
Your organization should be gathering data for all these types of concerns, as they can all influence safety in your organization.
Which Issues Management Should Care About In Aviation SMS
It is estimated that for every serious safety incident, there are:
59 minor incidents; and
600 identifiable conditions or precursors.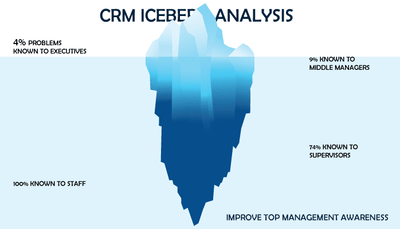 In most organizations, top management will be unaware of most of these conditions and incidents. We call this the Iceberg of Ignorance, which is based on a 1989 study that found that upper management is only aware of about 4% of issues facing front line employees.
Why does this matter?
Top managers are the leaders of their organization;
Top management are the decision makers;
Top management makes decisions based on available data; and
Making decisions on such a small percentage of knowledge poses major risk.
For this reason, the issues management should care about include ALL issues, no matter how trivial they seem. Trivial problems may underlay trends that lead to minor and serious issues. When management can identify these trends, they can prevent safety incidents before they happen.
How Top Managers Can Become More Aware of Problems
It's important to always remember the primary goals of hazard reporting:
Collect data; and
Quality/quantify that data.
Your hazard reporting process is the primary means by which you gather data. Gathering data involves:
Having multiple ways to report issues;
Practicing non-punitive reporting policy;
Extensively training employees on hazard identification; and
Setting a precedent/requirement for what kinds of issues you want front line employees to report.
The reason why top managers in many organizations are aware of so few problems are:
Employees don't report negligible problems;
Top managers don't have a way to easily review all data, such as in the case where issues are managed in Excel spreadsheets.
Top managers can become more aware of problems by:
Develop high quality hazard reporting process;
Encouraging employee to report ALL concerns, no matter how minor; and
Using an aviation SMS database and SMS software to easily acquire data.
How to Developer Hazard Reporting Process
Your hazard reporting process is the key element of being aware of a high percentage of problems in your organization. Without a good hazard reporting process, top managers will be in the dark about many front-line problems.
A top-notch hazard reporting process should include:
A procedure for reporting issues;
Guidance for how to use that procedure;
Reporting forms that employee use to document and report issues;
A strategy for making employees aware of safety concepts, concerns, and trends, such as safety newsletters, emails, etc.
A hazard reporting process is a part of your SMS design.
Final Thought: How to Offer Guidance for Hazard Reporting
Offering guidance on hazard reporting is an area of SMS design and promotion that many safety managers struggle with. Do you?
One reason it's hard is because guidance for hazard reporting should be:
Built into your SMS; and
Incorporated into your ongoing safety promotional efforts.
That being said, guidance for hazard reporting is does not have to be complicated. The more straightforward the guidance, the better.
Here are some best practices for providing hazard reporting guidance:
Provide lots of hazard identification training;
Assess employees' hazard identification knowledge;
Have a very simple hazard reporting process (a stranger should be able to do it); and
Have a chart of preferred types of issues to report.
Following these guidelines are a fantastic way to ensure that employees recognize what to report, and know how to report it.
---
For more information about how you can use this information to leverage the design and performance of your SMS, please see the following brochure which you can download and distribute in your organization for safety training and safety promotion: