What Does it Mean to Practice Due Diligence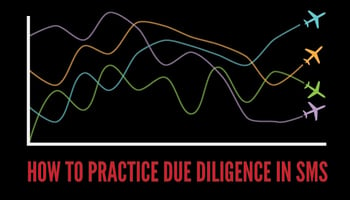 There are two general aspects of safety management systems that encompass due diligence of the entire SMS: SMS design and actual safety operations.
Practicing due diligence means ensuring that the design closely matches reality.
To use aviation safety lingo:
For example, your Safety Policy and promotional efforts are how all employees will know how to act within your guidelines by using relevant processes, procedures, tools, and information to act accordingly.
To practice proper due diligence, you need to constantly assure that your paper trails, processes, and other tools match the documentation in the design of your SMS.
Why Documenting Your Systems Are Important
You will organize your SMS design by different systems. simply a logical, separate part or "entity" within the overall scope of your company that includes things like:
Its own set of procedures, tasks, etc.
Its own set of requirements, roles, personnel; and
Its own set of safety risk controls, identified hazards, and identified risks.
Your company will have many systems. For example, an airline might have systems for:
Flight Ops;
Ground Ops;
Maintenance;
And so on.
Documenting your systems means:
Thoroughly analyzing all safety aspects of a system;
Documenting all resources, such as controls, procedures, policies, technology, etc. in that system;
Documenting all identified hazards and risks associated with operations within that system; and
Documenting high-level expectations for how the system will operate.
By documenting all of your systems in your aviation SMS, you fulfill SMS design by putting your SMS on paper. You will need to update your design on a regular basis.
How to Monitor Actual Safety Operations
Actual safety operation can be monitored in many ways that you are probably already familiar with:
Safety data metrics;
Key performance indicators (also known as safety performance indicators);
Audit performance; and
Inspection performance.
While such monitoring techniques do provide useful, valuable information, they are not the best way to practice due diligence to monitoring safety operations. Rather the best ways to monitor safety operations in ways that are useful for practicing due diligence are:
Look at paper trail for issues management and other tasks;
Audit actual flow of processes in SMS;
Review documentation justifying decisions and other safety actions;
Review how often other resources, such as checklists, are used; and
Review risk control performance in actual situations.
Make notes where applicable, as you will need this information to complete your practice of due diligence.
How to Practice Due Diligence in Aviation SMS
You can only practice due diligence if you have, so to speak, practiced your due diligence in:
Fully documenting your SMS systems (SMS design); and
Reviewing actual safety operations in ways as listed in the previous section.
If you have done this, you practice due diligence by comparing the two. You do this by answering questions like:
Are the controls you documented functioning as described?
Are all controls described in your system process active?
Are all resources being used included in your documentation?
Are all resources documented actually being used?
Are the processes you document performing in the same order and with the same results as documented?
Do you have a log of review history for each process?
---