Purpose of Root Cause Analysis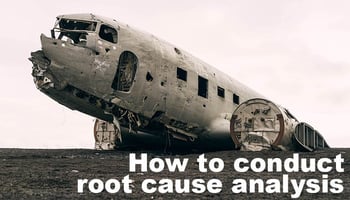 Aviation safety managers have usually have different opinions about exactly what root cause analysis is. Root cause analysis for one safety manager is not root cause analysis for another. This is because there is no standard definition for what root cause analysis is. Even oversight agencies like the FAA or ICAO shy away from providing much guidance on what root cause analysis is or how to conduct it.
The lack of definition is not necessarily a bad thing. What's important is to understand the goals and purpose of root cause analysis:
Understand why the safety event happened;
Establish precursors to danger; and
Establish underlying causes for safety issues.
With varying levels of success, different aviation SMS programs will accomplish these goals. Organizations may use:
Bowtie analysis;
5 Whys analysis; or
Fishbone diagrams.
Understanding the specific goals of root cause analysis will allow safety managers to be more effective in establishing root causes.
How to Know When You Have Arrived at Root Cause
Perhaps the biggest mistake or misunderstanding people make when performing root cause analysis is understanding where to stop with root causes. Managers will either:
Not go far enough: the identified root causes actually have further underlying causes; and
Go too far: the identified root causes are generalizations of precursors to danger.
With root causes, you are basically repeating the following basic steps:
Analyze a circumstance; and
Ask, "Why did this happen?"
This process will be repeated over and over until the root cause is identified. You know when a root cause has been identified when your answer to "why" is:
What this means is that root causes will have no specific reason for being present that are within anyone's control. Or, there will be no discernible explanation for "why."
Here are three ways to conduct root cause analysis in aviation SMS programs.
5 Whys Analysis
5 Whys analysis is one of the most common ways to perform root cause analysis. 5 Whys essentially involves starting at the hazardous condition, and asking, "Why did this happen." Each time you ask, you will write down the answer. For each answer, you will repeat the question. This question is generally repeated 5 times until you arrive at the root cause(s).
There are several pros to this method of establishing root causes:
Simple to understand;
Quick to perform; and
Provides a direct lineage of circumstances.
The cons of this method are:
No visual cues for easy reference; and
Tends to be a "narrow look" at safety events.
The 5 Whys analysis is a good way to start performing root cause analysis before adopting a more robust analysis technique.
Fishbone Diagram
Fishbone diagrams, also known as cause and effect diagrams, are another popular root cause analysis technique. A fishbone diagram derives its name from its fishlike appearance, with a head several fins. Each "fin" or "branch" of a fishbone diagram describes a different category of the situation, such as the categories "Human" or "Machine." The head of the fishbone is describes the hazard/Top Event.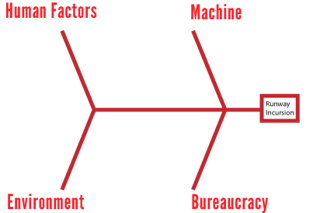 The pros of fishbone diagrams are:
Very comprehensive, and identify all major/minor root causes;
Visual diagrams are useful for future reference; and
Break down root causes by type.
The cons of fishbone diagrams are:
Not much explanation or justification for each level of analysis; and
Easy to get sidetracked and identify root causes that are not necessarily directly relevant to current issue.
Fishbone Diagrams should be used for safety managers who want the "whole picture" of safety events. It should be used by safety managers with experience performing root cause analysis and are able to discern valid and not-valid root causes.
Bowtie Analysis
Bowtie analysis is a very in-depth technique to use for root cause analysis. Bowtie analysis involves establishing a Top Event, which is similar or the same as Risk Events or Hazards. Next, you will work backwards identifying the major event markers and risk controls.
The pros of the bowtie method for root causes analysis are:
Fantastic for identifying all major root causes;
Understand how root causes work against SMS program to produce mishap; and
Great visual reference for understanding the "bigger picture."
The cons of bowtie analysis are:
Can be hard to understand; and
Error prone and time consuming.
Bowtie analysis are best reserved for high risk issues and experienced safety managers. On low/medium risk issues, bowtie analysis is probably overkill, and the before mentioned techniques are usually more efficient.
Final Thought: Choosing Root Cause Analysis Technique
Chances are you already using at least the generic 5 Whys technique for root cause analysis, such as the 5 Whys. May companies choose to adopt a more specific approach to meet their needs when:
Their safety management team becomes adept at performing the 5-Whys; and
They want different type of root cause documentation that other techniques provide.
If your company meets this criteria, consider adopting a new technique to see how it fits with company goals.
---
For another new analysis method that is extremely helpful in clarifying failures in SMS programs in safety issues, see this free ebook covering Shortfall Analysis:
Image Credit: Unsplash