Benefits When You Automate Aviation SMS Training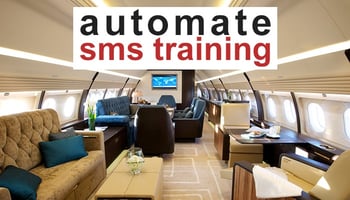 Aviation SMS training can be hard on organizations, both financially and logistically. As organizations grow, the logistical and financial headache will become more pronounced, especially as resources are stretched thin.
The financial problem of aviation SMS training is not simply that training costs money, but it also pulls workers away from their duties. Attempting to coordinate substitutes and training times is an additional logistical/financial burden. The answer to these burdens is to automate aviation SMS training.
You gain the following benefits when you automate aviation SMS training:
Completely remove logistical burden of aviation safety training;
Save significant financial resources and overhead costs normally required for training;
Let employees complete training at their convenience; and
Document/manage training outcomes for each employee, such as end of training assessment scores.
With benefits like these, why don't more companies adopt automated aviation safety training? Several reasons are:
Fear of reliance on new technology;
Ignorance as to the benefits/existence of automated training;
Lack of financial resources or support to develop automated training; and
Lack of knowing how to develop automated safety training.
The fourth point is particularly relevant. How do you automate aviation safety training? Here are 4 steps.
1 – Use Aviation SMS Technology
Practically speaking, you need to have some kind of technology for automated training, such as:
Aviation SMS point solution (i.e., technology that solves one specific task) for training; or
Integrated aviation SMS software (i.e., technology that solves multiple tasks and integrates them together).
Point solutions can provide a space for employees to:
Review training resources, such as safety policies and procedures;
Take assessment tests for the training resources; and
Document completion for each employee.
Aviation SMS software can do everything that a point-solution does, but additionally:
Store training requirements for each role and automatically connect each role to relevant resources;
Track training expiration dates for each employee based on their role;
Remind employees of training and prompt them to start it;
Generate trending reports for training assessment scores;
Integrate training resources with existing resources in the software tools, such as safety training articles, documents, etc.; and
Document that each employee has actually reviewed those training resources.
Both software and point-solutions will require an initial financial investment of some kind, which upper management will either refuse to do or be hesitant to do. If this is the case, you should easily be able to demonstrate the cost-benefit of automated training vs existing training in your organization.
2 – Compile and Organize All Training Materials
Next, you will need to organize all training materials and resources. What this means is:
Reviewing training requirements for each role in your company;
Gather all training materials and resources for each role, such as videos, duties/responsibilities, articles, documents, etc.; and
Create format for how you want employees to access these resources, such as what order each resource should be viewed in.
This task is the equivalent of creating a folder for each user role, and in each folder putting the relevant training materials. In the case of automated training, you are:
Gathering these materials and placing them in easily accessible folder on company server, such as with point solutions; or
Ensuring that the materials are available on your aviation SMS software, and that each role can access relevant materials.
For example, with software, you might link to a particular document in your software, whereby employees will click the link and the document will download onto the device they are using for training. Or with point-solutions, you will direct each employee to the relevant document on the server to review.
3 – Decide When and How Aviation SMS Training is Completed
Once you have training materials organized, you will need to decide when and how training is completed;
With point solutions, you may have to manually track training expiration each employee and each employee's role; and
With software, you will need to set recurring training time periods for each role, as well as assign relevant roles to each employee.
Usually, when we are talking about automated training, this means:
Initial SMS training when employees are first introduced to the SMS program;
Initial training for particular role when employees acquire a role in the company; and
Recurrent SMS training when employees re-take training after a set time period interval (i.e., 12 months or 18 months).
The difference between manual and automated aviation SMS training really stands out here:
In systems with manual training, all of the above points will need to be organized, prompted, and facilitated by a person or team;
In automated training, all of the above points are organized, prompted, and facilitated automatically.
4 – Create End of Training Course Assessments
End of training assessments should definitely be created in the event of automated training. These assessment tests:
Ensure participation by each employee in reviewing the training materials;
Allow you to track the effectiveness of training for each employee over time;
Allow you to establish trends in the effectiveness of training for the whole company; and
Provide an opportunity to analyze the connection between improvements/declines in training performance and improvements/declines in safety performance.
Each role in your aviation SMS program should have an associated end of training test. Each test should be in direct response to the resources and materials that are made available for that role's training.
As training materials are updated, the end of assessment tests need to be updated as well. This also has the secondary benefit of having the tests change over time, which is a natural barrier for complacency.
Organizations would do best to require certain scores for passing the training. With software, these assessments will be naturally included in the training process. You will only need to provide the questions, answer options, and correct answer.
---
Here is a great assessment test for basics of risk management in aviation SMS programs: