What are Goals for Best Practices of Hazard Reporting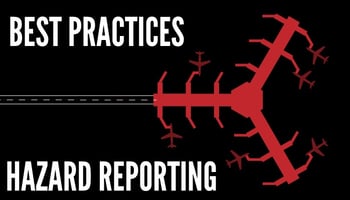 Knowing best practices for hazard reporting in SMS is an attempt to better attain the goals of hazard reporting.
What are the goals of hazard reporting?
There are three main objectives:
Gather data;
Use that date to improve the SMS; and
Best practices for hazard reporting are loose guidelines that drive these objectives. Hazard reporting is the basis of your SMS performance. Best practices are how you can design your SMS to maximize this performance.
We see a lot of mistakes made that give negative incentives for hazard reporting. We offer the following five important questions and answers for best practices for hazard reporting in your SMS.

What Concerns Should Employees Report
This question is of utmost importance, because it's the best practice that we see the most opportunities lost. In short, many organizations only encourage their employees to report very clear safety concerns.
The mistake organizations make in regard to this question is that they don't encourage reporting all concerns because:
Safety managers don't want to be overloaded with reports; and
Safety professionals don't see the benefit of reporting even very minor concerns.
However, for every:
One serious incident;
There are 59 minor incidents; and
600 seemingly negligible incidents or "conditions."
Here's the best practice:
Your reporting guidelines should encourage employees to report ALL safety issues, even if they are only seem like inconsequential conditions.
If employees don't report minor incidents and conditions, your SMS is simply allowing minor incidents to happen. Many minor incidents can be prevented if you are managing the conditions that lead to those incidents.
How to Design Hazard Reporting Forms
Another common mistake companies make in regard to hazard reporting is with the design of their hazard reporting forms.
The common mistakes are:
Hazard reporting forms are too long

who wants to spend 10 minutes filling out a form?

Hazard reporting forms don't have enough form fields

safety managers have to constantly follow up with reporters to acquire more information

Only one generic hazard reporting form

how can you capture relevant data?
Here's the best practice:
Have multiple reporting forms (3-5 should satisfy most organizations) to capture different types of issues;
Keep hazard reporting forms as short as possible while still capturing needed information; and
Get feedback from employees about how satisfied they are with the hazard reporting forms.
Point number three is especially important, and is a best practice that most SMS do not employ. However, considering that employees are the people submitting your issues, you should design your forms around their preferences as much as is feasible.
How to Offer Guidance for Hazard Reporting
Guidance for hazard reporting is not complex. In fact, the more straightforward the guidance, the better.
The four best pieces of guidance for hazard reporting you can offer your company are:
Provide lots of hazard identification training;
Assess hazard identification knowledge;
Have a very simple hazard reporting process (a stranger should be able to do it); and
Have a chart of preferred types of issues to report.
Following these guidelines are a fantastic way to ensure that employees recognize what to report, and know how to report it.
How to Improve Safety Reporting Culture
Safety reporting, as said, is the foundation of your SMS performance. Many organizations struggle with:
Fortunately, improving safety reporting is not as challenging as improving overall safety reporting culture. Improving hazard reporting culture simply involves targeted activities related to safety reporting.
This can be done in a 5-step process:
Offer guidance for hazard reporting (see previous section);
Give direct feedback to reporters on as many reported issues as possible;
Allow employees to monitor actions taken on their own reported safety issues;
Include employee's hazard reporting statistics in his/her performance review; and
Create, distribute, and constantly reinforce your non-punitive reporting process.
Additionally, you may want to point out top hazard reporters with charts, or mention them in safety newsletters.
What Are Good Incentives for Hazard Reporting
Sometimes, simply creating an environment with good reporting incentives is all it takes to develop high quality hazard reporting cultures.
Many of these incentives are a recap of things we have already covered:
Non-punitive reporting policy that is reinforced;
Clear action taken on reported issues, including direct feedback;
A reporting process that is so easy a stranger could easily do it;
Have many different ways to report issues, such as via email, cell phone, tablet, etc.;
Include multiple reporting forms that are short and relevant;
Constant encouragement for reporting, such as via daily messages, email, newsletters, etc.; and
Clear guidance on reporting expectations.
All of these bullet points can be incorporated into the design of your SMS, and adopted early on in SMS implementation.
---
For more information about this, see our awesome phamplet that you can distribute in your organization to encourage hazard reporting best practices: