What Are Risk Management Tools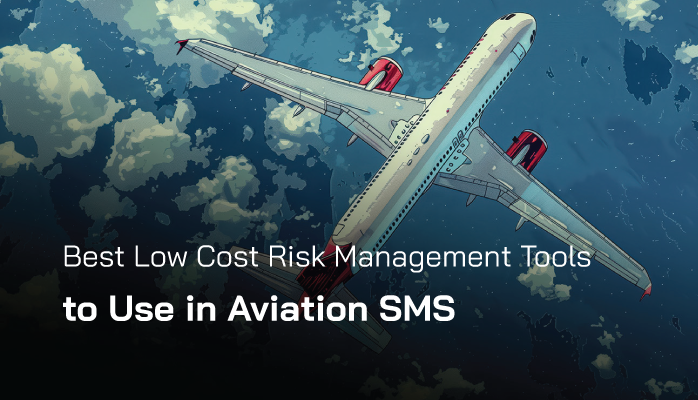 Risk management tools in aviation SMS is simply a vague term that refers to resources that can help you manage risk. Often, the most beneficial resources tend to be the simple, inexpensive, and helpful for both providing guidance and helping you organize your time.
By "simple tools" we are talking about risk management tools like:
Checklists;
Templates;
Plans;
Diagrams; and
Task managers.
It's best to seek resources such as those listed above in areas that are critical to SMS design (compliance), performance, and your workload. The better you can manage your workload, the more time you can spend actually managing risk. Getting better risk management tools is usually something that is appealing to:
New aviation safety programs;
Safety programs that are "stuck" with subpar performance, safety culture, etc.; and
Organizations looking to improve efficiency.
Here are better risk management tools to use in aviation SMS that will make your safety team much more efficient.
Safety Policy Checklists and Templates
Safety policy checklists help you manage your aviation SMS Safety Policy without having to "reinvent the wheel" or build your policy from scratch. Your Safety Policy is a collection of various policies and procedures, some of which are mandated by your compliance agency and some of which are unique to your organization.
Safety Policy checklists and templates help you by providing guidance on:
Minimum amount/type of documentation;
How to create new policies;
How to review existing policies; and
Saving time managing your Safety Policy.
Safety Policy serves as the foundational piece of documentation for your safety management system. Fortunately, free tools like checklists and templates are free and widely available.
Implementation Plans and Checklists
While SMS implementation plans are generally not mandated by compliance authorities, they are an immensely useful tool for developing a complete SMS. Implementation plans are also immensely for more practical reasons:
Developing an SMS can be overwhelming;
An SMS has many required and interconnecting parts that can be confusing; and
Many safety managers don't have significant experience.
Implementation plans and checklists save you the trouble of trying to figure out what to do next and what implementation elements are required.
Related Aviation SMS Implementation Articles
Safety Promotion Checklists
The unfortunate but undeniable fact is that safety promotion is the most neglected of the 4 pillars of SMS. Safety managers either simply don't have time or don't see how valuable promotion is.
Many aviation safety providers receive much pressure to be compliant and make sure that the right compliance "boxes are checked." These boxes usually have nothing to do with safety promotion, and focus more on Safety Risk Management, Safety Assurance, and Safety Policy.
While becoming compliant is important, it's equally important to ensure that you also have a sustainable safety management system that functions as it is designed. Safety promotion doesn't have to be difficult, boring, or time-intensive. Safety Promotion checklists are very useful for helping you promote your SMS with little effort.
Safety Audit Checklists
Your performance on an SMS audit will largely depend on your efforts in the preceding months before your audit:
How do you prepare for audits?
How do you evaluate how audit-ready your SMS is?
What actions should you take to ensure best audit performance?
SMS audit checklists provide useful guidance to answer all of these questions. Preparing for an audit with an audit checklist is probably one of the best things you can do.
Issue Analysis Templates
While well experience managers will have their own protocols for analyzing safety issues, newer safety managers may wonder where to begin. Analyzing safety issues is largely about understand:
How did this issue happen?
What are the important points in the issue?
What factors contributed to this issue negatively and positively?
Issue analysis templates provide a set workflow and way of analyzing issues that can be useful in Aviation Safety Software
Aviation safety software is an extremely valuable tool as it essentially acts like an assistant to manage your safety program. It does this because of the following:
Offers the built-in processes and templates that act as natural guidance;
Automates a very significant amount of manual work;
Provides aviation industry tried and tested performance monitoring tools; and
Provides a roadmap and templates for thorough SMS design; and
Has high value to cost ratio.
Published January 2019. Last updated April 2021.
Munich Airport Apron image by Ashwin Chandrasekaran on flickr