What is Change Management in Aviation SMS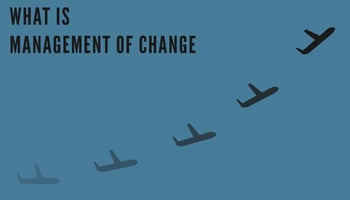 Airlines and airports are required to develop and maintain a formal process for identifying and performing needed changes in their operational environments. These changes usually effect existing services and operations.
Change management should describe these effects and the exposure that results from the change.
Some basic tenants of management of change (MOC) are:
Airlines and airports need to establish processes and perform formal hazard analyses and risk assessments on major operational changes, major organizational changes, and changes in key personnel;
Safety Case/Risk assessments are aviation safety focused;
Stakeholders are involved in the MOC process; and
Previous risk assessments and existing hazards are reviewed for possible side-effect.
Management of change is a core part of the Safety Risk Management component of the 4 pillars of SMS. This element is satisfied when safety management uses risk management strategies to proactively assess all major changes in the organization and its operations.
Why Management of Change is Important for Risk Management
Change management in aviation SMS programs is complex. It involves assessing and considering both current and hypothetical:
Environments;
Scenarios; and
Hazards.
Change management needs to be performed thoroughly. When all elements of a change are not assessed thoroughly enough, companies expose themselves to:
New hazards and risks;
Deterioration of existing risk controls; and
Lack of preparedness for unforeseen events.
Management of change is also important because it covers every aspect of aviation safety management systems (SMS):
Regulatory changes;
New routes, vehicles, or aircraft;
Organizational restructuring;
Changes in core safety policies and procedures; and
Employee or management changes, such as a new Safety Manager, layoffs, new vendors.
The full list of change management operations is considerably longer. The main takeaway is that SMS programs and external environments are constantly changing, and change management is how aviation SMS programs adapt.
How to Perform Management of Change
The strategy that we recommend above all else is to perform change management though a series of:
This ensures that your airline or airport's change management:
Is a top-down, centralized process that can be delegated;
Standardizes consistent and repeatable actions;
Can be managed and controlled;
Eliminates missed steps; and
Streamlines the implementation of changes.
With checklist and approvals in hand, the general workflow looks like this – though this can change from organization to organization. If you are familiar with the Safety Risk Management Process, you will recognize this change management process as mirroring the SRM process.
Document the details of the change, the reasons for the change, and affected parties;
Identify known hazards that are relevant to the change;
Conduct hazard analysis to identify new hazards;
Review risk controls to identify adequate, inadequate, and non-existing risk controls;
Identify potential compliance requirements;
Create a list of action items that are needed to implement change, such as action items for training, purchasing, etc.;
For each action item, create a list of needed tasks to implement changes with corrective preventative actions, thereby completing the action item;
Implement each CPA; and
Once implementation is complete, review implementation.
As said, we highly recommend completing all of the above items with a series of checklists and approvals to ensure that the change management does not miss needed steps. Implementation of action items can be things such as:
Risk mitigation controls;
Additional aviation SMS training;
Communicating the change to employees; and
Creating a clean audit trail.
Benefits of Change Management in Aviation SMS
Change management provides some natural benefits to aviation SMS programs. Enhancing these benefits should be one of the secondary goals of change management operations. When MOC is conducted thoroughly, the following benefits will happen naturally:
Find new hazards and growing hazard register;
Examine existing risk controls for inadequacy;
Update policies and procedures;
Involve employees in risk management operations; and
Hone risk analysis abilities.
MOC operations can be valuable for improving safety culture and involving an entire organization in the aviation risk management program.
Best Practices for Management of Change
Best practices for management of change are straightforward. First, you need to know:
How you are

performing the change management (i.e., what is your strategy); and
Why you are performing it.
On the second point, "why" doesn't mean identifying how the change will affect the existing safety program. In this case "why you are performing it" means understanding underlying goals of all management of change (MOC) operations. In every MOC, you:
Need to gain top-level endorsement;
Are stating the case for change;
Are communicating the plan;
Need to

identify threats;
Will necessarily involve everyone; and
Most importantly, are

creating

ownership of changes.
The above points are based on ACT's Change Management Principles. It's your responsibility to make each item obvious while performing each management of change operation.
---
If you don't have a template already, you will find this template extremely useful: