What is Too Much to Handle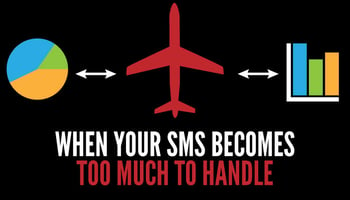 We talk with aviation safety professionals and business executives every day about their struggles with implementing and managing an SMS.
Inevitably, all aviation safety programs will reach a point of growth where it is getting too much to handle.
Too much to handle can mean one of several things:
Management cannot keep up with safety assurance elements, such as managing safety issues, corrective actions, etc.;
Management cannot keep up with the workload necessary to complete SMS design;
There is not enough time/resources to practice safety promotion; or
Managers generally feel "bogged down" and unsure how to proceed with implementing the SMS.
Often, managers feel that their SMS is too much to handle for a combination of the reasons above.
The themes running through "too much to handle" are usually twofold: feeling lost and lack of resources. Hence, the best way to get back in control of managing and implementing your aviation safety management system is to:
Acquire guidance on how to better manage/implement your SMS; and
Understand your safety needs and acquire pertinent resources.
Let's look at how to do this in more detail.
Audit Your Safety Needs
When your SMS becomes too much to handle, one of the best activities you can do is stop and take an audit of what your safety needs are. This is an attempt to outline what is too much to handle.
Auditing your safety needs involves analyzing each area of your SMS, such as:
SMS implementation progress;
Issue management;
Safety performance monitoring;
Corrective action management;
Documenting SMS design, such as risk controls, identified hazards, etc.;
Reviewing management activities;
Success of safety promotional activities; and
Thoroughness of safety policy, including documented policies, procedures, checklists, processes, etc.
For each of these areas, review the following questions and make notes regarding your answer:
Do we know what our goals are for this element of SMS?
Do we have a clear strategy/procedure for how we manage this – i.e., do we know how to accomplish these goals?
Do we think that the required work is being accomplished in this area of SMS?
If yes, is there clear, documented evidence for the required work is being done?
In short, do you know why you are addressing the element, how you are addressing, whether or not how you are addressing it is satisfactory, and if so, do you have evidence to prove it. If your answer is "No," or "I don't know," to any of these questions, you are identifying a safety need.
Your list of safety needs is a good place to start from when figuring out how to gain control of your aviation safety program.
Designate Safety Manager for SMS
First and foremost, if your aviation safety program does not have an aviation safety manager to manage the SMS, you may need to appoint one. What we see most often is:
If you have between 60-100 employees, a designated safety manager would greatly benefit your operations;
If you have 100 or more employees, your company needs a safety manager.
An aviation safety manager is usually responsible for some or all of the following:
Reviewing all reported safety issues;
Analyzing and assessing reported issues;
Creating or delegating corrective action management;
Managing safety promotion activities;
Managing the documentation of the SMS, such as hazards identified, risks identified, control measures, etc.; and
Hire Safety Assistant
If you already have an aviation safety program but are still feeling short on keeping up with managing your SMS, you may need to hire an assistant. Assistants work best for doing unspecialized, manual tasks that are time consuming.
Safety managers time is best spent actually managing the SMS, rather than documenting how they are managing it. Documentation is extremely important, but it's a task that can easily be delegated to an assistant.
The main advantages of an assistant are:
Grow your safety team;
Low cost employee; and
Let safety managers spend time working their areas of expertise, rather than simply performing data entry/documentation.
Hiring an assistant for your safety manager may free your safety manager up enough that the SMS is no longer too much to handle.
Acquire Additional Aviation Safety Guidance Tools
Most aviation safety managers and responsible, designated SMS executives feel that the SMS is too much to handle because they are unclear how to proceed. In other words, they feel that they lack guidance on what to do next.
Fortunately, there are many free aviation safety guidance tools that will help you evaluate many areas of your SMS. Here are some free resources for SMS mission critical aspects of your safety program:
Spending some time reviewing these documents will give you a much better idea of where you feel comfortable and where you feel your SMS program needs help. Often the first step in knowing how to get help is simply knowing what to ask.
Acquire Aviation Safety Software
Aviation safety software provides a suite of SMS performance and SMS design enhancing functionality that:
Does the job of an assistant;
Offers the built-in processes and templates that act as natural guidance;
Automates a very significant amount of manual work;
Provides aviation industry tried and tested performance monitoring tools; and
Provides a roadmap and templates for thorough SMS design; and
Has high value to cost ratio.
---
For more information about how aviation safety software will benefit your safety prorgam and help you regain control of it, see the following videos that highlight safety software tools: