Definition of Aviation SMS Safety Assurance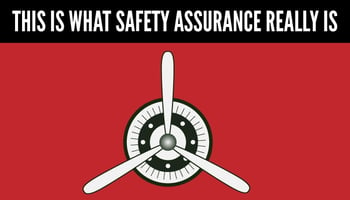 Safety assurance is the 3rd component in the aviation SMS 4 pillars. Long story short, safety assurance is defined by monitoring the safety management system. Such monitoring comes in many important forms, some of which are rather obvious and some of which are often overlooked.
For example, one purpose of safety assurance activities is to ensure safety performance of established risk controls. Risk controls are created in the safety risk management component. Over time, risk controls make become obsolete or inadequate through a process called "drift," which can be deadly. Safety assurance should also monitor the need for new risk controls.
Another obvious type of safety assurance monitoring is to monitor:
Safety data;
Compliance;
Policies;
Procedures;
Risk management practices;
Safety performance of individual employees; and
That Goals are being met.
Safety assurance works closely with risk management – you might even consider them two ends of the same string. Safety assurance will strongly inform the type of activities that take place in the safety policy and safety promotion components.
The Most Neglected of Aviation SMS 4 Pillars?
Unfortunately, the term "box checking SMS" probably comes from the safety assurance component. Box checking refers to aviation safety programs that mostly exist on paper – i.e., safety management checks boxes (such as on paper forms) so that it looks like there is an SMS program, but in the real environment none exists.
While aviation SMS programs that are a complete farce may be relatively rare, box checking is a very real problem in many safety programs. Even in programs that feature reasonable risk management, safety policy, and safety promotion components, the safety assurance component may be very undervalued.
This is because fulfilling the safety performance monitoring and review:
Is time consuming;
Requires in-depth analysis;
Can be challenging and abstruse (i.e., where to start?); and
Requires taking an honest look at the results of past efforts – results which may be poor.
The result is that safety management will check off that they "reviewed" a policy, risk control, etc., when in actuality all they did was do a cursory review. The obvious symptom that such a practice is happening is audit findings on parts of the SMS that were documented as being "reviewed."
Safety Assurance Activities
The following aviation safety activities should be regularly and thoroughly performed in aviation SMS programs in order to fulfill the safety assurance component:
Safety audits and inspections;
Gap analysis;
Creation of meaningful safety data (such as Key Performance Indicators);
Employee safety performance monitoring;
Aviation safety training;
Documentation review (of policies and procedures);
Goals and objectives monitoring;
Implementation plan reviews;
Vendor review;
Vehicle, aircraft, and other equipment reviews;
Review of hazard analysis methods; and
Other miscellaneous monitoring activities.
All safety assurance activities should fulfill the goal of understanding:
Where the program has been;
Where the program is; and
What is keeping the program from being in the desired state.
Moving Safety Assurance Beyond Safety
Quality management is also the bridge between the SMS and quality management system activities. I have advocated for a quality-safety management system (QSMS) in the past and will do so again here.
Quality management activities can infringe upon safety management's ability to fulfill the safety assurance requirements, such as when upper management places emphasis on [quality] performance rather than preparedness.
On the other hand, uniting quality and safety assurance activities into one system makes a lot of business and safety sense for several reasons:
Less aviation policies and procedures to manage (and more resources to be used elsewhere);
Better safety culture results in increased quality efficiency and safety performance;
Better safety oversight capabilities;
Better return on investment for company; and
Better ability to monitor business performance.
Way to integrate SMS and QMS include:
Ensure upper management support;
Redesign policies and procedures to incorporate SMS and QMS
Create goals that are both QMS and SMS;
Combine quality and safety resources; and
Implement safety monitoring that is equally quality performance and safety performance.
Final Thought: Ramification of Safety Assurance
Safety assurance findings will strongly influence safety policy and safety promotion. This is based on the larger cycle of SMS:
Facilitate safety in the environment by reporting and managing safety issues (safety risk management);
Monitor risk management activities; (safety assurance);
Create/update policies and procedures (safety policy) based on risk management performance;
Promote policy and other needed safety elements in order to improve risk management performance.
One fantastic safety assurance tool grants the ability to monitor the performance of individual employees. Learn how to do this with our free guide: