Different Investigator Activities on Safety Issues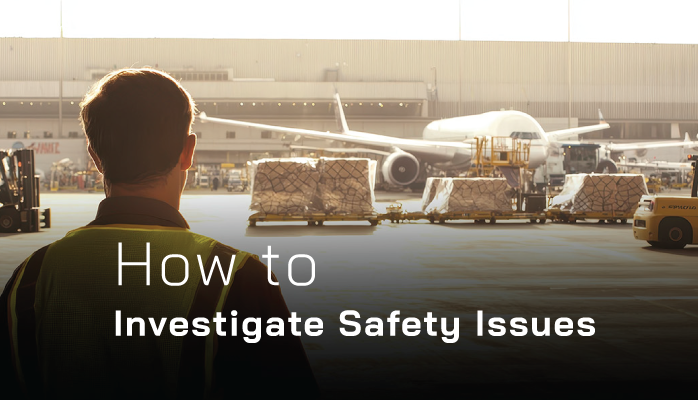 Managing safety issues in aviation SMS is largely about performing various investigatory activities in order to make good safety decisions. Investigatory activities are usually conducted by:
Safety managers;
Department heads;
Subject-matter experts; and/or
Safety committees.
On every say issue, nearly all of the following types of investigations will be performed on every issue:
Review the report details and get more information if needed;
Investigate the context in which the issue occurred – is the issue part of a trend?
Review the performance of relevant risk controls
Perform root cause analysis;
Perform other investigatory actions (i.e., human factor identification, etc.) that your organization performs; and
Create corrective actions that fix the issue.
Here is how to investigate safety issues in more detail.
Review Details of Report
Safety issues result in reports. Ideally, these reports are submitted via forms that capture relevant information. The first investigation you perform when managing safety issues is reviewing this information.
Important information to ensure is included in the form is:
Narrative of event;
Metadata, such as time of occurrence, date, etc.;
People involved;
Aircraft involved;
Pictures;
And so on.
You may have additional information unique to one of your hazard reporting forms. The point is to make sure the form is complete and that you have all the information needed.
Get More Information If Needed
Sometimes, you will need to gather more information from the submitted report. Usually this entails:
Getting a more detailed narrative of what happened;
Getting missing form fields; or
Getting additional input from people involved.
Knowing when you need more information is sometimes obvious, such as in the case of a missing form field or getting narratives of other people involved. However, knowing the line between "enough" and needing more also takes an aviation safety manager with experience or intuition.
Evaluate Context of Hazard Report in Current Trends
Establishing context of hazard reports is an important type of investigation that many safety managers miss. Establishing context means infesting whether the report
Is the result of a current trend; and
Has arisen for different reasons than otherwise indicated in the report.
Investigating context involves reviewing recent data, such as from the last 30 or 90 days, such as by analyzing recent:
Safety metrics;
Classifications;
Pie charts and line graphs; and
Lessons learned.
Review Risk Control Performance
After reviewing details and other information about the safety issue, you need to review the effectiveness of risk controls relevant to the issue. Risk control performance is the basis for your risk mitigation and safety efforts. You will know which controls are relevant based on the:
Hazard of the current issue;
Root causes of the current issue; and
Human Factors relevant to the current issue.
For each risk control, assess whether the control:
Contributed positively to outcomes; or
Contributed negatively to outcomes.
If a control contributed negatively, you should document this as it may need to be fixed with corrective actions.
Related Articles on Control Measures in Aviation SMS
Perform Root Cause Analysis
Root cause analysis is an important step in the risk analysis process. The goals of root cause analysis are:
Understand why the safety event happened;
Establish precursors to danger; and
Establish underlying causes for safety issues.
Root cause analysis is usually performed with some kind of tool, such as:
5 Whys Analysis; or
Fishbone Diagrams.
Root cause analysis is simply a matter of following the prescribed method of analysis based on which tool you are using to perform the analysis.
Related Articles about Root Cause Analysis in Aviation SMS
Perform Other Investigatory Activities
In additional to root cause analysis, it's probably a good idea to investigate other aspects of the issue such as:
The hazard;
Human factors;
Applicable policies and procedures.
You can gather these data through various risk management tools.
Create Corrective Actions and Fix Issue
While creating corrective actions is an investigatory activity, creating good corrective actions requires solid brainstorming and investigating the best corrective actions to fix the issue. Creating good corrective actions involves:
Evaluating what controls would fix root causes, including:

Adding new controls
Updating existing controls

Performing safety case on controls
Creating implementation plan for corrective actions
All of these tasks requires significant evaluation before being conducted.
---
If you need tools to manage your investigations, you may consider commercial-off-the-shelf (COTS) SMS software.
Published February 2019. Last updated May 2021.
airBaltic Bombardier CS300 mainenance image by Kārlis Dambrāns on flickr