Presenting Key Performance Indicators to Managers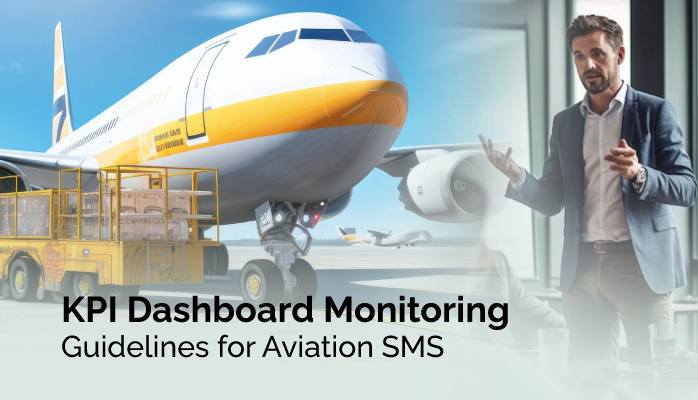 A KPI key performance indicator remains the most effective means to communicate and monitor aviation service providers' goals and objectives related to the aviation safety management system (SMS). These dashboards offer the most value when they are:
Focused on Organizational Key Objectives;
Free From Clutter;
Easily Personalized for Individual Managers;
Secured From Unauthorized Personnel;
Cover problem areas of SMS performance; and yet
Easily Accessible;
Related Articles on Key Performance Indicators (KPIs) in Aviation SMS
The post describes some best practices for presenting key performance indicators to managers.
One Dashboard May Not Fit All Operational Managers
All but the smallest aviation service providers have complex organizational structures. For example, depending on the aviation industry segment you operate, there may be different departments or divisions at your company, including:
Flight Operations;
Ground Operations;
Engineering;
Ground-side operations;
Air-side operations;
Facilities;
Employee Training;
Administration;
Maintenance; or
Baggage Handling.
Satisfying all managers with the same aviation safety dashboard data is one of the biggest challenges facing safety managers. Below are a few suggestions:
Related Articles on Aviation Safety Charts
1. Focus Dashboards on Your Organizational Objectives
There are so very many ways to classify data; therefore, it is easy to become lost in the overwhelming amounts of data.
Aviation key performance indicators (KPIs) allow managers to focus on key organizational objectives. Instead of looking at all your data, KPIs allow management to flag desired classification parameters to filter results on data directly (or sometimes indirectly) associated with organizational goals and objectives.
In the aviation SMS world, you will occasionally see the acronym SPIs (safety performance indicators), which are exactly the same as key performance indicators, but the intention is to focus managers' attention on safety. Managers at your company may already use financial KPIs or operational KPIs to improve decision-making abilities.
SPI = KPI
Selecting effective KPIs to display on dashboards is a task in itself. How does your organization select KPIs? Which of these KPIs are most important to your organization.
Select elements of your SMS that require constant monitoring as KPIs to highlight on your KPI dashboard. KPI monitoring helps your company demonstrate that your focus on the "continuous improvement of the SMS" requirement.
2. Keep KPI Dashboards Clean
Screen real estate is unlimited when safety dashboards are presented using a Web browser. Use ample white space when designing KPI dashboards and when presenting data.
Having too many charts on a screen may overwhelm managers and adversely affect decision-making abilities. Encourage or train department heads and other managers to only leave charts on their dashboards that add value to their job position. For example, a maintenance department head may not require KPI charts that are more directed to the training or quality assurance department.
When designing KPI dashboard charts, avoid putting too much information into each chart. Cluttered charts are more difficult to read and the most complicated charts in KPI dashboards are the first ones to be habitually overlooked.
Related Articles on Aviation SMS KPIs
3. Allow Managers to Configure Their Safety Dashboards
KPIs are best presented in user-configurable dashboards. Flexible dashboards allow safety managers and department heads to choose which reports will prove most helpful to their daily, weekly, monthly and annual performance monitoring activities.
Managers from each division or department have different needs. One may need to see expiring training items in their KPI dashboard, while another manager may need to monitor the most pressing hazards.
4. Secure Dashboard Data from Unauthorized Access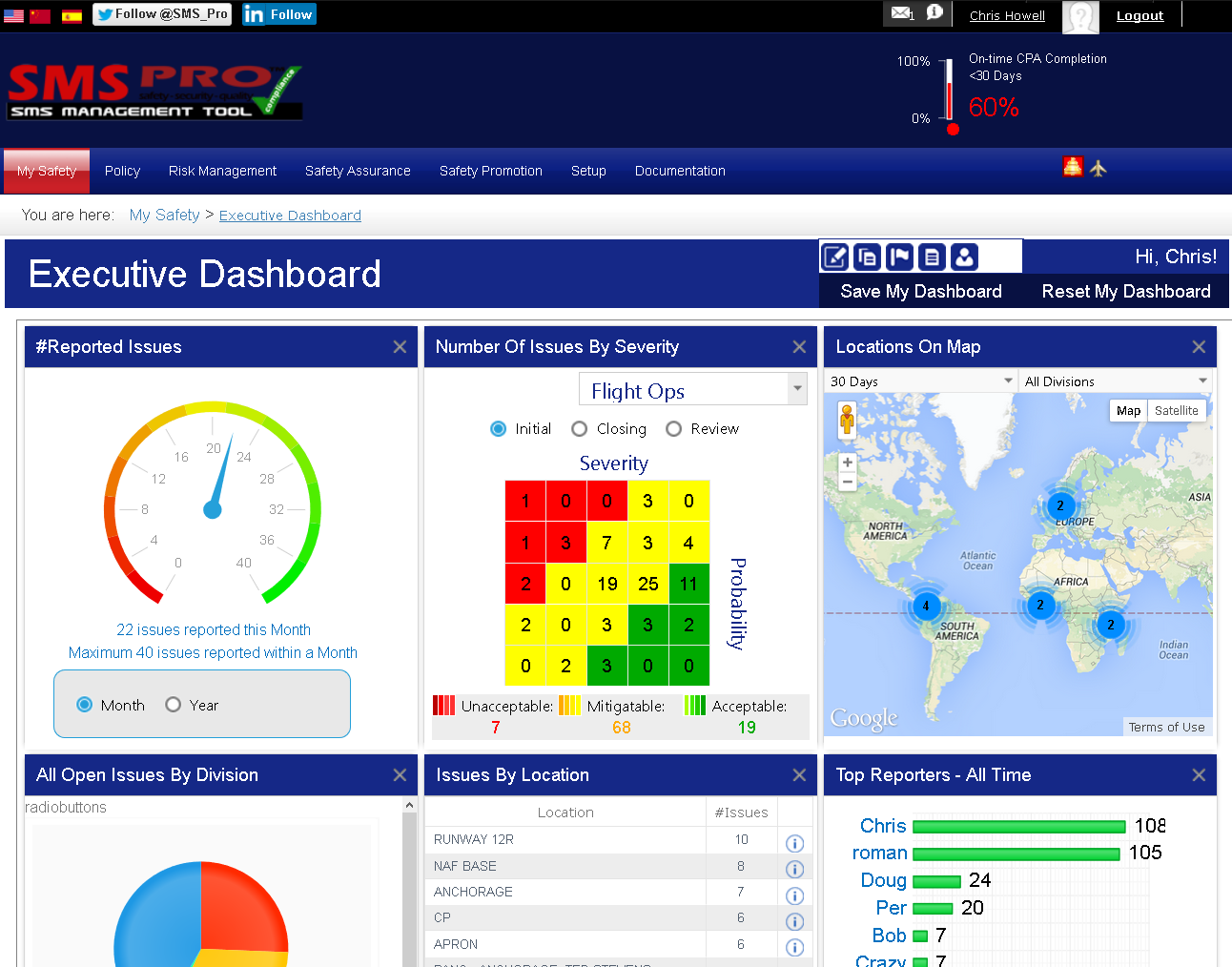 Having sensitive data appear on the front page of the newspaper is a challenge most airline or airport managers face. Safety managers need an easy way to configure their KPI data from prying eyes.
Safety managers are best served by dashboard tools that allow them to configure KPI charts by user roles.
There are actually two security concerns here regarding data access permissions:
Does the intended user have permission to see a particular chart? and
Does the intended user have permission to see data driving the chart metrics?
The first point is what most safety managers think about when they see these dashboard charts. Let's take a quick example to understand this data security challenge.
As an example, should pilots see the number of high-risk reported safety issues across the entire company? If not, we may ask, are pilots allowed to see the number of high risks reported safety issues within their:
region;
division;
area of operations?
This is a rhetorical question to get you thinking about what data can be seen. Aggregated report numbers may not disclose any sensitive details; however, management may not see the case in this light. They may not want pilots to draw incorrect inferences when they see that the company has many high-risk reported safety issues. On a side note, a large number of high-risk reports in the system may not be a bad thing. It may indicate a highly proactive hazard reporting culture.
As you can see from this rather simple example, data security is not always straightforward. Furthermore, if data security is a major concern (or even a moderate concern), then your company should not be relying on spreadsheets. Maintaining data integrity and data security are two weak areas of spreadsheets.
Furthermore, you will not be generating on-the-fly, real-time KPI dashboard charts from a spreadsheet. You will need an SMS database to securely manage the disparate data sets related to all the myriad SMS documentation requirements.
Related Articles on Using Spreadsheets in Aviation SMS
Final Thoughts on Key Performance Dashboards for Aviation Managers
KPI dashboards offer incredible value to every aviation service provider who earnestly desires to monitor SMS performance. I'm assuming that if you are interested in monitoring the performance of the SMS, then your company is interested in sincerely benefiting from the SMS and not having a "paper SMS."
Presenting useful, real-time information is a common business requirement for managers to make timely operations-related decisions. Web-based databases allow managers to monitor company-wide goals and objectives in real-time (as soon as the data becomes available).
Current Web and database technology allows every aviation service provider to use KPI dashboards, regardless of their size or budget. Configurable, secure KPI dashboards should be available in any aviation SMS software product your company integrates into its organization.
---
You can have excellent KPI dashboard tools within two days. The Executive Dashboard comes with our most basic Hazard Reporting Solution for aviation service providers. See it in action.
Live SMS Pro Demo? Sign Up Today!
Lists of Aviation KPIs
Last updated July 2022.