What Is the Fuss about Management of Change?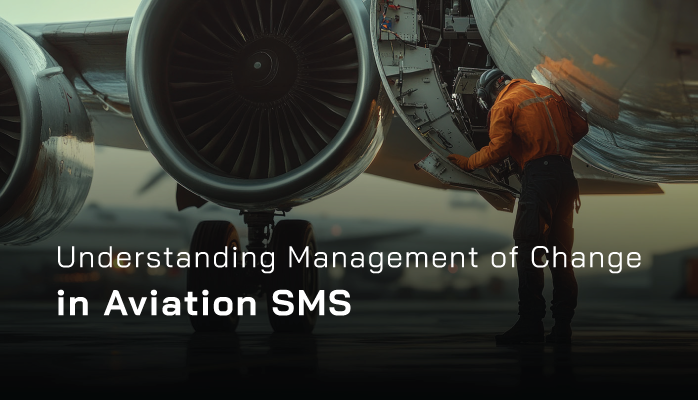 Management of change in aviation safety management systems (SMS) is essential for managing operational or organizational change. Safety teams are typically involved in the management of change (MOC) exercises.
There is often confusion among new aviation safety managers when they are confronted with answering auditors' questions regarding MOC in their SMS. Best practices should always be reviewed when implementing your MOC workflow.
This article will briefly describe MOC and some preferred best practices.
Related Aviation SMS Management of Change Articles
Why Do We Need Procedures for Change Management?
According to FAA documentation regarding Management of Change:
A change management process should identify changes within the organization that may affect established processes, procedures, products, and services. Prior to implementing changes, a change management process should describe the arrangements to ensure safety performance. The result of this process is the reduction in the safety risks resulting from changes in the provision of products or services by the organization. Change management should consider the criticality of the system and activities, the stability of the system and operational environment, and the past performance of the system.
Many safety managers are overworked. They are bustling from one fire to the next. These fires may include:
Maintaining proper documentation of routine risk management processes;
Promoting the aviation SMS through surveys and newsletters;
Conducting and documenting safety meetings; and
Interfacing with safety counterparts of vendors and suppliers.
There is a lot going on, and without documented AND practiced procedures, one can easily miss a step when managing risk resulting from the proposed organizational change. There is a keyword here that needs some clarification: "procedures."
Why Do We Have Procedures?
We throw the word "procedures" around so casually that when we think of "procedures" or "processes" we think of "what are procedures" and seldom why we have procedures. Let's get a quick definition task out of the way before we continue. That way when I throw out a term, we are on the same page.
What Is the Difference between Process and Procedure
The easiest way for me to describe the difference between a process and a procedure is to start with an example of a system, such as an aviation SMS. A system is comprised of
processes,
procedures,
people,
buildings and equipment, and
interfaces among these different elements.
A very convenient way to describe a system in an aviation SMS is by using a template or recognized model, such as:
As you examine a system, you will define processes and procedures. If we take one step down, we can say that a system contains processes and processes have procedures. So it is a matter of depth or detail that we use to determine what is a process and what is a procedure.
Related Articles on Aviation SMS Processes and Procedures
Processes may have one or more procedures.
Conversely, procedures do not have processes. Procedures could be broken down into smaller tasks and subtasks, such as those found on checklists.
Why Are Procedures So Important to Aviation SMS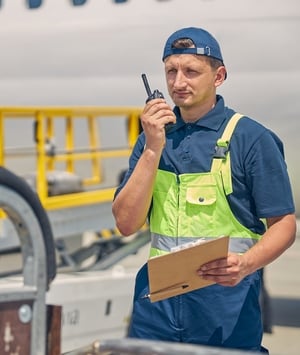 Procedures allow management to have the assurance that successful business activities (processes) can be repeated with minimal risk of failure. Procedures offer management a way to control the "system." When procedures are followed, management can focus on
developing the business;
providing services that generate revenue or accomplish the mission statement; or
going fishing or skiing.
I believe you get my point. When employees are trained to provide the company's services according to defined procedures, the company should be able to accomplish business-related activities with minimal risk. When accidents or anomalies occur, the system design is reviewed to determine "what went wrong." As the root cause is identified, the system may require a design change.
Management reviews the proposed change to determine whether the change affects risk. Change is implemented when risk has been evaluated as either:
acceptable; or
acceptable with mitigation.
After the change has been implemented, the system is monitored. When substandard performance is detected through reported safety concerns or audits, then the risk is evaluated and when judged as unacceptable or not ALARP (as low as reasonably practical), then the system goes back to the design phase, which is the safety risk management (SRM) processes. The monitoring phase is the highly popular safety assurance (SA) component of an aviation SMS.
In short, procedures are valuable to the company because they allow employees to engage in repeatable business processes with safe operating parameters. When procedures are not followed, management loses control over the system.
Control! That is one word that sums up the importance of procedures in aviation SMS. Safety assurance activities continuously monitor operational activities for:
procedures are not followed;
accidents, incidents or irregularities; or
the operating environment to change, introducing unacceptable risk to operations.
When deviations are detected, the system is analyzed to determine the effectiveness of existing risk controls. Previously implemented risk controls may not have accounted for
new hazards or
interacting with identified hazards in previously uncontrolled circumstances.
In short, risk controls maintain control. Risk controls assure management that procedures are being followed.
Have You Read
What Triggers Management of Change Process?
What causes safety teams to initiate the management of change process?
Ineffective risk controls;
New aircraft or technologies;
New routes;
New contracts;
A new system or change to existing system design;
Identification of high-risk areas; or
Change in the management structure.
Principles of Change Management
The Civil Aviation Authority of Australia has produced the best documentation regarding the management of change. Unfortunately, it isn't easily available anymore.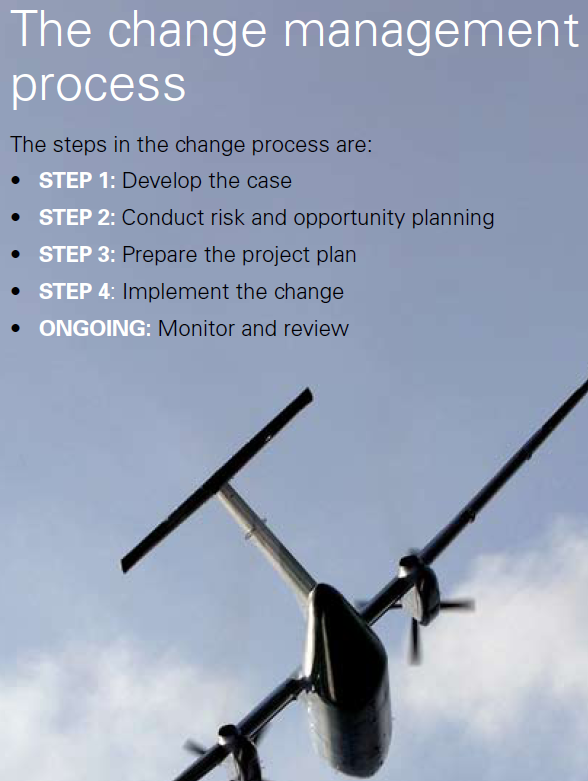 I found this copy on ACT Vantages' site for Managing change in the aviation industry.
There is a section called "Principles of Change Management." that is worth repeating here:
Consider your people first.
Gain top-level endorsement.
Involve all.
State the case.
Create ownership.
Communicate the plan.
Assess the culture.
Shape the culture.
Plan for the unexpected.
Consult with the individual
These are some very good principles to consider when starting the MOC process.
Related Aviation SMS Management of Change Articles
How to Manage the Change Management Process?
Let's assume you have read the excellent documentation produced by CASA (Australia's CAA). How will you perform the change management process?
We believe it is best to track and control all planned changes through a series of checklists, risk assessments, and approvals to ensure your company is fully prepared for the changes to be implemented. Using checklists to manage change provide many benefits, including
Standardizes Change Management Methodologies
From beginning to end, each change management request follows your checklist through a standard process based on an accepted template. This ensures consistency and thoroughness while also offering flexibility. Each step in the process may be optional in this established change management process, based on the change under scrutiny.
Mitigate Risks and Hazards Associated with Change
Whether an airline is planning a new route or adding a new aircraft type, a meticulous evaluation of all the possible impacts and alternative solutions will ensure that the airline implements a well-designed change. Additional hazards will be reviewed and mitigation strategies prepared before the change is implemented. When evaluating the system, start with a system analysis by describing the system. When you are describing the system, describe the:
Operating environment;
Personnel affected;
Equipment; and
Facilities.
The system description is an important step as it starts the creative thought processes. For each identified system element, you will analyze the system to identify, analyze and risk assess:
existing hazards; and
new hazards.
Of course, the management team will also review existing risk controls to determine whether they are adequate. When risk remains unacceptable, additional risk controls will be introduced in the system design.
Related Articles on Aviation SMS Control Measures
Eliminate Missed Steps with Checklists and Approvals
Checklists ensure that changes are controlled and well-evaluated by incorporating crucial steps and approvals into the change management workflow to ensure that nothing is missed.
Centralizes & Streamlines the Implementation of Change
Checklists are easy to distribute and track in aviation SMS databases. They easily promote organization-wide visibility by tracking the status of all accepted changes and their associated activities. The implementation phase of change management tasks can also be managed using checklists, such as:
Risk mitigation;
Additional training, and
Communicating the change to employees; and
Creating a clean audit trail
Best practices should include tracking at each stage in the process. This can be done using version-controlled document management or using aviation SMS databases with the management of change tools. Aviation management of change software saves considerable time and energy in documenting change and automatically creating an audit trail.
Final Thoughts on MOC
Auditors love picking at the management of change whenever performing aviation SMS audits. Having a templated process to manage change is the first step to satisfying this SMS requirement.
The final word?
Get a checklist to use as a template
Make sure you use it when performing your change management activities.
Aviation SMS Management of Change Software
Being able to document change management activities using the software saves time and reduces risk to regulatory findings. Furthermore, when you have these tools integrated into your risk management software, you gain additional power and utility to track hazards and risk controls associated with your MOC project.
These videos demonstrate how your SMS can become fully compliant using a low-cost, commercially available SMS database. An SMS database can do more than simply serve as your
safety reporting system
accident investigation system;
risk management system; and
auditing system.
A well-designed, modern SMS database reduces risk and facilitates regulatory compliance.
Last updated November 2023.