What Is Change Management?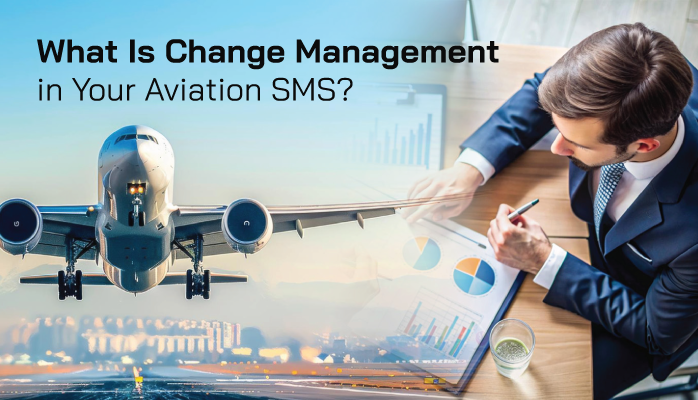 In the aviation industry, it's important to manage change effectively. Change can be organizational, procedural, or technological.
Change occurs any time an established practice is altered.
Change can seem small, like changing suppliers. Or it could be a large change, like adding a new type of airplane to your feet.
When you plan for changes before they happen, you can take measures to proactively manage risk as well. Managing risk is a fundamental part of managing change.
Forming the Team
A team approach is crucial to managing change effectively. Before sitting down to start planning, identify experts who can advise on the plan.
These experts may be internal or external. They do not need to have decision-making power, but they do need to understand the process you are planning to change.
Experts bring experience to the table that is impossible to replicate. Your experts will be able to see potential safety impacts that otherwise might have been missed.
Change Management Procedure
As with any large planning task, it's important to follow a procedure when managing change. In this case, procedures ensure that the considerations we make are trackable.
The procedure for safety and change management involves identifying the series of micro-changes that make up the change as a whole. By identifying the micro-changes, it will be easier to spot potential safety impacts.
To uncover potential safety impacts, your team should also identify possible scenarios that could arise from the change.
Take the time to perform a risk assessment on these scenarios and plan for any necessary control measures to mitigate risk.
Related Articles on Management of Change in Aviation SMS
Limitations of Change Management
The best teams can foresee many possible outcomes and create plans for the worst-case scenarios. Even so, the process has limitations.
Change management is a generic process and each change is different. Make sure to modify your process to fit the change you're planning for. The details of the method will differ for each unique change.
To further offset this limitation, vigorously pursue a detailed, thorough analysis. This way, with the engagement of experts, your team will be able to predict many possible safety outcomes.
What's your safety management style? Find out with this quiz!
Last updated February 2023.