SMS Trend Developing Aimed at Smaller Operations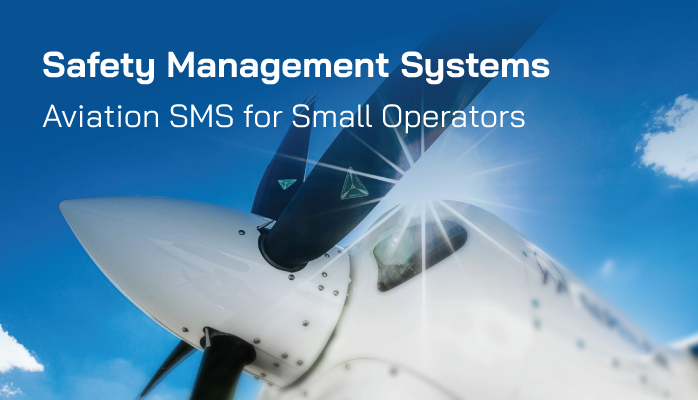 Some countries (Australia and soon Canada) now require even the smaller aviation service providers to participate in safety management system (SMS) activities. This creates multiple challenges for these non-complex operators.
For starters, there is high resistance to change in the cultures of these non-complex operations, most of which never experienced severe losses, such as fatalities or complete loss of aircraft. By their very nature, when a smaller operation suffers a severe accident or incident, it typically obliterates the service provider's business.
Very small aviation service providers need basic, simple to use SMS data management tools and most of today's popular aviation SMS database solutions have become too complex and feature-rich for these smaller operations.
Related Aviation SMS Database Articles
SMS Data Management Considerations for Smaller Operators
The SMS documentation requirements for even smaller operators are not trivial. This requires careful consideration by safety professionals and accountable executives. The most important thought to keep in the back of the mind is that the SMS data management strategies employed by the smaller operators must align with organizational goals and objectives.
Not every small operator will need sophisticated SMS data management tools. If you have high employee turnover, it is recommended that an SMS database be employed to reduce the risk associated with a disruption of losing key staff. For operators who only need a "paper SMS" to align with organizational goals, then there will be no need for an SMS database. In fact, a spreadsheet SMS is recommended for operators not wanting to expend more resources than necessary on the SMS implementation.
Small Aviation Operations Require Simple SMS Tools
A void exists for simple, SMS database solutions because there is not much revenue realized by software companies when dealing with companies that can only pay $100 to $300 per month for sophisticated, Web-based tools that may cost hundreds of thousands of dollars to develop.
Please don't misunderstand.
There are many cheap tools on the market, but they are commonly backed by one-two-man shops that are unable to offer support when needed. Furthermore, this small software "shops" lack the research and development drive to continually perfect their SMS database systems. As we are all aware, technology changes very quickly. These small shops are high risk, especially when their list of clients is not large enough to support the company.
Aviation SMS Software Programs Flooded Market
Since 2007, aviation SMS database programs have flooded the market. Many are simply pretty pictures promising superior functionality while others are merely glorified spreadsheets without much functionality. Other SMS database solutions are designed for larger aviation companies with 300 to 5,000 employees.
The reason I went into this SMS market in 2007 is because there were no SMS software solutions developed specifically for the aviation industry. I was approached to develop and support an aviation-specific safety management system.
Unfortunately, our system has grown over the years to become too feature-rich for the small operators.
Need Exists for Simple, Affordable Aviation SMS Tools
I realize we moved away from the very small operators. In short, we could not stay in business dealing with small operators. There was not enough margin and small companies are high risk. As I've seen over the past dozen years, aviation companies come and go, but the smaller ones tend to turn over much quicker than the larger operators.
A need exists for an affordable, user-friendly SMS database program that offers basic features but without high support costs and needless functionality. This affordable solution must be suitable for 1 to 20 employees and meet regulatory requirements for non-complex operations.
Related Aviation SMS Software Articles
Aviation SMS for Small Operators Requires Non-Complex Tools
Small operators have significant SMS data management needs that relate to the SMS' documentation requirements. As we have discussed, small operators don't need in-depth
Risk analysis tools;
Complicated hazard registers;
Fishbone diagrams;
Sophisticated auditing tools; or
Automated escalation features.
Small operators need a simple SMS data management solution to fit their needs and nothing more. Extra features merely complicate the solution and add no real value.
A simple SMS data management solution would entail:
Basic safety reporting system using Web Interface
Access to policies & procedures (with default policies from a template)
Organizational Chart with link to SMS manual
Managing hazards and reported safety issues including:
Automated email notifications;
Manage corrective actions and preventive actions; and
Investigation features when necessity calls.
Report Generation in Small SMS Should Simply Work
Nobody wants to use Excel spreadsheets to store SMS data. It is brutal and time-consuming, especially when you need a quick report. Therefore, a perfect solution for the non-complex operator would be a simple, easy-to-use report generation tool. Nothing too fancy, but effective. Here is an example of such Risk Analysis Charts.
SMS performance monitoring charts become necessary when a safety manager needs to report to the accountable executive. In every SMS implementation, there is one accountable executive who is responsible for ensuring the SMS is properly implemented and performing in all areas of the organization.
In order to monitor SMS performance, the accountable executive must regularly review organizational safety performance. Without a regular review, there can be no realistic expectation that the accountable executive will be in any position to direct actions necessary to address substandard safety performance. Safety charts and SMS performance monitoring dashboards are commonly used in the regular SMS review process.
Related Articles on Aviation SMS Charts
Managing Safety Communication
Every SMS implementation, regardless of the complexity of the operator, requires a means to manage safety communication. Maybe you use:
Email;
Post-it notes;
Memos; or
Verbal face to face.
How elaborate and sophisticated the delivery depends on the complexity of the operator. Regardless, the point to remember is that this communication needs to be documented and easily retrieved should an auditor call you on it.
Email is nice, but how do you demonstrate that all employees have read the message? A simple, easy to use communication management tool, such as an electronic Message Board satisfies these requirements. This is perhaps the best solution for smaller operators because the documentation stays in one location and if your email crashes or is hacked, at least you still have the required SMS documentation.
SMS Training Management for Small Operators
Today's learning management systems are overkill for the smaller operations. There are no extensive training requirements for smaller companies, but the training must be documented. If you are like me, I don't want to keep training dates and expiration dates in a spreadsheet. This is simply not sustainable over a five-ten-year time period.
Automated SMS training is the preferred approach for both Initial and recurrent SMS training. You don't need to send staff to expensive SMS training courses, but you do need to show that you have accounted for:
Training relevant to reactive risk management processes based on employee's role in safety program; and
Training relevant to operational safety assurance (in Phase 4 of SMS implementation).
An effective SMS tool will automate these requirements for smaller companies. For example, to manage recurrent training, you can use an online "Safety Training Article Library" to automatically track user participation and training.
Related Aviation SMS Training Articles
Which Operators Need Simple SMS Tools?
This simple SMS solution described above should be easily configurable for these non-complex operators:
Small Airports;
Part 125;
Small Helicopter operators, such as tour operators;
External Load Helicopter operators;
Flight Schools;
Air Traffic Control;
ANSP;
Agricultural Aircraft Operations;
Unmanned Aircraft Systems; and
Others with SMS requirements.
Small airports may also need tools to perform routine inspections, so an online-airport inspection module would be useful.
---
What does a simple SMS database program look like? How much should it cost?
Let's see.
Below are some short demo videos showing SMS Pro. Since 2007, SMS Pro has been providing SMS database services to aviation service providers of all sizes.