Why This Aviation SMS Implementation Chart Is Important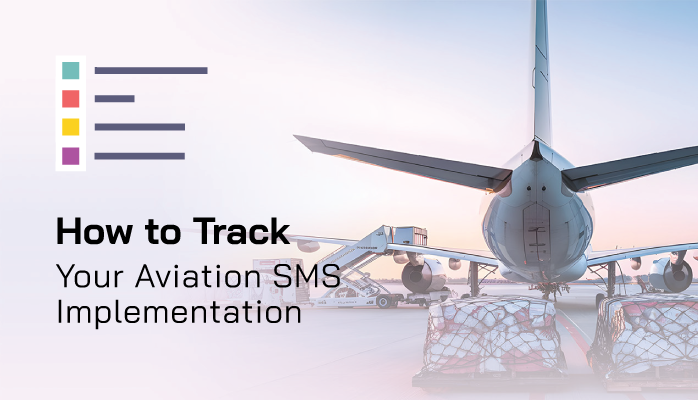 As you probably already well know, implementing aviation safety management systems (SMS) is a big deal for most aviation service providers around the world – both in terms of accounting for all of an SMS' moving parts, as well as trying to get all of the moving parts moving in the direction of progress.
While it's easy for aviation safety managers to start their SMS implementation ready and motivated, SMS implementations are marathons, not sprints. Keeping track of where your organization is with the SMS implementation process can become challenging without real-time performance monitoring charts. One such chart is the SMS implementation tracking chart. This chart is small enough to fit into an SMS central performance monitoring dashboard. This allows managers to easily remain updated as to progress, or lack of progress in the SMS.
Related Articles on Aviation SMS Implementation
SMS Is More than Checking the Box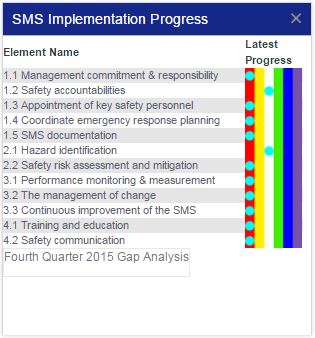 SMS implementations are easy to become "box-checking" exercises. Safety managers and accountable executives like to believe their SMS implementation is more mature than reality suggests.
Telling others that you are on Phase 2 or Phase 3 of the SMS implementation is a water-cooler talking point, or an indication to other safety professionals of how much work your organization has already put into the required SMS implementation.
Unfortunately, for this reason, many companies overvalue their implementation's actual progress. The reality is that implementation progress should be reflected and supported by the real safety culture and safety behavior of the company. The reason for the overestimation of SMS implementation is probably twofold:
Managers want the safety program to appear to be further along/improving; and
Unrealistic implementation analysis.
There are times when management needs a quick update as to the progress of the SMS implementation without needing to get bogged down in the details. In addition, management may want to know whether their SMS is a "paper SMS" that will only check the box, or if the SMS implementation is bonafide, and can be expected to achieve a return on investment. There may include times when:
Regulatory agency wants an update from safety team;
Accountable executive needs a quick and dirty status update on SMS maturity level; and
Safety teams want to have transparency in the SMS implementation for the rest of the company, especially for process owners.
Related Articles on Aviation SMS Implementation
Calculating Maturity of SMS Implementation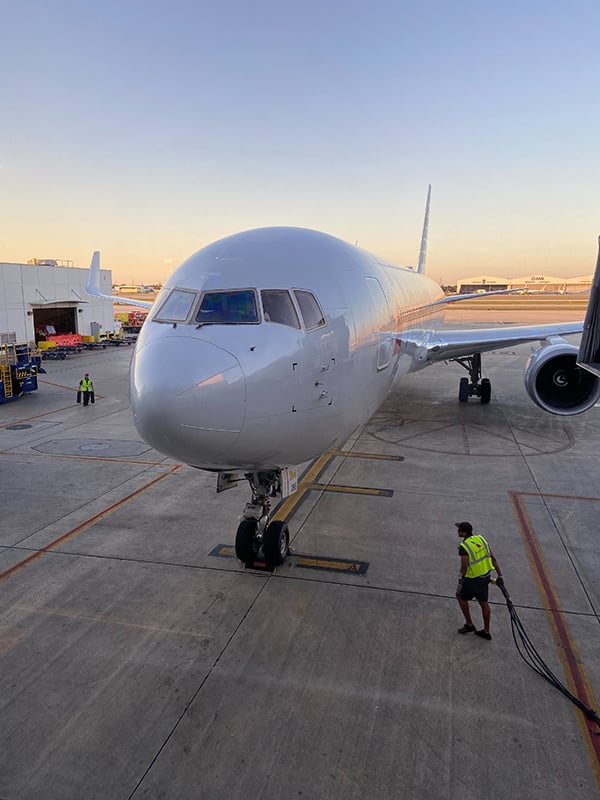 In all three scenarios the above SMS implementation chart is helpful. For one, it gives a quick glance look at how mature the SMS implementation is. Based on the most recent gap analysis, the performance monitoring chart shows the status of SMS implementation activities, including
Not started (No Action has been taken on this required element);
Action initiated (Identified actions have been taken to meet the requirement but the actions are not complete);
Implemented (Identifiable actions are satisfactory to meet this requirement and are observable in policies, procedures, organizational actions, and employee actions);
Integrated (This required element of an SMS has been integrated with other SMS elements and requirements within the organization)
Evaluated and sustained (This required element has been integrated with other SMS Elements. Additionally, this element has been subjected to at least one prior round of evaluation/audit and there is evidence that the required actions have been sustained over time. Further, there are no identifiable reasons why sustainment should not continue); and
State of the art (Conformance with this requirement of the standard is considered state of the art; they could be used as a benchmark for other organizations to use).
Do you know where your SMS implementation is at today? Are you sure?
Considering how many variables are involved, it's not always easy to know if or how much implementation is being overestimated. But with a working knowledge of SMS requirements for each phase of implementation, safety managers should know right away whether actual SMS progress is in line with what their implementation chart shows. If SMS managers are seeing many dots under the "Integrated" status, but the actual environment clearly doesn't match that standard, then managers are being overly generous in their evaluations during their gap analysis.
Situations When This Chart Is Very Useful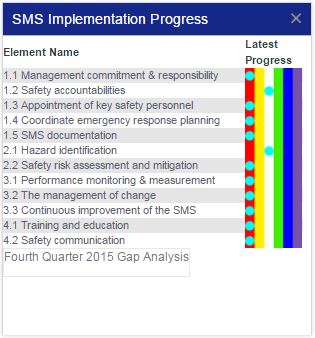 There are several scenarios when the quick-glance nature of this chart will prove very useful. The basic fact is that the easier and quicker it is to find the information you want, the more likely you are to review this chart regularly.
For one, part of being truthful about how far along with the SMS implementation actually involves asking yourself: when was the last time you reviewed your aviation SMS implementation plan? Ideally, one part of performing a gap analysis will involve reviewing your implementation plan. Having this chart ready at hand will tell you the date of your last gap analysis, as this chart's data is based on the most recent gap analysis completed.
More obviously, if you are curious about any gaping holes in the compliance of your SMS implementation, it's appealing to be able to know in about 2 seconds exactly where the compliance strengths/weaknesses of your SMS are.
Lastly, and as previously discussed, comparing this chart against things like-
safety surveys of safety culture,
safety data, and
your general impression of safety performance
-should immediately tell you whether or not you are overestimating your implementation.
Related Articles on Aviation SMS Implementation
What This Chart Reveals about Your Aviation SMS
Simply put, the SMS Implementation Progress chart reveals:
The implementation progress of each area of your SMS;
The strengths and weaknesses of your SMS' compliance;
Your most recent SMS gap analysis; and
The overall maturity of your SMS implementation.
It's convenient because it provides you with this knowledge at a glance – no digging around through past gap analysis and trying to make sense of individual parts and the program as a whole.
How SMS Implementation Charts Are Created
Building a chart like this can be done in two ways:
Manually; and
Automatically using an SMS database.
Automatically creating the chart naturally involves professionally designed aviation SMS database software with an integrated gap analysis tool. With this, the system can simply pull out the data from the most recent gap analysis and spit out this chart. The two benefits are that it doesn't require any effort on your part and you know the conclusions (i.e. the chart) are going to be accurate.
Manually creating this chart will require you to go through your most recent gap analysis, tabulate the information, and present it in chart form. It will require time and energy on your part to do so, but the upside is that in the process you will review your recent gap analysis thoroughly. Of course, I'm no fool – most safety managers are hardly likely to do this, but manually creating this chart nonetheless provides you an opportunity to review your gap analysis.
Related Aviation SMS Gap Analysis Articles
Final Thought: How This Chart Relates to SMS Requirements
This chart relates very closely to many SMS requirements. I hardly need to point out the obvious in great detail.
Many more carriers will be required to implement an SMS, and this chart is proof of that;
SMS implementations will need to show means and methods of demonstrating compliance and continuous improvement; and
This chart displays evidence that you are active and involved in every aspect of your SMS.
If you are looking for tools to manage your SMS implementation, SMS Pro can help. Since 2007, we have been working with operators around the world providing SMS data management services.
To learn how you can save time and money implementing your SMS, check out these short demo videos.
Last updated in July 2023.