No Comparison to Pushing Paper by Hand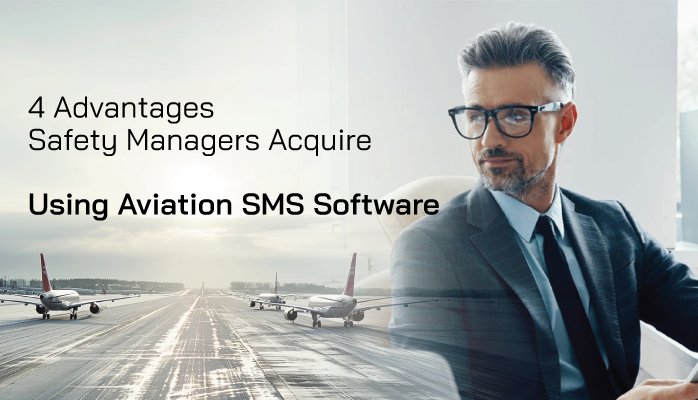 Most of us grew up using good old fashioned pen and paper for just about everything. In fact, for most things, I still prefer it over using my phone or computer.
It's quick, it's natural, it's something we can touch and feel.
But frankly, comparing pen and paper methods to software for managing documentation requirements of formal aviation Safety Management Systems (SMS) is the difference between driving a trusted old pickup and a Formula 1 racing car.
Related Aviation SMS Software Articles
At every level of employment, aviation SMS software is:
Faster;
Simpler;
More efficient;
Better structured; and
More easily enforced for repeated business processes.
Let's take a closer look at four advantages safety managers have when using modern aviation SMS software over manual systems.
1. Aviation SMS Software Is Data Driven
Sure, manual methods of all risk management systems are "data-driven" too. But imagine the logistical nightmare of trying to implement a complex, distributed system, or store physical reports? What would that warehouse look like?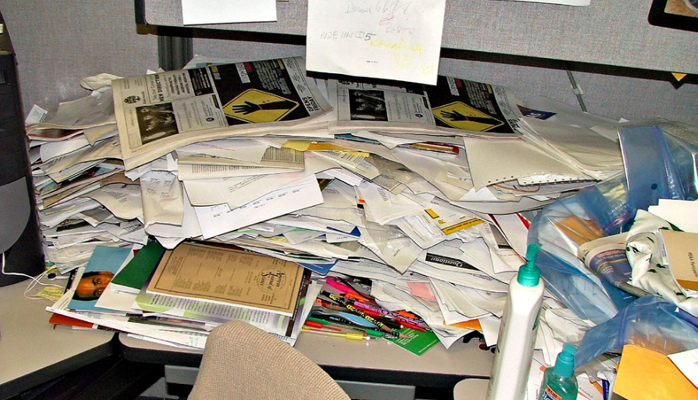 Your desk might start to look like the picture to the right. What aviation safety manager wants to sort through that?
This is the crux of what I mean when I say aviation SMS software is data-driven. We refer to data management that:
Affordably stores data in a centralized location accessible to an entire organization using the Internet;
Provides real-time access to aviation safety reports;
Organizes data in meaningful ways; and
Secures data according to user permissions.
Moreover, having a hazard register that is database-software driven nearly eliminates the potential for duplicates, errors, and most commonly, omissions. Omissions occur most often when the data is not easily accessible. Subsequent, risk management reports lose their validity and credibility because safety managers are unable to efficiently associate hazards to their reported safety issues or audit findings. Integrated hazard registers offer tremendous value in your SMS' reactive and predictive risk management processes.
Another major advantage safety managers immediately gain with modern aviation SMS software is to be alerted automatically as trends begin to develop or SMS tasks start slipping through the cracks.
With professional aviation SMS software, searching, sorting, manipulating, and communicating data is just so much more efficient than any other method, including spreadsheets. In most cases, the software provides predefined, templated email notifications and reports that satisfy most auditor and managerial requests across the entire industry.
Safety management teams benefit by using data-based decision making processes versus traditional guestimates or hunches.
Related Aviation SMS Software Articles
2. Aviation SMS Software Saves Time and Money
A software-driven, aviation risk management database provides sophisticated business logic that is available with only a few clicks of the mouse – essentially cutting out what historically was a need for an entire process of extensive reviewing/drafting/accessing/distributing aviation safety reports. A centralized, Web-based data management strategy saves you time, money, and a great deal of frustration.
Beyond efficiency and cost-effectiveness of a database, consider how much time is saved by using professionally designed software to have:
Safety reporting tools available to all employees at all times;
Safety performance monitoring dashboards for managerial oversight;
Access to real-time, configurable hazard alerts reported directly to management;
Documentation available at your fingertips at all times, especially when auditors come;
Usage of industry-accepted and tested workflows;
Instantly generated trending charts; and
The speed of typing reports and having pre-filled content areas;
The beauty of commercially available SMS software is that it is ready and able to do what would take countless man hours to provide and maintain.
3. The Inherent Structure Makes Things Easy
Aviation Safety Management Systems (SMS) are complex, messy, beasts. Aviation SMS covers a wide scope of activities requiring documentation and tracking, such as:
System design;
System implementation and monitoring;
System reviews; and
Continuous improvement (forever and ever).
This short list above is high level. When you dig deeper, your SMS team learns about tracking disparate data sources originating from the aviation SMS':
safety training;
safety reports;
hazards and their associated risk controls;
safety communications; and
audits of your aviation SMS and those of your vendors.
Trying to design, implement and maintain an integrated, SMS data-management system that works is a serious challenge to pull off. You may have already learned this the hard way – but also consider that maintaining your aviation SMS data over many years can quickly get out of hand.
Basically, trying to implement your own aviation SMS data management strategy is simply a drain on resources that would be better spent addressing operational safety hazards. As the old saying goes, there is no need to reinvent the wheel.
Here's why commercially developed aviation SMS software programs are inherently easier and less risky to implement: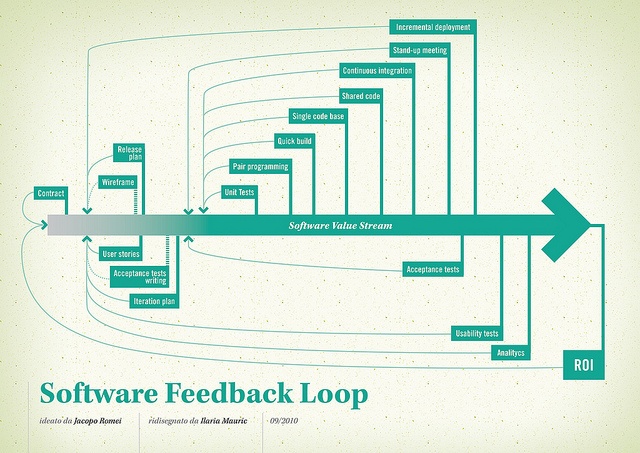 They are tested and used by many different companies, all of whom continually provide valuable feedback for the best, most updated and natural experience;
They establish universally accepted structure, methods and reporting requirements;
Reporting is as close to automated as possible: pre-filled content areas, the speed of typing, simply enter the most relevant information;
Eliminates redundancy;
Predefined, clear, concise managerial reports to facilitate decision-making processes; and
Securely marshals access to all required SMS documentation tools in one central, easily accessible location;
I think the main point here is that as opposed to creating an entire aviation SMS data management platform from scratch, commercially developed software is pre-designed, tested and ready to go out of the box. Safety managers adopting commercial software are assured that the software's integrated risk management processes are suited for purpose and may even provide best-in-class risk management workflows.
Related Aviation SMS Database Articles
4. Aviation SMS Software Supports Best Practices and Safer Environments
It's no secret that one of the most egregious problems our aviation industry faces is the lack of reporting safety hazards even after they have been identified. Some circles like to think this usually occurs out of an employee's fear of retaliation for
reporting and causing more "paperwork for management;" or
not being a "team player" and working around the hazard.
Regardless, modern Web-based aviation SMS software provides tools that encourage safety reporting best practices and globally meets regulatory requirements. Furthermore, the integrated risk management workflows cut SMS documentation labor to a fraction of the time required to perform even part of these tasks manually.
For example, web-based reporting systems provide an excellent means for anonymous safety reporting. Thus employees have a secure means to report hazards they might not otherwise report and make contributions to an overall safer operating environment.
There may be other reasons an employee may not want to identify themselves for reporting a "suspected" safety concern. I can easily imagine an employee not wanting to appear "stupid" or "poorly trained" for questioning a suspicious circumstance that may be overlooked by others with more experience.
Web-based safety reporting systems are easy to use and stand up. Their ease of use promotes proactive reporting of even more safety issues. These minor issues are the precursors to the "most significant event" we all wish to avoid, i.e., crashing and dying or causing the crash.
There are surprisingly many hazards that employees think too "minor" to be worth the time to report. With continued management support, many more of these supposedly "minor issues" end up being reported because the safety reporting system software is so quick and streamlined to use.
Safety in Numbers - Playing By the Same Sheet of Music
Commercial, off the shelf SMS software creates a safety "network" through which many companies can be assured their organizations practice similar risk management methodologies. This becomes very useful in at least two cases:
Large holding companies with multiple aviation-related organizations trying to implement SMS according to a similar strategy; and
Smaller operators that want to take advantage of industry-best-risk-data-management processes without recreating the wheel and going through all the iterative development and maintenance of their internally created systems.
And as discussed previously, the ultimate goal of an aviation SMS is... of course:
Mitigating risk;
Protecting assets; and
Continuously improving safety.
Better accountability and data for reporting is only of benefit to this end.
Final Thought: Any Reason NOT to Use Aviation SMS Software?
I have tried to objectively think of any reason not to use commercial SMS database software to aid in managing aviation SMS documentation requirements, and I come up empty-handed. Sure, I may be biased. Even if I were a small company with only five employees, managing and storing SMS documentation data for many years is a headache that most smaller operators don't need.
But all things considered, there are only great reasons to use aviation SMS software besides amplifying the efforts of the safety team. In the end, when it comes to the well being of employees and passengers, there's no reason to settle for anything but what is most effective.
In conclusion, aviation SMS software
Provides fact-based analytics to improves risk management decisions;
Saves time and money;
Provides industry-accepted practices and workflows; and
Offers assurance to management that recognized best practices can be incorporated into their companies.
---
Learn how your SMS may become more manageable. Watch these short aviation SMS demo videos.
Last updated in March 2022.
Desk Image by Jeffrey Beall via Flickr.
Software Image by Jacopo Romei via Flickr.