Consider Your Business Needs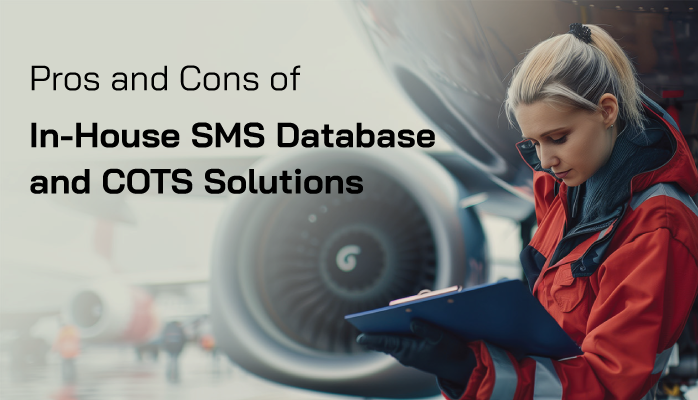 Ultimately, choosing between custom-built, in-house aviation safety management system (SMS) software and commercial-off-the-shelf (COTS) solutions comes down to three key considerations:
Your budget;
How quickly you need your software; and
The SMS goals of your business processes.
The first question you need to ask yourself is: What problem are you trying to solve? Answering this question involves a discovery process of analyzing exactly what your needs are. The end result could be:
A list of requirements; and/or
A flow chart of processes that need to be mapped to software.
In the case of building custom SMS software, you will likely work with your software team/company which will help you with this discovery process. With COTS SMS software, you will need to assess:
How flexible the software's processes are (can they be adapted?); and
How the software's processes meet your business needs.
Pros and Cons of Off-the-Shelf (COTS) SMS Software
The first thing you need to understand about commercial-off-the-shelf SMS software is that they are targeted toward a large audience trying to solve the same problems.
Choosing a one-industry off-the-shelf solution has significantly more advantages over multi-industry software, especially in the case where you have specific needs. SMS has specific requirements.
Pros:
May meet most needs of your business;
Very quick deployment;
Much lower cost for COTS than custom-built solution;
Developed by aviation SMS subject matter experts;
Industry designed, tested, and proven SMS tools/workflows;
Reviewed by SMS experts (such as auditors/inspectors);
Supported by dedicated company with years of experience with their software;
Scalable – more features can be added; and
Years of cyber security reliability for the SMS database.
Cons:
You may have specific needs that are not met;
May have extra features/tools that are not needed;
May have to adapt existing process with SMS software's processes, or vice-versa;
May receive new features that you don't like as much as old functionality; and
Not all of your new feature requests will be granted.
Pros and Cons of Custom Build SMS Software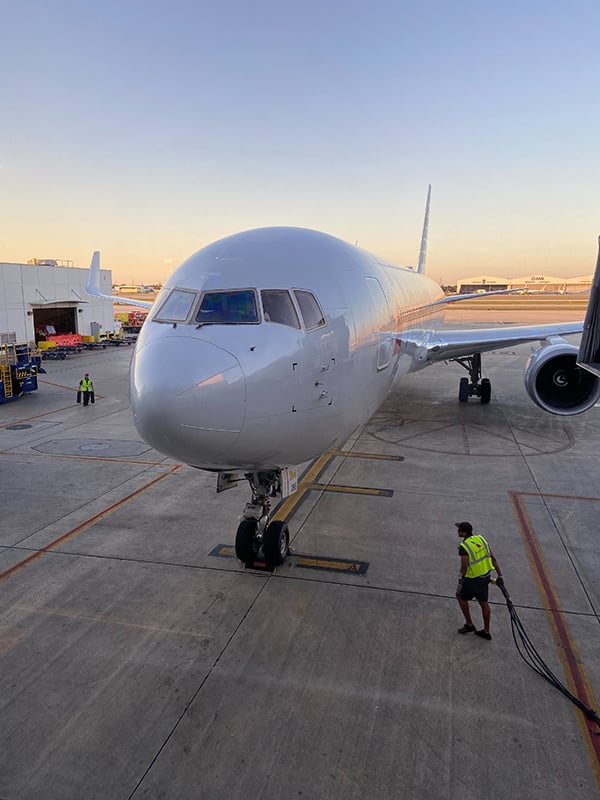 Custom-built SMS software provides you with a solution that
"may" perfectly fit your business needs,
has the exact desired functionality, and
aligns with all your business processes.
However, these benefits come at considerable cost - literally.
Here are the pros and cons of custom-built, in-house software.
Pros:
Every business process mapped to software;
Includes tools that are specific to your needs;
Easy to train, as software matches existing processes;
Can start with core essentials and add more features on later;
You own the software; and
You have full control over new features.
Cons:
Very high initial cost – can easily run into the millions of dollars for complex and large custom software;
Very high initial deployment time – will take months (or even years) to have a ready product;
You are charged with managing software bugs and other problems (or paying someone to do it); and
You will have to pay for any new features.
When to Choose In-House Custom Software vs COTS
Here is a good scenario for when to choose a COTS:
An existing SMS software and aviation SMS database fit most of your needs;
You want guarantees to have an SMS software that has been proven to work;
You don't have upwards of hundreds of thousands of dollars to spend; and
You don't want to wait months or even more than a year to have a usable product.
Here is a good scenario to choose a custom-built software:
Existing SMS software does not fit many of your needs;
You have a very high budget to spend on custom software; and
You don't need the software any time soon.
Related Aviation SMS Database Articles
The Middle Ground: Customizable, Off-the-Shelf Solution
There is a middle ground between the off-the-shelf solution and fully customized aviation SMS software. Software companies that provide an existing SMS software as a service (SaaS) may be willing to work with you to adapt their existing software to create custom software for you.
This approach offers many of the benefits of both COTS and custom software. For safety management system software, this approach should be the first to consider, especially if you have a larger company with specific SMS needs.
If your needs are drastically different from other companies, COTS may not fit your needs. However, building custom software from scratch is unrealistic given time/budget constraints and considering the breadth of SMS requirements.
Pros:
Get a product with proven tools;
Get a product that fits your existing processes;
Higher cost than COTS, but still a fraction of the cost of building custom SMS software from scratch;
Get all features of COTS, but adapted to the specific tools you need;
Relatively quick deployment time to have a usable product;
New features and updates are 100% controlled by you;
Often without licensing/subscription fees; and
You get to work with the company to decide what type of business arrangement you will have between your company, the software, and the company creating the software.
Cons:
Pay for updates/features;
May have to pay a small subscription fee for software maintenance (though this is worth it);
More expensive and time consuming than COTS; and
You need to find a software company willing to undertake this arrangement.
To see a top-shelf COTS aviation SMS solution, see these demo videos.
Last updated July 2023.