Four Pillars or Components Make a Tough Topic More Digestible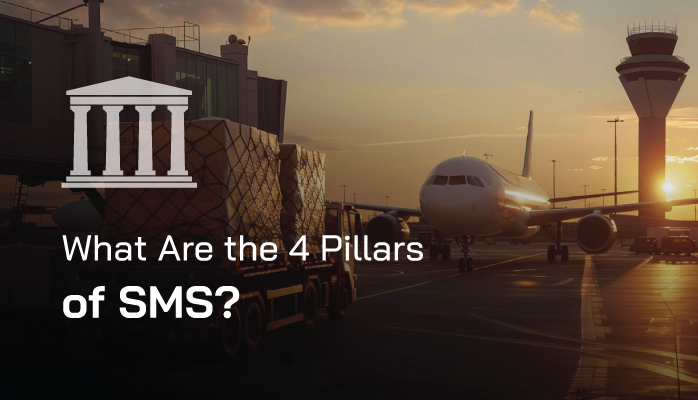 When the International Civil Aviation Organization (ICAO) required a formal safety management system (SMS) implementation by aviation service providers in 2006, they didn't simply pass a ruling. ICAO offered guidance material for SMS implementation in Document 9859, now in the third edition.
All aviation safety management professionals should read Document 9859 at least once. It is surprisingly easy to read.
The best part about this "Safety Management Manual" is that the authors took a very broad and complex topic and broke it down into four components or pillars of an SMS. These four pillars were then broken up into twelve elements.
In this blog article, we'll review the four pillars and most of their elements. We'll also sprinkle in some free downloads, such as templates and checklists, to help new safety managers.
ICAO's Four Pillars of Safety Management Systems
I have yet to see a civil aviation authority NOT regurgitate ICAO's four components. After all, why re-invent the wheel. I have seen some very good interpretations of the four pillars by: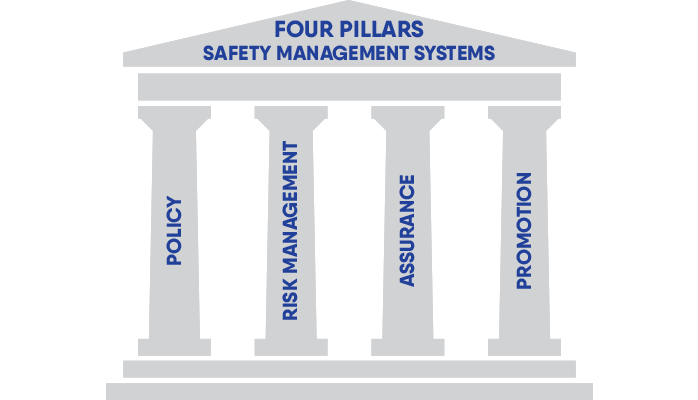 Let's cut to the chase. I'm suspecting that ninety percent of those reading this article are familiar with the four pillars. So what are the four pillars of an SMS?
Safety Policy;
Risk Management;
Safety Assurance; and
Safety Promotion.
Let's dig into each of these components and describe their respective elements.
Pillar #1) Safety Policy and Objectives
1) Management commitment and responsibility.
The commitment of the senior management to safety is reflected in a policy statement, which is signed by the Accountable Executive.
Free resources to download:
2) Safety accountabilities
A statement of accountabilities clearly defines the safety responsibilities of managers and employees at different levels in the organization, with an effective deputation of responsibilities established for operationally critical areas when principal office holders are absent. No resources yet for download.
3) Coordination of emergency response planning
Service providers implement an Emergency Response Program (ERP) that includes contingency plans to ensure proper response throughout the organization when an emergency situation arises. This may not necessarily involve an actual aircraft accident but should include a business continuity contingency plan.
4) SMS Documentation
Safety management activities must be documented appropriately and be available to all employees.
Free resources to download:
Pillar #2) Safety Risk Management (SRM)
5) Hazard identification
The airline must maintain processes that ensure that operational hazards are identified for all operational activities. Hazard identification is typically based on a combination of reactive, proactive, and predictive safety management methods.
Free resources to download:
6) Risk assessment and mitigation
Individual hazards are analyzed; their consequences are assessed and communicated throughout the organization. Mitigation actions must be developed for those hazards presenting unacceptable operational risk.
Pillar #3) Safety Assurance
7) Safety performance monitoring and measurement
Safety assurance activities focus on assessing the health of the organization, with an emphasis on safety. Specific goals for improvements in all areas should be set for all senior operational managers. Safety assurance should include monitoring of external sources of safety information and include participation in regional safety groups or safety data sharing organizations.
8) Management of Change
External or internal changes may introduce new hazards to operational activities. Processes must exist to manage organizational responses to regulatory changes, major changes in operational procedures, or new activities such as new airport destinations. Safety reporting systems should have processes established to identify new risks and actively monitor performance in new areas of the operation.
Free resources to download:
9) Continuous improvement of the SMS program
Safety assurance utilizes quality tools such as internal evaluations or independent audits to assess organizational health from a safety perspective. Onsite assessments of operational management systems on a recurring basis provide opportunities for continuous improvement of processes and procedures for each functional area of the airline.
Pillar #4) Safety Promotion
10) Training and education
Operators must identify safety training requirements for each level of management and each employee group. Safety training for operational personnel should address safety responsibilities, including complying with all operating and safety procedures, recognizing and reporting hazards, and ultimately ensuring that employees have the knowledge and skills to safely complete work activities.
11) Safety communication
Communication of safety information is a key responsibility of the Safety Manager. Continuous improvement and learning are accomplished through the sharing of lessons learned from investigations, hazard report analysis, and operational safety assessments. Feedback to operational personnel, such as examples of procedural improvements as a result of safety reports, is an essential feature of safety communications.
Related 4 Pillars Articles
Final Thoughts on Four Pillars of Safety Management Systems
By now, you can see how the SMS guidelines are more manageable by breaking them down into the four pillars or components:
Safety Policy;
Risk Management;
Safety Assurance; and
Safety Promotion.
From our experience, most safety managers focus on risk management and safety assurance. They neglect Safety Policy and Safety Promotion. Safety managers are not the only people in the industry who overlook these two pillars.
When your safety program has matured and become more sophisticated, you should ensure you spend adequate time on Safety Policy and Safety Promotion components. Furthermore, if you ever purchase aviation SMS software to help you manage the SMS data, ensure that your aviation SMS software covers all four pillars. After all, when you purchase an aircraft, what good is only half an aircraft? Get an aviation SMS solution that covers all four pillars.
---
Have you just started implementing your SMS? Do you need an SMS manual? SMS Pro comes with an SMS manual template to jump start your SMS.
Your SMS' success increases with user-friendly, aviation-centric database software.
Last updated March 2023