#3 of the Dirty Dozen Is "Lack of Knowledge"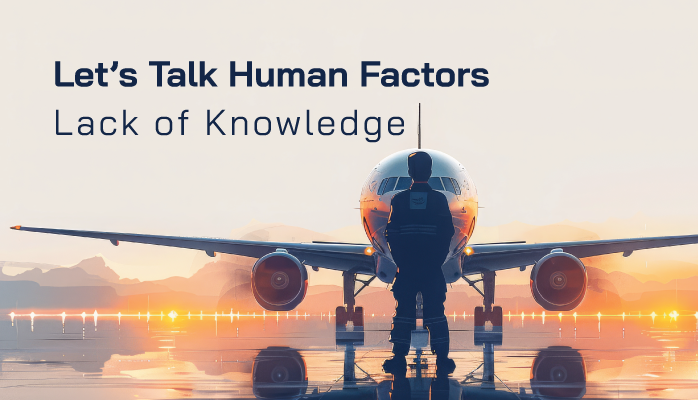 So, just what is a Lack of Knowledge?
Any competent human factors instructor will tell you that "lack of knowledge" is when you lack the knowledge to complete a task correctly. Many new employees have what we call a "Lack of Knowledge" or lack of experience.
Let's face it, in these times of ever-changing technology, we are sometimes faced with a task, without having all of the required information to correctly complete the task.
To counteract this, the aircraft companies attempt to provide the correct amount of detail in their manuals or work cards (without boring you into complacency).
The key to "Lack of Knowledge" is to understand each step of what you are doing. Technical reps get paid very good money to answer any of the questions you may have.
I just want to share this quick story with you:
A Navion had recently been inspected and was on a final flight before it was to be sold.
Only a few minutes from the airport, a few specks of oil appeared on the windshield, followed shortly after by a whole lot more. The pilot was unable to see through the thick film of oil now covering his windshield and side windows, but somehow he managed to pry the canopy open enough to see out a 2" gap. As he touched down with no forward vision, the aircraft drifted to the left until the wing tip struck a bush on the side of the runway and caused the aircraft to tow 180° before coming to a stop.
The aircraft was severely damaged, but fortunately, the occupants were not injured.
Why did this happen?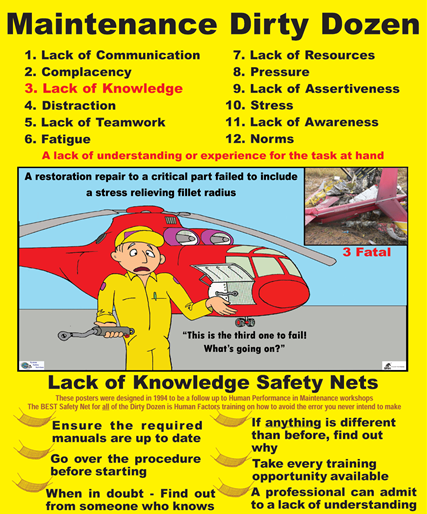 The Hartzell propeller on the Navion uses a rubber diaphragm attached to the front of the engine to change the propeller blade pitch. Regulated engine oil pressure is used to move the diaphragm.
As you might have guessed, the diaphragm had a one-inch split in it from which the oil flowed. The propeller manufacturer's manual calls for the diaphragm to be replaced at propeller overhaul every 250 hours or every two years. The logbooks revealed that the propeller had been overhauled 3 times and the engine once in the previous 12 years, but there was no record of a diaphragm change.
What are some of the Safety nets when you "lack the knowledge"?
Ensure the required manuals are all up to date
Go over the procedure before starting
If you have a doubt, ask someone who does know
If anything is different from before, find out why
Take every training opportunity given to you
Remember a professional can admit to a lack of understanding
Remember: Training = Knowledge = Safety
Pro-tip: When your safety team proactively identifies hazards for the hazard register, ensure that they consider the human factors' elements.
Related Aviation Human Factors Articles
Last updated April 2023.